On Tuesday 29 November 2016, The Big Issue is hosting their Raise the Roof While Raising Funds Comedy Night. Kicking off at 20h30, this evening will feature a trio of funny guys. The headliner act for the evening is Kurt Schoonraad, with Carl Weber as MC and Gino Fernandez as supporting act.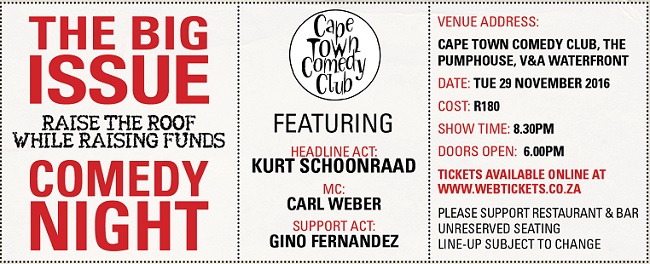 There is no doubt that comedy in Cape Town is truly on form. The Mother City is home to a number of world-class comedians, from all walks of life. Venues such as the Cape Town Comedy Club at the V&A Waterfront have made it possible to laugh until your sides hurt pretty much any day of the week. While this comedy venue has a great line-up all year around, they also have extra specials events, such as the charity comedy night that is happening this month.
The Big Issue Comedy Night Charity Event in Cape Town
First things first, let's take a look at the details for the Big Issue Comedy Night charity event in Cape Town…
When: Tuesday 29 November 2016 @ 20h30 (doors open at 18h00)
Where: Cape Town Comedy Club, The Pump House, Dock Road, V&A Waterfront
Cost: R180 via Webticket.co.za
Contact: Jessica Miller +27 (0)21 556 4777 / jessica@hippocommunications.com
There will be a cash bar and the restaurant will also be serving up food. Now that we know where, when and how much, let's have a look at the evening's line-up, shall we?
Headline Act: Kurt Schoonraad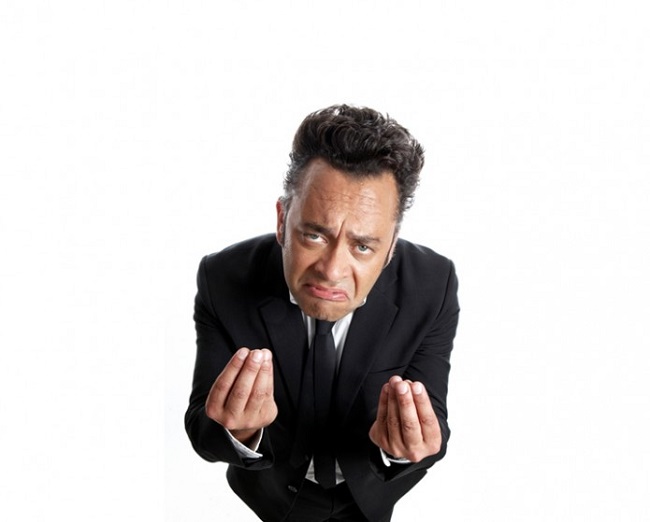 The headline act is Kurt Schoonraad. First gaining fame for his role as accidental tourist in the TV series Going Nowhere Slowly, Kurt has appeared in a number of shows, movies and performances. Some of these have included the BBC format Who Do You Think You Are? and Comedy Central presents Kurt Schoonraad to name just a few. With his trademark earthy humour and larger than life personality, Kurt is also the pioneer behind Jou Ma Se Comedy Club, which eventually became the hugely popular Cape Town Comedy Club.
MC: Carl Weber
Acting as MC for the night will be Bloemfontein "farm boy" Carl Weber. A regular on the Cape Town comedy circuit since 2010, Carl has appeared in a number of shows, festivals and performances. This year, he launched his own show, Bloem Boykie Diaries, at the National Arts Festival in Grahamstown. His stories, characters and take on being a small town boy in a big city are always hilarious.
Supporting Act: Gino Fernandez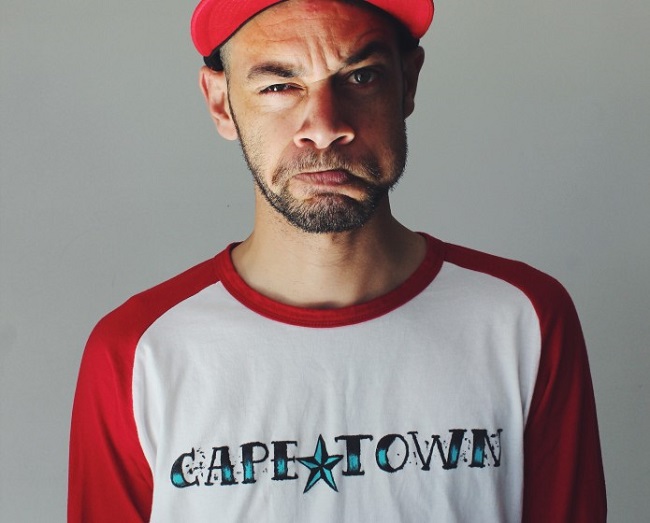 Comics Choice Award nominee Gino Fernandez is the supporting act. With a decade of experience in playing to the crowd, Gino is known for his sharp wit and ability to engage with the audience. He has appeared at numerous shows and festivals across the country. With a constantly fresh range of material, Gino knows exactly how to bring in the laughs.
________________________________
If you are a fan of comedy, then you need to book your tickets to The Big Issue Raise the Roof While Raising Funds Comedy Night, pronto! It's all for a good cause, too. The Big Issue provides empowerment and employment opportunities to many disadvantage communities. The organisation does amazing work to help those in need. To find out more about the event, use the details above to contact the organisers.
Have you watched any comedy in Cape Town? Let us know why you love Mother City comedy in the comments below!