Going sandboarding in the Atlantis Dunes has fast become a sought-after adventure experience for all thrill seekers at heart, and even if you don't consider yourself an adventure dare devil, it will still be right up your alley. Sandboarding is one thrilling Cape Town experience that welcomes adventurous souls from all walks of life. Whether you're young or young at heart, an experienced adventure rebel or first-time adventure seeker, going sandboarding in the cool Atlantis Dunes is the adventure experience for YOU.
Located approximately 40 minutes outside of Cape Town is where you'll find this Mother City adventure hotspot, besides a variety of exhilarating experiences on offer, its beautiful surroundings are guaranteed to knock your socks right off! So, just in case we haven't convinced you yet, here are all the reasons why you absolutely should go sandboarding in Cape Town and why the Atlantis Dunes is the perfect place to do it:
The Atlantis Dunes: Reasons Why You Should Go Sandboarding in Cape Town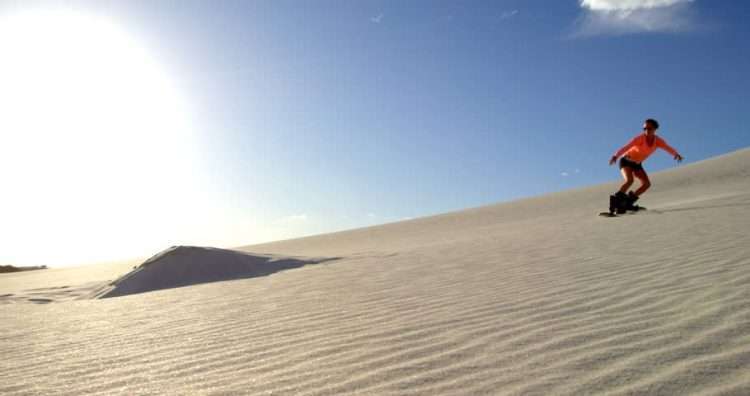 It is the ULTIMATE sandboarding mecca
View this post on Instagram
Not only has the Atlantis Dunes fast become one of the Western Cape's most popular adventure hotspots for adventure enthusiasts from around the world, but it is also one of only a handful of sandboarding locations in the world! Making it a pretty bucket-list-worthy Cape Town experience! The ever-shifting dunes of Atlantis range in size of up to 35 metres and provides the perfect sandboarding playground for people of all experience levels. But besides great sandboarding, the dunes are also an important conservation area protecting the Atlantis Aquifer which supplies water for the Atlantis area, plenty of plant species and birds including the Black Harrier. The Atlantis Dunes are therefore the perfect example of how conservation and adventure tourism can work together to give such a spectacular area that must be conserved in every way extra value, and its visitors the opportunity to discover and explore it in the very best way!
EVERYONE can join in on the sandboarding action
View this post on Instagram
Sandboarding at the beloved Atlantis Dunes is one of those cool adventure activities that invites absolutely everyone to join in on all the exhilarating action and adventure. All it takes is a reasonable level of fitness, an adventurous spirit, a positive and open-minded attitude, some sunscreen, the ability to laugh at yourself and have fun with it and a few basic instructions and you're good to go.
Even if you're feeling a little nervous, which is completely normal, you can rest assured that the experienced guides will be right by your side to help you out along the way and show you all the cool sandboarding skills you need to known to be cruising down those dunes in no time at all. Once you master the basics, and you DEFINITELY will, you can throw a few tricks in there like jumping and ramping of smaller dunes. Sounds pretty cool right! You don't even need any expensive gear to enjoy this sandy Cape Town adventure, and you can basically dress just like you're going for a cool beach day. Sounds pretty easy and breezy right? Well, that it certainly is!
---
---
It's like snowboarding BUT with sun & warmth – ALL the adventure & thrill, minus the chill
View this post on Instagram
Sandboarding is pretty much snowboarding at the beach, with a touch of Cape Town cool of course! Imagine snowboarding down the snow-covered slopes in the ice-cold weather, now flip that on it's back and add some sunshine, warmth and a wonderful Table Mountain view to the mix, doesn't it sound so much better? Well, going sandboarding in the Atlantis Dunes is exactly that and so much more! Let's be honest, who wants to go snowboarding when you can soak up all the beautiful Cape Town sunshine and warm welcoming breeze while sandboarding? It therefore comes with all the adventure and thrill, minus the chill! And that's exactly why people travel from all corners of the globe to experience just a minute of that cool Cape Town sandboarding action, and now you can join in on ALL the fun and sun too!
---
---
It really is so much FUN
View this post on Instagram
Going sandboarding in the Atlantis Dunes not only promises an experience jam-packed with beauty and adventure, but with tons of fun and laughter too! If you're a sandboarding first timer you're bound to take a few spills when you first start out (don't worry, the best of us do), but after a mouthful or two of sand, and tons of laughter along the way, you'll be gracefully sliding down the dunes in record time. So, even if the first, or even 5th attempt isn't quite as smooth, the best is to just have tons of fun with it, because in the end of the day, that's really what it's all about anyway! This, cool Cape Town adventure experience might just be the most fun you'll ever have and being able to do it with your best friends, family and/or traveling adventure seekers by your side promises to make it just that much sweeter.
Going sandboarding at the Atlantis Dunes REALLY is as cool as it sounds, and maybe even a little cooler! Known as the adventure capital of Africa, the Western Cape is certainly jam-packed with tons of thrilling adventures, daring discoveries and cool bucket-list worthy experiences all waiting to be tried and tested by you. Besides, sandboarding at the Atlantis Dunes should absolutely be right at the top of your next Cape Town adventure list, well, that's if you don't want to miss out on a truly unforgettable experience of course. So, what are you waiting for? Go sandboard the dunes to your adventure loving heart's content!
---
Get ready for a fabulous adventure, sandboarding in the Atlantis dunes of Western Cape, a few minutes outside Cape Town. Our 4 x 4 Eco Dune Tour is an exciting adventure to explore the Atlantis dunes. Contact us for bookings and learn more on what to expect on this trip.