There is absolutely no denying the fact that Cape Town is home to some of the most delicious food, trendy eateries and foodie hotspots, not only in South Africa, but the world. The food culture is alive and well in the Mother City and you'll be sure to enjoy it, celebrate it and savour it every chance you get. But there are a few local Cape Town favourites that are not only a rite of passage, but an absolute must when visiting Cape Town. These local Cape Town culinary delights are unique, authentic and oh so GOOD, you might just be tempted to go back for thirds. And although some of them might seem a little odd at first, we encourage you to step outside of your culinary comfort zone and take a bite, they might just become your favourites too! Here are ten amazing dishes you must try in Cape Town:
Amazing Dishes You Must Try In Cape Town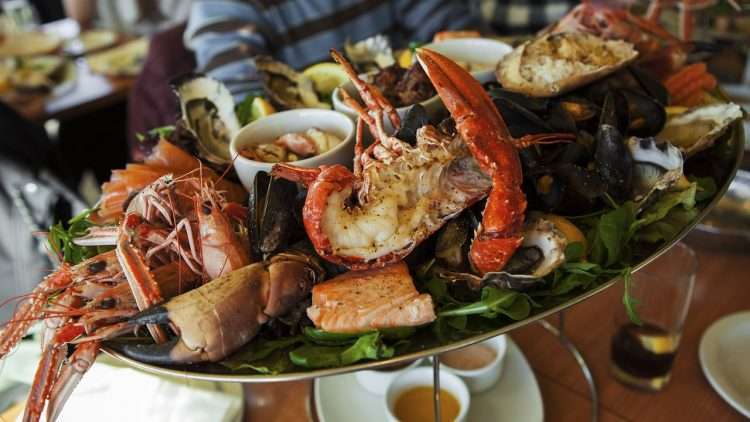 1) Local fish & chips – a REAL Cape Town staple!

Because if you didn't eat fish and chips on your visit to Cape Town, did you even go to Cape Town? There is absolutely no way that you can visit the beloved Mother City or call yourself a true Cape Town local if you haven't enjoyed some of her delicious fish and chips. Capetonians are as passionate about their local fish and chips as they are about their wine, they believe they have the best there is and they'll preach it to anyone who will listen. And they might just be right! In Cape Town local fish and chips can easily be considered a Mother City staple, but it's not simply a meal, it's a culture. And it's one that is celebrated and enjoyed in many different forms – from harbour side fish and chips gems, casual street-food style eateries and hole-in-the-wall hatches serving up deep-fried fish and chips sensations to fish and chips with a twist at trendy foodie hotspots and high-end line fish served at top restaurants, Cape Town has it all! There is no denying that the Mother City is definitely at the top of her fish and chips game, and not backing down anytime soon. Kalky's (Kalk Bay), The Salty Sea Dog (Simonstown), Snoekies (Hout Bay), Fish Hoek Fisheries (Fish Hoek), Lucky Fish and Chips (Sea Point), Lusitania Fisheries (City Bowl) are merely just a few of the Cape Town fish and chips gems you ABSOLUTELY have to try!
2) A traditional Cape Town Gatsby – The GREATEST of all Gatsby's!
The Gatsby is one of the most iconic dishes in Cape Town, and an absolute must-try for the full authentic Cape Town culinary experience. This Mother City super sandwich is traditionally filled with loads of saucy chips and meat, as well as a few other delicious surprises tucked in there. Not only is the Gatsby delicious, it's dynamic too, from traditional fillings like viennas and polony to jazzed-up delights like curry, masala steak and chicken, the Gatsby is sure to leave you with an authentic local Cape Town taste in your mouth. And don't you dare underestimate this Mother City culinary delight, they are not dubbed the SUPER sandwich of the Cape for nothing, it's BIG, it's bold and it's sure to banish both your hunger, and a couple of your friend's cravings too! Therefore making it an excellent sharing option as well!
3) Authentic Cape Malay Cuisine in the colourful Bo-Kaap – jam-packed with flavour!
View this post on Instagram
A visit to Cape Town just wouldn't be complete without falling head-over-heels in love with its unique, flavoursome and traditional Cape Malay cuisine. The picturesque Malay Quarter, known as Bo-Kaap, is where you'll find the very heart and soul of Cape Malay cuisine. Its taste is as flavoursome and vibrant as its colourful surroundings and its story rich, raw and authentic. Native to Cape Town, Cape Malay cuisine is described as hearty food that feeds the soul, and that's exactly what you'll get. Typically a mix of traditional South African dishes, especially of the West Coast, with Malaysian, or Eastern influences, traditional Cape Malay food is uniquely aromatic, with distinct flavours of a myriad of oriental ingredients. It's bold, authentic flavours and uniquely delicious taste has certainly made it a local fan-favourite taste, and one that people from all corners of the globe traveling to Cape Town yearn to taste!
4) A sensational seafood braai, or ANY seafood really!
View this post on Instagram
There is nothing quite like a delicious seafood braai when in Cape Town. Cape Town is without a doubt any seafood lover's dream come true. Boasting some of the very best seafood, freshest catches and sensational combinations, the Mother City serves up one spectacular seafood feast you won't soon forget! Being surrounded by miles and miles of sensational coastline, Cape Town certainly makes it easy to find delicious seafood, and you therefore won't have to wonder too far. And with a delicious fish and chip spot, buzzing seafood franchise, sea-side seafood hangout or top-tier seafood restaurant opening up around just about every corner, you will most certainly be spoilt for choice. If you're however looking for something a little more adventurous, and certainly delicious too, a seafood road trip up the Cape's West Coast is an absolute must on your authentic culinary journey through Cape Town. The West Coast is not known as the seafood gem of the Cape for nothing!
5) Braai at Mzoli's in Gugulethu – a cherished South African past-time in the heart and soul of Cape Town!
View this post on Instagram
From a seafood braai to a meaty braai, Cape Town certainly has it all! Having a good ol' traditional braai with friends is definitely a cherished South African past time, but in Cape Town we like to take it to the next level. Mzoli's is Cape Town's most popular tshisa nyama (barebeque or braai) hangouts and a beloved local spot. Starting from humble beginnings, owner Mzoli Ngcawuzele has grown Mzoli's from selling meat out of his garage to a thriving and authentic local eatery in the heart of one of Cape Town's most lively townships. If you're looking for an authentic South African experience, live entertainment, traditional braai meat and an incredible night of local hospitality, Mzoli's is absolutely the place to be!
6) Bokkoms – West Coast 'biltong' with a twist!
View this post on Instagram
This is one West Coast delicacy that most might be reluctant to try, well, at first that is. But if you find yourself feeling a little daring you might just be pleasantly surprised! Bokkoms is a whole, salted and dried mullet, or better known as a Harder, and is the Cape's West Coast's spin on anchovies, but better! More commonly referred to as fish biltong, Bokkoms makes for the perfect salty snack and is known to be quite the delight when paired with a lovely glass of white wine or home-made slice of bread. Uniquely authentic to the West Coast, and therefore truly one of a kind, we encourage you to step outside your comfort zone and give this traditional Cape delicacy a try – it might just be your new favourite Cape Town treat!
7) Waterblommetjie Bredie – the king AND queen of South African stews!
View this post on Instagram
Directly translated as 'small flower stew' and commonly known as the Cape Pond Weed, Waterblommetjie Bredie truly is the shining crown of Western Cape stews, and therefore an absolute must-try-dish on your visit to Cape Town. A traditional Cape Town feast and local fan-favourite, this deliciously authentic dish is made of meat, typically lamb, stewed together with the waterblommetjies which are found in the dams and marshes of the Western Cape of South Africa – are you intrigued? Well, there's only one way to find out if Waterblommetjie Bredie is your new favourite dish – and that is to try it of course!
8) Boerewors Roll from a Mother City street vendor – Western Cape 'street-food' at its best!
Affectionately known as a Boerie Roll, our proudly South African hotdog, the Boerwors roll, is making all sorts of waves in the Cape Town food scene and people are traveling from far and wide to taste it! Any South African will tell you, there is nothing quite like a GOOD Boerewors Roll to put a smile on your face, but there's something about getting it from one of Cape Town's street-lined food trucks that makes it EXTRA delicious! The Wors Roll Food Truck is said to be quite the Boerie Roll treat! And Cape Town even has vegan gourmet Boerewors Rolls!
9) Tapas sharing plate – Because in Cape Town sharing is caring!
View this post on Instagram
The Mother City is all about SHARING, and this is no different when it comes to her food. It therefore comes as no surprise that the Cape Town food scene is bubbling over with Tapas-style restaurants ready to share the culinary love. One of the best things about tapas is the fact that you get the opportunity to taste a little bit of everything the restaurant has to offer, and Cape Town Tapas-style restaurants ensure they do it in the very best way! The Pot Luck Club (Woodstock), Chef's Warehouse and Canteen (City Bowl), Thali (Gardens), Foxcroft (Constantia) and Fork (City Bowl) are just a few of the tapas sharing superstars you absolutely have to try!
10) Wine, wine & more WINE – and whatever you'd like to pair it with!
View this post on Instagram

Technically not a 'food', but in Cape Town it definitely deserves to be! So our final honorary pick for our 10 amazing dishes you must try in Cape Town is none other than good ol' sensational Cape vino! In order to walk the Cape Town walk, you need to be able to talk the Cape Town talk, and in Cape Town we talk about WINE! And taste and enjoy a whole lot of it of course! And being in the top, and certainly the most unique, wine producing region in Africa, the Western Cape, it only seems fair. Your visit to the Mother City therefore absolutely has to include a bottle of white or red! Whether you choose to enjoy it on a visit to one of her spectacular wine estates, sipped and savoured while hanging out at a trendy beach front hotspot, or enjoyed with friends and family while admiring a beautiful Cape sunset – the choice is yours! And just in case you're more into 'wine-pairing' Cape Town offers a variety of incredible pairing options to accompany your delicious glass of Mother City goodness!
The Mother City invites you to enjoy as many of her local culinary gems as your heart desires! Their bold authentic flavours are guaranteed to make you fall head over heels in love with Cape Town, even more than you already are, and have you coming back for more again and again! Exploring Cape Town's vibrant and unique food scene is in adventure in itself, are you ready to take on this DELICIOUS ride?
---
Looking for more dining ideas? Check out our mega list of Cape Town restaurants for even more suggestions on where to enjoy food in the city. If you're looking for guidance on where to eat during your stay at one of our amazing properties, we also provide world-class concierge services that are designed to make you feel at home. For now, be sure to look out for these Cape Town street food dishes.