The Cape Town spring season is here and its glorious! Known as one of the most beautiful cities in the world, the Mother City is home to a variety of picturesque landscapes, beaches, natural wonders and landmarks.
The spring season is a great time of the year to go on exciting Cape Town tours, explore and experience everything the magnificent Mother City has to offer. The winter cold starts to wither away, the sun comes out to play and the Cape wildflowers explode into a glorious celebration of colour. What more could you ask for?
Spring Season: Best Time to Enjoy Cape Town Tours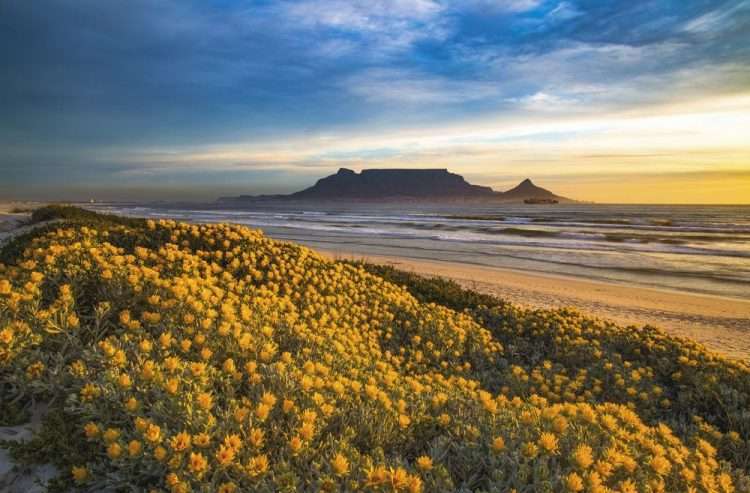 Here are just some reasons why spring is the best time to visit Cape Town and why going on a spring time Cape Town tour will provide you with everything you want and more.
1. The wonderful mild Mediterranean climate
View this post on Instagram
By far one of the top reasons why spring is the best time to visit Cape Town is because of the beautiful mild Mediterranean climate. It's time to pack away your jackets and scarves and get out those floral dresses, bathing shorts and cut of t-shirts. The spring season in Cape Town means warm sunny days are back and ready to be enjoyed by all. Even the evenings are lovely enough to enjoy the later spring season sunsets and strolls on the beach.
2. Spring season is flower season
View this post on Instagram
In Cape Town, spring symbolises the time of year when the Cape wildflowers come into full bloom covering the Mother City landscapes in a glorious celebration of colour. It's therefore no surprise that flowers season, running from mid-August until end-September, has fast become a sought-after attraction for locals and travellers from all around the world.
Besides admiring all the beauty and vibrant wildflowers of the Cape Floral Route, a visit to Kirstenbosch Botanical Gardens is an absolute must. The West Coast National Park, Ramskop Nature Reserve, Renosterveld Reserve, Citrusdal, Harold Porter Botanical Gardens, Fernkloof Nature Reserve, Hopefield, Darling and the Karoo are just some of the Cape flower spots that are absolutely worth a visit. What are you waiting for? It's time to plan your flower season Cape Town tour.
3. Cape Town hike or adventure experience
View this post on Instagram
The fact that it is the best time to explore and discover is another reason why spring is the best time to visit Cape Town. The beautiful warm weather, lush surroundings, floral landscapes and spring scent in the air encourages you to step outside and explore everything the exciting city of Cape Town has to offer.
From hiking, paragliding, and Sea Point Promenade cycling to kloofing, skydiving and beach side strolling, the Mother City transforms into the perfect outdoor adventure landscape. Thus, it's up to you to experience as much of what it has to offer as possible.
Spring in Cape Town truly is any adventure lover's paradise. If you're looking for the ultimate spring adventure, going on one of our thrilling Cape Town Tours might be just what you're after. From our Shark Cage Diving Full Day Tour and Table Mountain Hike and Abseil Cape Town Tour to Cape Town Paragliding and Cape Town Scenic Adventure Tour, there's something for everyone to enjoy.
4. Spring in Cape Town is great for exploring the Cape Winelands
View this post on Instagram
Home to the largest wine producing region in Africa, the Western Cape is any wine lover's dream come true. Boasting a range of world-renowned Wine Estates, picturesque wine routes, exceptional wine and exciting food and wine pairing experiences, exploring the iconic Cape Winelands is a bucket-list worthy experience in every way.
By far one of the best, and certainly the most beautiful, times of year to do it is during Cape Town's spring season. Going wine tasting has therefore become a sought-after Cape Town spring season past time that both locals and tourists just can't get enough of.
Besides tasting exceptional wine paired with top-tier dining experiences, you get to admire the stunning landscapes and spectacular views too. Our Winelands Full Day Cape Town Tour will ensure you tick this incredible wine tasting experience off your bucket-list in the very best way.
5. It's the perfect time to dive back into the Atlantic & enjoy a beach day
View this post on Instagram
As the Cape Town spring season brings with it beautiful warm sunny days, it's the perfect time of year to dive back into the Atlantic Ocean and enjoy a blissful Cape Town beach day. As the spring season temperatures start to heat up, you'll see more and more people flocking to Cape Town's beautiful beaches to enjoy a day out soaking up the Mother City sun and having tons of beach fun.
Spring in Cape Town is also the time of year when the cooling waters of the Atlantic invites you to enjoy a refreshing dip. Thereby making spring in Cape Town the perfect time to enjoy an ocean adventure too. From surfing, SUPping and snorkelling to windsurfing, kayaking and bodyboarding, the Atlantic Ocean becomes the perfect spring season playground.
While every Mother City season brings with it an abundance of beauty and adventure, spring is definitely one of the best times to visit Cape Town. From beach days, beautiful weather and hiking adventures to winelands exploring, flower season and stunning sunsets, Spring season in Cape Town truly has it all.
---
Planning to visit Cape Town during the spring season? You can check out our guide to the Ultimate things to do in Cape Town. You can also have a look our Cape Town tours for your next adventure. If you're also looking for a perfect place to stay during winter, we can help. Get in touch if you'd like help finding accommodation.
Recommended Accommodation