Just in case you missed the reports of snow in Cape Town 2015, it's official… the first snows have fallen in and around the province! While so far it is only the higher peaks and mountains being dusted with snow, soon we will be able to take lots of great photos as more snows starts to fall this winter. For the time being, we found this gem of a pic depicting snowfall from a previous year, to give you a taste of the chilly goodness to come!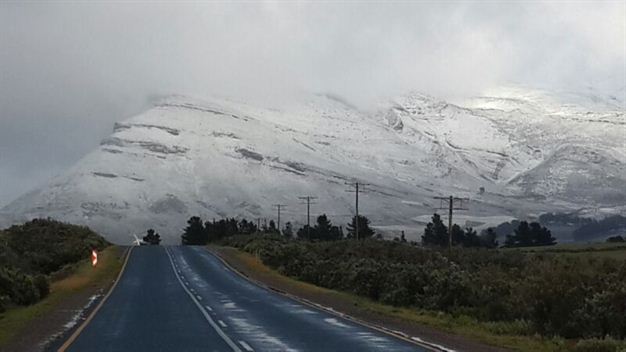 Mountains outside Ceres covered in snow, 2013 (posted on News24 by Alistair Longman)
Winter is here, and I for one am super excited. According to Snow Report South Africa, the season of snow has arrived. A report to the group's social media page on Sunday (31 May 2015) broke the news:
"It is official! We have had the first confirmed sighting of snow from Matroosberg Private Game Reserve. It started just after 11am this morning as predicted and has got heavier through the afternoon. We will post pictures as soon as get them."
Over the course of the day, areas across the Western Cape confirmed snow sightings – particularly in high lying areas such as Citrusdal, Paarl, Ceres, Worcester, Stellenbosch, Montagu and Swellendam.
At Matroosberg Private Nature Reserve, which is the best place to see snow in Cape Town, snow had started falling on the mountain but had yet to fall at ground level. Employees were quoted as saying that temperatures were rapidly dropping, according to News24.com. A few cars had attempted driving up into the mountains but hiking was not allowed due to the cold and wet conditions, so no sightings were possible at this early stage.
Where to See Snow in Cape Town?
Wondering where you can see snow in Cape Town this year? We have you covered. Keeping in mind that snow season has only just begun, you may not see snow right away – especially as it first starts to fall higher up on the mountain. You also will not likely see snow all over the city at ground level. Last year, the snow in Cape Town came very close to falling in the City Centre (right outside our doorstep!), but it was mostly sleet and ice rather than pure snow.
But… before you get too despondent, there are many places that you can go to see the snow. Ceres is a good bet, along with nearby Matroosberg (both less than two hours from the city). Some parts of Table Mountain get snow when the temperatures start to drop lower as winter progresses – this snow can only be accessed by hiking though, and is not always possible to see. Check out our post on snow on Table Mountain from last year to see how amazing that snowfall was.
We will do our best to keep you updated on all things to do with Cape Town snow – stay tuned to get the latest updates and let us know if you have any snow moments to share!