Winter is officially here, and all the talk of late is whether there really has been snow in Cape Town. If you looked out the window over this past weekend to see the landscape turn white and wintry, you would be forgiven for thinking you've somehow teleported to a whole new world. Hail balls the size of marbles, icy sleet covering everything, trees turned white.
Was it really snow though, and if so, can we expect more snowy weather in Cape Town?
Cape Town Snow
What we experienced in Cape Town recently was as close to snow as it gets here in the southern hemisphere. Sleet and hail are produced when temperatures reach a very low state of chilliness, resulting in chunks of hard ice. Usually, hail looks more like, well, hail, but under certain conditions, it mixes with sleet to resemble snow in its look and even feel.
The thing that really matters however is that for Cape Town, snow or anything close to it is still a great cause of wonder and excitement. Places like Ceres are known for their snow, but in the heart of the city, it's not often that we get to do fun things like make snow angels.
Snow, sleet or whatever else we can call it, one thing is for sure – Cape Town snow is as close enough to the real deal as it gets and we heart it lots.
Still asking if it snows in Cape Town? Check out our previous article on all things snowy below…
Recommended Accommodation
Does it Snow in Cape Town?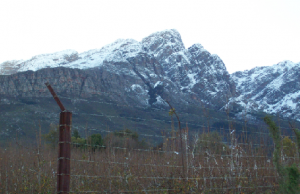 While the Mother City of South Africa is best known for its beautiful beaches and hot sunny weather, each winter the snow in Cape Town shows another side to the peninsula. As you may remember from your Geography lessons, temperatures need to reach a certain point for snow to fall. For the most part, Cape Town does not experience snow in its main hubs. Just under an hour away however, the Western Cape towns of Ceres, Worchester and Tulbagh offer the chance to enjoy a spectacular winter wonderland.
The first snowfalls often begin towards the middle of June, and continue well into July. Going to see the snow has become something of a pilgrimage for many locals, not to mention visitors who want to enjoy a southern hemisphere winter without being subjected to chilly conditions throughout the season.
Where to See Cape Town Snow
The best way to plan an outing to see the snow is to keep an ear and eye out for weather bulletins. Each year is different of course, but generally speaking the best time is from late June to late July. Cape Town locals get very excited once the snow is thick enough to cavort in – ask around and you are sure to get the latest updates in snow as well as some enthusiast tips on where to go.
1. Ceres
The picturesque fruit growing town of Ceres is best known for its snow fields. The town lies about 135km outside of Cape Town, near the Matroosberg Mountains. The reserve here is where you can experience plenty of fun in the snow. Skiing, snowboarding, snowman building and snowball fights are par for the course – there are however set rules on which areas are open to the public. Cherry picking can also be enjoyed in winter, so even if you happen to visit on a no-snow day there are still other things to do.
2. Worcester
Also in the area is the wine-growing town of Worcester. You will be able to enjoy some beautiful views of snow-capped mountains in the distance, lush green valleys and fields dusted with snow, scenic orchards and plenty of wide open spaces. There are many other things to do here too – try some trout fishing in one of the many lakes found within the lovely wine estates or take a walk around town to see old churches and interesting buildings. Wine tasting is par for the course too – perfect for warming up after playing in the snow!
3. Tulbagh
The quaint town of Tulbagh has become a popular travel destination in the Western Cape, and for good reason. From the gorgeous Cape Dutch, Edwardian and Victorian homesteads on Church Street, to the endless farms and country views, snow-capped mountains, baboons dashing across long country roads and a relaxed atmosphere, this is a great place to take a drive and see some snow. Tulbagh is about an hour or so away from Cape Town.
Remember to dress up warm (you may want to take a change of clothing along too in case yours get drenched), pack a picnic lunch and load up your camera with spare memory stick and batteries. Whether you are travelling with kids or you are simply a big kid at heart, don't miss your chance to enjoy the snow in Cape Town this winter!