Signal Hill Cape Town is a flat-topped hill that is situated next to Lion's Head, forming part of Table Mountain. This is where the famous Noon Gun is fired every day at 12h00 on the dot. It's also where you can enjoy some of the best views in the city, fly model planes, try some paragliding or simply enjoy a bit of nature. It's sometimes called Lion's Rump, and, together with Lion's Head, this part of the mountain resembles a sleeping lion or a sphinx.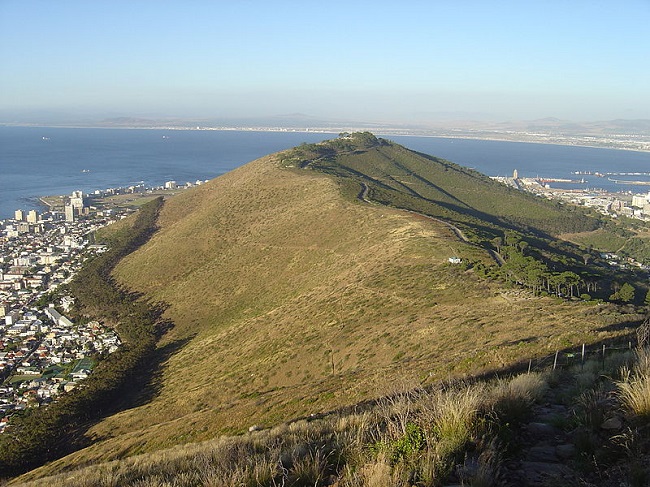 This viewing point got its name from its position high above the peninsula. Signal flags were used to to communicate weather warnings to ships below. Ships in distress meanwhile could also use flags to signal for help. Why should you visit this spot, and what can you see here? Join us on the blog today as we take a virtual tour of Signal Hill in Cape Town to see what this iconic landmark offers!
Why Visit Signal Hill Cape Town?
This amazing aerial footage video shows the magic of Signal Hill in all its beauty. It was produced by AV Productions. Have a look to get a sneak peek of what to expect when visiting this breath-taking viewing point.
Whether you are visiting South Africa's Mother City for the first time, returning for a holiday or living in this part of the world your whole life, everyone should visit Signal Hill Cape Town at least once. Some of the top things to see and do here include the following:
* Views. This is a popular look-0ut point, and for good reason, too. There is a large parking area, along with a spacious viewing area that includes picnic tables and quieter spots. Many people come here at sunset to watch the sun set over the city. But, whatever time you visit, it is a great spot to enjoy the views, with no major hiking required. If you do feel like climbing further however, you can access Lion's Head from here as well. For those wanting to travel up Table Mountain however, a separate trip will need to be taken to reach the Lower Cable Station, which lies on the other side of town.
* Noon Gun. If you are staying in the City Center or the V&A Waterfront, Bo Kaap or De Waterkant, chances are good that you will hear a massive 'boom' at noon. This can be scary (in fact, downright terrifying) for those who are not aware of the Noon Gun. This old-fashioned canon has been releasing its lunchtime signal for as long as anyone can remember. You can visit the Noon Gun to see it – although we recommend visiting either before or after 12h00.
* Nature. This is a great place to enjoy a gentle walk in nature, too. Signal Hill is one of the only places in the world where you will find the critically endangered Peninsula Shale Renosterveld vegetation. This vegetation was once a dominant ecosystem in the City Bowl, occurring nowhere else in the world. Now, it can only be found on Signal Hill, with a small patch growing on Devil's Peak. You may also see the adorable Cape Dassie (Rock Hyrax) if you're lucky.
______________________________________________
The best time to visit Signal Hill is on a clear day, which will allow you to get the best viewing experience. The next time you're up there, be sure to take lots of photos! Keen to see Signal Hill Cape Town and other attractions? Contact ComeToCapeTown.com today or view our Cape Town tours to find the best tour of this amazing city.