In January 2017, there will be much excitement as the Cunard Queen Mary 2 (QM2) comes to Cape Town on her voyage around the world. This impressive ship will be sailing from Southampton, UK, on a journey that spans across South Africa, the Indian Ocean, Australia, New Zealand, Southeast Asia, the Middle East, Suez Canal and Europe. Destinations include Réunion and Mauritius, Australia (Margaret River, Kangaroo Island), New Zealand (South Island), Indonesia, Malaysia, China (Hong Kong), Thailand, Vietnam, India, Dubai, Jordan (Aqaba-Petra), Suez Canal, and ports on the Mediterranean Sea (Rome, Naples, Sicily, Barcelona, Cadiz-Seville). While the journey itself is quite something to behold, the ship is truly breath-taking…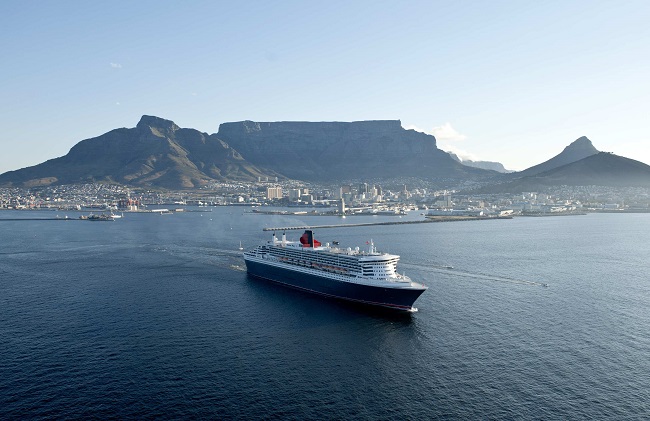 [image via wearecunard.com]
The ship has recently had a £100 million renovation that includes a host of super luxurious features and additions. The updates include work on its on-board restaurants and lounges, ensuring that passengers will be able to cruise in style throughout the tour. The ship will be arriving in Cape Town's Table Bay on 26 January 2017, where it will remain for a day or two before continuing on to Port Elizabeth.
About the Queen Mary 2
Why should you make a plan to see the Queen Mary 2 in Cape Town this month? Here are a few interesting facts to show you just how special this luxury cruise liner is…
* QM2 carries 2,592 guests double occupancy. A large percentage of the ships cabins have private balconies, even though they are not much use when crossing the Atlantic Ocean (known for its strong currents).
* The ship weighs a staggering 150,000 tons. At 345m in length, with 17 decks raised 2000 feet above water, the ship is the equivelent of a 23-story building!
* There are 10 dining rooms and eateries on the ship. The largest restaurant, Britannia Restaurant, is almost three decks in height, with two staircases, seating up to 1,347 passengers. The 178-seat Princess Grill and 200-seat Queens Grill are smaller but equally popular dining rooms for guests to enjoy, while there are also many other options on offer.
* The ship offers world-class entertainment. This ranges from the Chart Room, Empire Casino, and Gold Lion Pub to the Queens Room ballroom, Commodore Club, a planetarium, Royal Court Theatre, an auditorium offering seminars, lectures and workshops, Maritime Quest exhibit, Computer Centre, kids' play zone, an internet room, a library, a cigar bar, indoor and outdoor swimming pools a spa and plenty of other features.
* Dress code is strictly formal on this liner. Guests have the chance to recreate the glamour of old-fashioned cruise couture, with black tie dinners and glitzy events that require a strict dress code to attend.
____________________________________________________
Make sure that you look out for the QM2 in Cape Town on 26 and 27 January 2017 to see this gracious old lady in the Table Bay docks! When you do see the Queen Mary 2 ship in Cape Town, let us know what you think by leaving us a comment below!