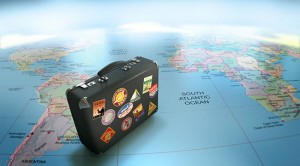 Now that 2012 has come to an end, and a whole new year lies ahead, many travellers are thinking about travelling to Cape Town and other top notch destinations. Just like you may have some New Year's resolutions for health, wealth and well-being, you can consider these resolutions for travel to help you enjoy the best holiday yet in 2013.
After a bumper year that included a number of travel awards, Cape Town is set to be even more sought-after as a leading destination for leisure and business travel. Each year, the Mother City welcomes visitors from all parts of the globe – UK, US, Europe, Asia, Australia and many other countries.
Whether you are considering Cape Town for your travels or anywhere else, keep these resolutions in mind to make your travels even more rewarding.
Top Travel Resolutions for 2013
So what resolutions should you set for memorable travel adventures this year? Here are our suggestions…
1. Plan Ahead – many great travel adventures begin with a flash of inspiration or an awesome idea, but once you have an idea of where you want to go, planning ahead is crucial. Many popular travel destinations such as Cape Town have tourist seasons that mean fluctuations in costs for everything from flights to accommodation. Doing a bit of research online will help you find the best time to visit, and give you enough time to start making those plans.
2. Make a Change – if you have always had your annual holidays at the same place, shake things up this year by choosing somewhere new and exciting. With many great deals to be found on destinations around the globe, going somewhere new does not always mean breaking the bank either. Plus, the chance to experience new cultures, sights, sounds and tastes is sure to be the highlight of your year!
3. Get Digital – your smartphone can be turned into a lean, mean travel planning machine with the help of a few good travel apps. From language apps to maps, currency converters, restaurant and bar finders and many other tools, technology is paving the way for easier, more enjoyable travel experiences.
4. Choose Accommodation Wisely – there are few things more important than finding the right place to stay during your trip. No traveller wants to deal with stuffy rooms that are not as advertised or poor facilities that cause no end of frustration. Your best bet is to find a reliable online booking tool that offers a selection of accommodation types – hotels, guest houses, villas, self-catering and apartments.
5. Try Something New – better still; try as many new things as you can. If you are dreaming of a holiday in Cape Town for instance, you may want to try shark cage diving, a township tour, whale watching tour, Robben Island tour or even a self-drive expedition along one of the many scenic routes found across the city and its surrounds. Learn some local phrases, sample traditional cuisine, do that nerve-wracking but thrilling activity you heard about. This year, it is time to get out of your comfort zone and immerse yourself in the spirit of travel.
Ultimately, travelling is a way to learn, experience and embrace brand new cultures, scenery, landmarks and activities. Every traveller has their own bucket list of places and things to do, along with their own ideas on what makes the perfect holiday. Wherever you decide to go this year, remember to think out of the box and make your trip one to remember.
What resolutions are you making for the new year of travel? Share your ideas below and let us know!