I have a deep, long-lasting love for Cape Town museums that has been in my heart since I can remember. From my early visits to the SA National Museum as a child, creeping on tip toes through the dinosaur exhibit room, scared out of my wits, to memorable visits to some of the lesser known museums and, of course, the iconic SA National Art Gallery, there is something that I truly love about these hallowed buildings of memories and history.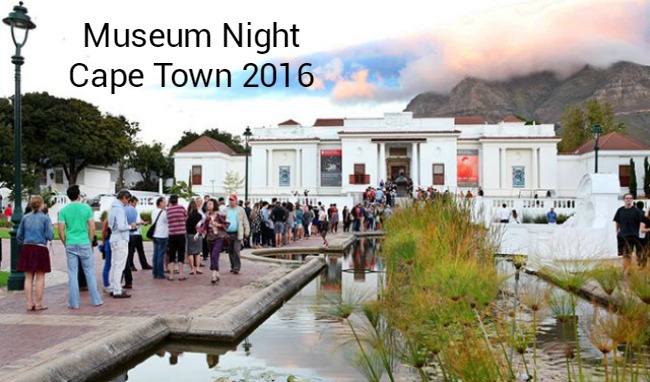 It goes without saying that when I heard about Museum Night Cape Town, I was instantly fascinated. This initiative, brought to us by the people from First Thursdays, invites us to visit some of the city's best-loved museums… at night, and at no cost whatsoever. Free admission and late opening hours (from 18h00 to 22h00) allow you to explore the rich history and cultural heritage offered in the Mother City, and you don't have to pay a cent.
If that has you as excited as it has me right now, read on to see what lies ahead on 10 March 2016 for Museum Night Cape Town.
Visit These Cape Town Museums and Art Galleries at Night
Participating art galleries and museums in Cape Town include the following:
Iziko South African National Gallery
Address: Government Ave, Company's Garden, Gardens
Contact: +27 (0)21 481 3970
Major art museum that exhibits some of South Africa's top masterpieces, as well as visiting exhibitions and work from its permanent collection.
Iziko South African Museum
Address: 25 Queen Victoria Street, City Centre
Contact: +27 (0)21 481 3800
Natural history museum that is home to over a million and a half specimens, plenty of exhibitions (long-standing and changing), and an amazing whale skeleton.
South African Jewish Museum
Address: 88 Hatfield Street, Gardens
Contact: +27 (0)21 465 1546
A cultural history museum that pays tribute to the South African Jewish community, while celebrating the long-standing Jewish heritage of the Cape.
District Six Museum
Address: 25A Albertus & Buitenkant Streets, City Centre
Contact: +27 (0)21 466 7200
Established in December 1994, this museum focuses on the District Six area, as well as the foced removals during the apartheid era that caused so many from this region to leave their homes and loved ones.
New Church Museum
Address: 102 New Church Street, Tamboerskloof
Contact: +27 (0)711 738 687
South Africa's first contemporary art museum, with private collections that help to bring awareness of contemporary art to the general public.
Iziko Slave Lodge
Address: Adderley Street, City Centre
Contact: +27 (0)21 467 7215
One of the oldest buildings in Cape Town, this museum explores the long history of slavery in South Africa, as well as issues around human rights.
Cape Town Holocaust Centre
Address: 88 Hatfield Street, Gardens
Contact: +27 (0)21 462 5553
This museum shows the history of the Holocaust, using text, archival photographs and film footage, documents, multimedia displays and recreated environments to tell its stories.
Iziko Bo-Kaap Museum
Address: 71 Wale Street, Bo Kaap
Contact: +27 (0)21 481 3939
A cultural history museum in the Malay suburb of the Bo Kaap, furnished as a house depicting the lifestyle of a 19th Century Muslim family.
To recap, this event takes place on Thursday 10 March 2016 from 18h00 until 22h00. Admission is FREE, but if you want to beat the queues, you can purchase a special premium ticket from 1 March 2016. Visit www.museum-night.co.za for more details on ticket sales.
…
Does that sound like a fun night out, or what? After watching Night at the Museum, I have to admit having a little smile to myself (as silly as it is, I did enjoy that movie), but I don't think we have to worry about exhibits coming to life. With so many amazing museums taking part though, what will come to life is a spirit of learning, heritage and understanding.
What do you think – will you be going to the Cape Town Museum Night 2016? If so, tell us which museum you are most keen to visit after dark!
P.S. While we're chatting about all things good and free, be sure to check out our list of free things to do in Cape Town this weekend, too!