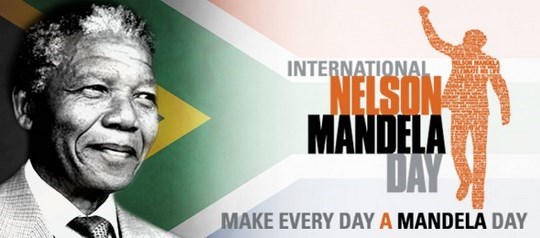 Mandela Day 2013 is almost here, and Cape Town is ready to get out there and make those 67 minutes count. If ever there was a good time to get involved, it is now.
While every day should be Madiba Day, it is 18th of July that marks the birthday of our beloved icon. This year, let's work together and show just how much good we can do in Cape Town and beyond!
We have chosen the best events taking place this week – on the actual day itself, and the weekend that follows.
Thursday 18 July Cape Town Mandela Day Events
Getting things started on Thursday, there are plenty of events that you can choose (even though it's a weekday and your boss refuses to give you the day off). Here are some ideas that we love…
~ 18 July @ 13h00 – 14h00PM – Human Chain. As a great pre-Madiba Day event, you will be able to join hands to form a human chain running along Klipfontein Road from Rondebosch, through Athlone and into Gugulethu. Bring your family and friends, and get the chain going! More Info
~ 18 July @ 11h30AM – 14h00PM – #67MINRIDE for Qhubeka. Put your pedal power to good use with a 67 minute bike ride. Join Qhubeka to raise enough funds to give 67 of their iconic bicycles to underprivileged children and high risk youth. Entry cost of R67 donated to the project. More Info
~18 July @ 12h00 – 14h00PM – Saatchi & Saatchi Goods Market. Yummy food with a conscience – we love it! Saatchi & Saatchi team members along with other leading agencies will be selling delish food at a special market in the City Centre, all in the name of raising funds for Breadline Africa. Beat the lunchtime hunger pangs as you help them reach their target of R15 000! More Info
~ 18 July @ 17h00PM – La Vie Sandwich Drive. If you love this Sea Point hotspot as much as I do, this is sure to be a rewarding evening in more ways than one. It's simple – bring along R67's worth of sandwich ingredients, and spend 67 minutes preparing some filling, tasty sarmies for the city's homeless folks. More Info
~ 18 July @ 17h30PM – Mouille Point Blanket Run. Bring a blanket or two, put on your running shoes and enjoy a relaxed 6-7km group run from the Mouille Point Lighthouse. All blankets will be donated to shelters and other places in need. More Info
Saturday 20 July Mandela Day Events in Cape Town
If you were not able to get involved during the week, don't worry – you can enjoy plenty of amazing Madiba Day memories on Saturday too. Here are some ideas to get you started…
~ 20 July @ 06h00AM onwards – Endorphins for Orphans. With various starting and finishing points from Brackenfell to Parow, this fun run/walk is sure to be good fun. Entry costs R30, and goes towards helping Newkidz on the Block improve children's homes and orphanages across the city. Can you commit to doing your 9.5km in 2 hours or less? More Info
~ 20 July @ anytime – Mdzananda Animal Clinic Kennel Building. Help keep township dogs in Kayalitsha warm as you work with volunteers and animal rescue teams to build kennels. Bring any tools and material you may have, along with R67 towards more kennels. More Info
~ 20 July @ 09h00 – 10h00/ 11h30AM – TT Mandela Day #soupcausewecare. Tippy Toes Foundation is working towards feeding kids and families. You can help them by taking along your very own special soup on Saturday that has been made the night before. Drop-off points all over the city – soup will be delivered to homes in Melkbos from 11h30. More Info
~ 20 July @ anytime – Rooi Els Beach Clean-Up. Spend your 67 minutes in the fresh air, working to clean-up a vital part of the Kogelberg Biosphere Reserve. Cleaner beaches mean a better environment for all – communities, birds and marine life. More Info
~ 20 July @ 14h00 – Afternoon Tea at Starck Home. Join Boundless Heart Foundation and the residents of Starck Home in Hanover Park to meet Mrs Adonis, who will be sharing her 97th birthday with Madiba. Spend your 67 minutes (and hopefully more time) meeting other seniors, to celebrate this rate joint birthday. More Info
What will you be doing this Mandela Day 2013 in Cape Town? Share your thoughts below and let us know!