There are many interesting neighborhoods in Cape Town and each one offers something unique and different. Whether you are looking for a place with a vibrant nightlife and plenty of sightseeing options or you are hoping to find a quiet neighborhood far from all the hustle and bustle of the city center, the neighborhoods in Cape Town are well-known for their diversity and there is definitely something for everyone. The city is geography divided into two main sections, the Atlantic Seaboard and the City Bowl. To help you decide where to stay, we've put together a list of the best neighborhoods in Cape Town.
City Bowl
1 Woodstock
Located just a short drive from the center of the city, Woodstock can be best described as an artsy neighborhood that attracts many creative spirits. The nearby Old Biscuit Mill is definitely one of the most popular attractions here and here you will find everything from tasty farm stalls to restaurants and festivals. Although at first Woodstock may look like a place that is a bit rough around the edges, it is actually a very lively district that is worth exploring.
2 De Waterkant
Ideal for shopaholics, De Waterkant is one of the most fashionable neighborhoods in Cape Town with cobblestone streets and numerous cafes and boutiques selling high-end fashion. It is located within walking distance from the popular V&A Waterfront and offers plenty of dining options. De Waterkant has also the reputation of being a gay-friendly district and there is no shortage of nightlife here.
3 Sea Point
Stretching along the Atlantic Ocean, Sea Point is well-known for its lovely seaside promenade and offers magnificent views of the Three Anchor Bay. Head out to the Main Road where you will find numerous restaurants that serve local and International cuisine, as well as many bars, shops, and bicycle rental facilities. If you are looking for that perfect spot for your summer vacation in Cape Town, Sea Point is probably one of the best options.
4 Gardens
If you wish to stay in a more local side of Cape Town, the Gardens is the most obvious choice. This lovely inner-city suburb is packed with dozens of amazing attractions including the historic Company Gardens, the Labia Theatre on Orange Street, and the luxury Mount Nelson Hotel. Gardens is located just a short walk from the popular Kloof Street where travelers will find a handful of retail shops, bars, and restaurants. As for the accommodation in Gardens, there are dozens of options for families with children and couples on vacation.
The Atlantic Seaboard
5 Mouille Point
Located just outside the city center, Mouille Point is an ideal destination for travelers who wish to stay in a peaceful neighborhood with a laid-back vibe. Walk along the promenade that begins in Mouille Point and visit the famous lighthouse with white and red stripes. The area is also packed with great restaurants and bars and you can use the bus service from Mouille Point to reach other districts in the city.
6 Green Point
Green Point is one of the trendiest neighborhoods in Cape Town. It houses the fabulous Cape Town Stadium which was built 8 years ago for the World Football Cup. Today, this stadium is mostly used as a venue for big outdoor concerts. The great thing about Green Point is that it's close to many iconic landmarks and popular attractions in Cape Town including the beaches in Clifton, Sea Point, and many others. The whole district is lined with picturesque Victorian villas, boutique houses, and luxury hotels, so you probably won't have a problem with finding a place to stay here. Nightlife in Green Point is definitely a big draw for many travelers who are thinking about visiting Cape Town and there are numerous cafes, bars, and restaurants all around.
7 Clifton
No trip to Cape Town is complete without visiting the city's most beautiful beaches in Clifton. You can rent a luxury beachfront villa here or spend your vacation in a private beach bungalow. Clifton is an ideal place for folks who wish to spend their holiday right on the beach. There are four beaches here in Clifton that offer everything from outdoor beach sports like volleyball and Frisbee to well-equipped facilities and bars where you can have a snack and a drink. The only drawback is that there are not that many restaurants here in Clifton. However, Camps Bay and Sea Point are just a short drive away.
8 Bakoven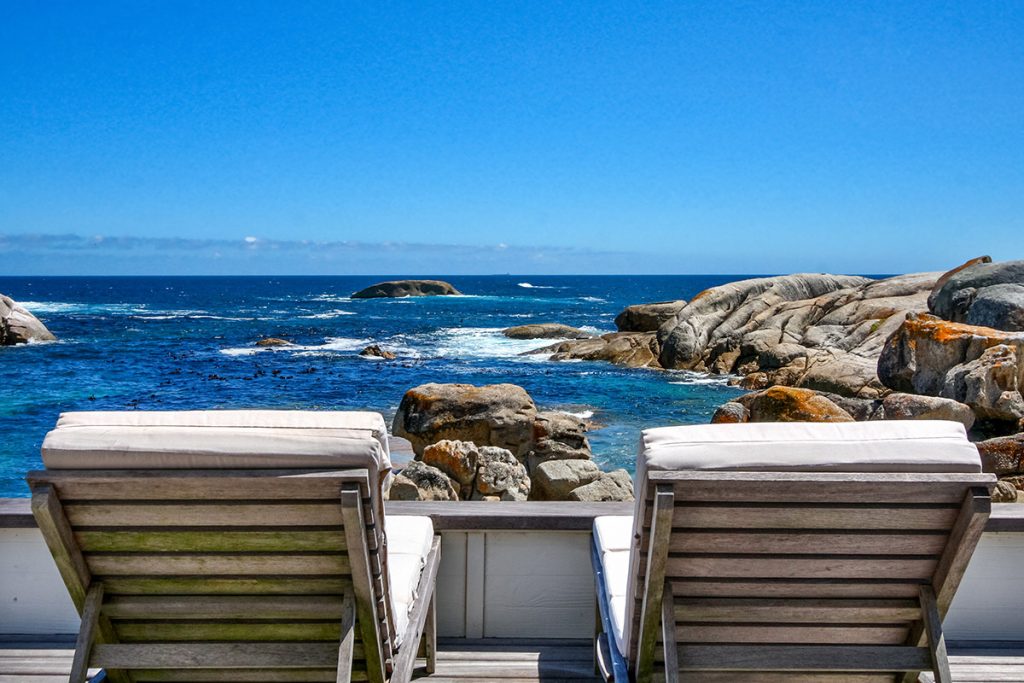 Often referred to as Camp's Bay baby sister, Bakoven is a small neighborhood in Cape Town that is well-known for its scenic beauty and a wonderful white-sand beach with big rocks. The beach is ideal for sunbathing and attracts many families with children on vacation. The great thing about this district is that it is located close to the V&A Waterfront and the city center, but away from all the noise of the urban city life.