The Kirstenbosch Summer Concerts lineup for 2018/18 has been released, and we can't wait to share it with you. Every year, these concerts are held on the concert lawn of the magnificent Kirstenbosch Botanical Gardens over the course of summer. Typically kicking off towards the later part of November, these concerts run through to March or early April. A diversity of local and international acts perform here under the stars, offering a rewarding evening out in one of the most spectacular settings in the peninsula.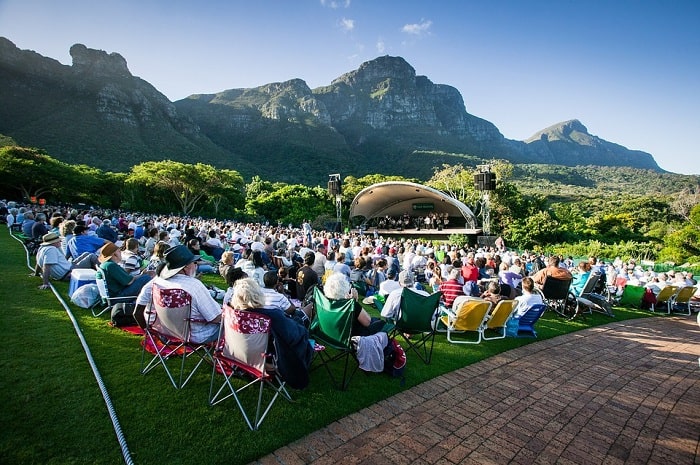 Wondering what you can expect from this season's Kirstenbosch Summer Concerts? Keep reading to see who will be taking to this famous outdoor stage from this summer…
Kirstenbosch Summer Concerts Lineup 2017/18
On the lineup this summer, we have a fantastic selection of artists. Whatever your preferred genre may be, you are sure to find something in this list. Once the festive season kicks in from the middle of December, there will be regular carols in the garden. There is also the annual New Year's Eve concert, this year featuring beloved local bands Goldfish and HotWater. On New Year's Day, Freshlyground take to the stage. To see who else is on the lineup, here is a full list of upcoming summer concerts at Kirstenbosch Gardens…
19 November 2017: Ismaël Lô
26 November 2017: Zakes Bantwini
3 December 2017: Mi Casa
10 December 2017: Matthew Mole / Majozi
14, 15, 16, 17 December 2017: Christmas Carols
23 December 2017: Mango Groove
31 December 2017: Goldfish / HotWater
1 January 2018: Freshlyground
7 January 2018: Prime Circle
14 January 2018: The Parlotones
21 January 2018: Fokofpolisiekar
28 January 2018: The Soil
4 February 2018: Beatenberg / Alice Phoebe Lou
11 February 2018: Cape Town Philharmonic Orchestra
18 February 2018: Cape Town Folk 'n Acoustic Music Festival
25 February 2018: LIRA
4 March 2018: GOODLUCK / The Kiffness
11 March 2018: The Christians
18 March 2018: Jeremy Loops
21 March 2018: Petite Noir / Slow Jack
25 March 2018: Dan Patlansky / Albert Frost
1 April 2018: tba
I don't know about you, but I'm starting to get a little excited for the summer that is around the corner. With the huge talent to be found on local shores, live music in Cape Town is always an experience. What makes the Kirstenbosch Botanical Gardens venue so special? Maybe it is the beauty of the gardens. It could be the relaxed atmosphere that is always enjoyed at these concerts, or perhaps the relatively low entry price. To learn more about the concerts, check out the following must-know details:
Venue: Kirstenbosch Botanical Gardens, Rhodes Drive, Newlands
Dates: November – April
Times: Various
Tickets: R135-R570 via www.webtickets.co.za
More Info: www.facebook.com/KirstenboschSummerSunsetConcerts / +27 (0)21 799 8899
Bring: Picnic blanket, snacks, drinks and picnic equipment
Tips: Take a trash bag with you so that you can tidy up afterwards. No dogs are permitted in the gardens.
_____________________________________________________
You can also purchase tickets from the Kirstenbosch ticket office a week or so before each event. Planning a stay in Cape Town this summer? Browse our wide range of places to stay, or contact us today for help finding accommodation for the Kirstenbosch Summer Concerts 2017/18.