If you haven't heard the buzz recently about the Kanye West pop-up store in Cape Town that's happening this weekend, we're here to clue you in about this three day only event. Cape Town is one of 21 cities that will be launching 'The Life of Pablo' temporary concept stores over the course of this weekend, starting today on Friday 19 August 2016.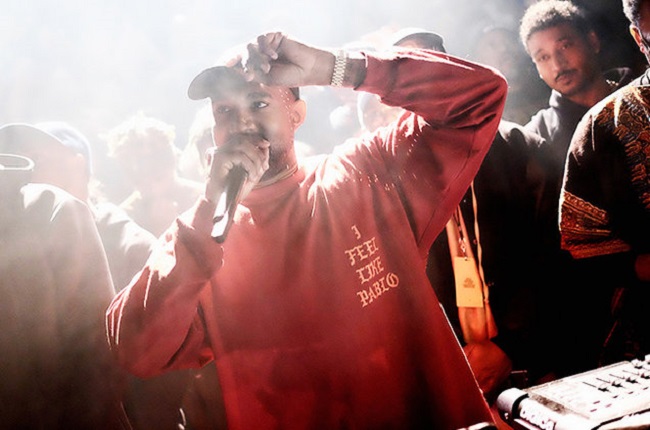 The store, featuring clothing and merchandise from the rapper's new 'Pablo' album, will be held at 107 Bree Street in the City Centre, from 10h00 until 22h00 on Friday, 10h00 until 20h00 on Saturday and 10h00 until 17h00 on Sunday.
Kanye West Cape Town Pablo Store: Here's What You Need to Know
Kanye announced the news of the pop-up store on Twitter, saying that 21 Pablo stores would be running over the weekend. Locations were revealed yesterday, with cities that included Cape Town as well as London, Berlin, Singapore, Amsterdam, Toronto and a few others in Australia and the United States.
The rapper is no stranger to the idea of concept stores. His New York pop-up shop that opened for three days earlier in the year was reported to have queues lasting for several hours. Kanye claimed that over $1 million was made in sales from that event alone. He has also launched pop-up stores for some of his previous albums, including the 2013 Yeezus and his 2011 collaboration with fellow rapper Jay-Z (Watch the Throne).
[RELATED: Where to Shop in Cape Town]
So, what exactly will fans be able to expect to find on sale at the store? For starters, plenty of Life of Pablo goodies, which will likely include his famous hooded sweatshirts, bomber jackets, biker jackets and t-shirts. This merchandise has already been well received, with fans and the Kardashian family wearing the gear outside of previous pop-up stores. According to Vogue magazine, each location will also feature the city's name on t-shirts in this Gothic script style of Thornhill DeWitt, an artist whose work has been featured on a number of Pablo designs.
Some quick info for fans wanting to visit the Kanye West Cape Town concept store this weekend:
Venue: 107 Bree Street, City Centre
Dates: Friday 19 August 2016 – Sunday 21 August 2016
Times: Friday: 10h00 – 22h00, Saturday: 10h00 – 20h00, Sunday: 10h00 – 17h00
______________________________________________________
We recommend getting there early. Queues can very likely be expected – especially on the first day. Be safe, have fun and enjoy the Kanye West Cape Town pop-up store madness!