Offering some of the best beaches around, Cape Town is the best place to lie in the sun, surf the waves, explore a shipwreck, snorkel in the shallow waters or dive in the deep. From the trendy Clifton on the Atlantic Seaboard to the False Bay coastline you'll be sure to find a beach that pleases the entire family. Read about each of these fantastic beaches in Cape Town, below.
Atlantic Seaboard Beaches
The Atlantic Seaboard beaches, also known as the Cape Town Riviera, are the place to be for natural beauty, surfing, swimming, all over tanning and people watching.
Clifton Beaches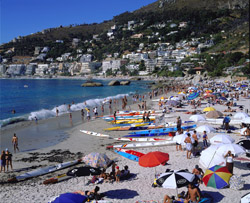 Plan on getting here early in the summer as this is a very popular hangout for locals and jet-setters alike, and parking is limited. Clifton has four beaches, called the 1st, 2nd, 3rd and 4th; 4th beach has blue flag status. These are premier beaches, divided by granite boulders and packed with beautiful people.
Take the stairs from the road to reach all of Clifton's beaches. Kiosks offer everything from cold drinks and snacks to deck chair and umbrella rentals.
Camps Bay Beaches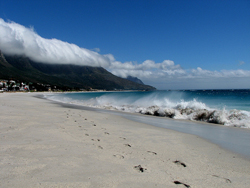 Another popular summer destination, the Camps Bay beaches are long and sandy, with palm trees and a fantastic promenade. These beaches offer one of the most beautiful backdrops of Lion's Head and the 12 Apostles, making it a popular tourist spot. For great surfing try Glen Beach, a small inset beach within walking distance of Camps Bay.
This beach destination area is a great spot for family fun; with larger beaches and more space for family games and activities, it is perfect for the young, and young at heart.
Llandudno Beaches
Llandudno is one of the most photogenic beaches in Cape Town. These beaches offer a strong current for surfers and body boarders For the explorer the area is flanked by rocks and small coves.
This beach is a favorite among sundowners, but may not be ideal for families as it is slightly more remote than others in the area, with poor bathroom facilities. Parking can also be difficult; however there are available vendors with snacks, drinks and rentals.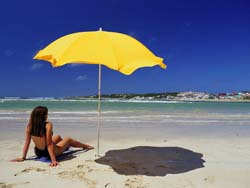 False Bay Beaches
This is a quieter and more laid-back area but in peak season these beaches can be quite as busy as the rest. The bay area offers warm shallow water with designated swim areas. Lifeguards are on duty at all times making this a very safe beach destination.
Muizenberg Beaches
The long sandy beaches of Muizenberg offer plenty of free space for family fun and games. The facilities are good, with a number of cafes nearby. Behind the beach you can find favorite family activities, including a miniature golf course and waterslides.
Muizenberg is not just for families though; at the far end of the beach is a popular surfing spot, with tidal pools and smaller beaches just between Muizenberg and Fish Hoek. These areas, which include St. James beach and Dalebrook tidal pool, are ideal for exploring, and also offer safe family swimming areas.
Fish Hoek Beach
Fish Hoek is a favorite among the locals, and a popular family beaching area. Its long sandy beach is ideal for beach walking and star gazing.
Relaxed beachfront restaurants and play areas for the kids make this another marvelous family beach spot. This beach also offers good bathroom and changing facilities.
Boulders Beach
Just past Simon's Town is Boulders Beach, part of a conservation area and home to the African penguin. Made up of a number of small coves and large boulders the beach offers walkways, designed specifically for viewing the penguins in their natural habitat. Locals affectionaltely refer to Boulders as the penguin beach!
Smaller private beaches are also available but fill up quickly. A great swimming destination as long as you don't mind sharing the waters with a few penguins.
This beach requires an entrance fee, but small shops and restaurants are easily accessible at the top of the beach, near the parking areas.
Hout Bay
Spectacular mounts surround this beach, with Holland Hottentot Mountains in the distance. Hout Bay is a marvellous area for walks, a stroll along the pier is a particular treat. This protected harbor bay area has many restaurants and curio shops nearby.
Noordhoek & Kommetjie
Popular for surfing, kite flying and long walks, the white sandy beach at Noordhoek is a favorite for families and surfers. Take the scenic drive over Chapman's Peak to find these family beach destinations.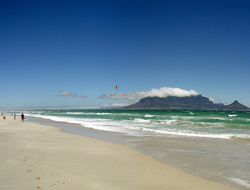 Bloubergstrand Beaches
Don't forget your camera if your destination is Blouberg! One of the most photogenic beaches in the area it is popular with sundowners, couples, and families alike. Sports enthusiasts will also enjoy the kite-surfing and board surfing. These beaches are ideal for long walks and evening picnics.
Helderberg Beaches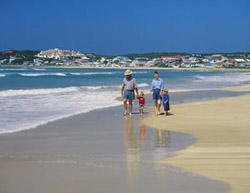 A scenic 45 minutes from Cape Town is the Helderberg region beaches, including Strand, Gordon's Bay and Bikini Beach. Spectacular views, long stretches of safe sandy beach and shallow waters make this region another ideal family spot.
Gordon's Bay also offers a sheltered bay to explore and a promenade for breathtaking walks. Also enjoy the many splendid cafes and restaurants nearby.Bikini Beach offers plenty of sheltered white sand, ideal of sun bathing.
For hotels & accommodation close to any of the above beaches, please visit our Cape Town accommodation page.