Famous for its American-style burgers and laid-back vibe, Hudsons has without a doubt become the leading Burger Joint in Cape Town. After launching its flagship branch in Kloof Street, Gardens, Hudsons can also be found in Claremont and in Green Point on Somerset Road.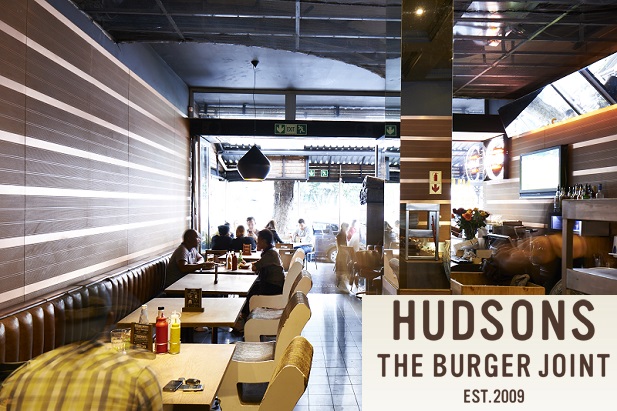 As far as burgers are concerned, there is little doubt that this spot is a master of its trade. A large menu selection offers plenty of choice for all tastes, with vegetarian and ostrich burgers also available alongside traditional beef patties. Combinations range from the classic all the way to the gastronomical, with massive salads and side dishes adding the final touch to an already impressive food selection.
Get the Best Burgers in Town at Hudsons
What makes Hudsons burgers the best? Here are some of the reasons that we adore this popular burger spot…
1. The meat. By selecting just two cuts of house-ground meat, burgers are always succulent while still being leaner than the average greasy fry up. Carefully crafted topping options meanwhile help to enhance the flavour of each burger to perfection.
2. The 'DIY burger'. You also have the choice to design your very own burger, using the clever burger chart. Choose any 5 toppings, and create your own burger on their interactive website, and your burger may even make it on to the menu or run as a special. Click here to see the burger chart.
3. The vibe. Good food, good mood… all you need now is a good vibe (and good company of course). With a great music selection that is ideally suited to its down-home theme, stylish and original decor elements and a constant buzz, the atmosphere at Hudsons is every bit as awesome as their menu.
You can also enjoy milkshakes, dessert, starters and drinks on the menu, and the restaurant is open daily for lunch and dinner from 12h00 to 23h00. You do not need to make a booking at the Kloof Street branch, which is situated at 69a Kloof Street in Gardens. Bookings are essential at the Somerset and Claremont branches however.
Get full details on branches, menus and everything else over on the Hudsons Burger Joint website.