Summer in Cape Town brings with it sweltering temperatures, strong winds, and most devastatingly of all, an increase in Cape township fires. On Sunday 29 November 2015,  a fire broke out in the Cape Town settle of Masiphumelele near Fish Hoek, with over 4000 residents losing their belongings, over a thousand homes destroyed and at least 2 people dead.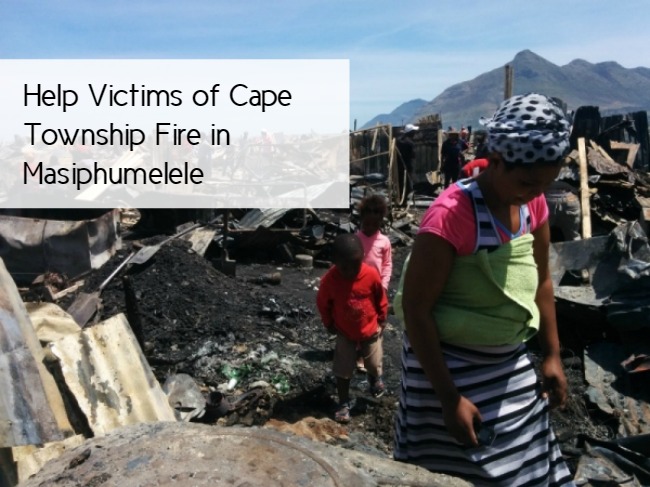 While the city is no stranger to fires – the massive Cape Town fires in March being just one such example – fires that strike informal settlements can be particularly tragic. When such tragedy falls a month shy of Christmas, it goes without saying that the loss is even more tremendous. With this in mind, local communities and organisations in False Bay and surrounds are trying their best to help the thousands of Masi residents who lost homes and belongings in the fire. Showing just how big a heart the Mother City has (and perhaps, why it has this moniker as well), the City of Cape Town is asking for help of any kind. Food, old clothing, unwanted furniture and household items… even items like baby food and nappies can all go a long way in making a difference.
Cape Township Fire – How to Help Those Who Lost Their Homes & Belongings
Local resident Sindiswa Thole was not directly affected by the township fire in Masi, but told The Cape Argus that could not stand by and do nothing.
"My house is far from where the fire was, but after our people lost everything I couldn't just sit on the sidelines. So I decided to come to the community hall and help make food for them, that is the least I could do," she explained.
Non-profit organisation Living Hope has been working tirelessly to receive donations for those affected by the blaze. The organisation's spokesperson, Avril Thomas said, "We'll open the donations until Thursday and then the fire victims will come and get what they need from the donations."
Pick 'n Pay, an organisation known for its humanitarian work, has also loaned a hand. Trolleys for donations have been placed in their Long Beach, Tokai, Fish Hoek and Constantia stores, and R20 000 was also donated for disaster relief.
The regional head of the Department of Justice, Hishaam Mohamed, said that staff of Simon's Town Magistrate's Court were also involved in providing support. "Our staff managed to raise R10 000 and bought food parcels and toiletries for the fire victims. This is to ensure that there is some comfort for the people of Masiphumelele," he stated. He also added, "Donations can be made directly to the South African Red Cross Society or Living Hope Church on Kommetjie Main Road. Donations of non-perishable goods, toiletries, baby food, baby items and clothing for adults and children are appreciated."
A fund has been set up for those who wish to make a financial contribution towards the Masiphumelele fire victims. Details are as follows:
Standard Bank
Masicorp
Account number: 374 202 176
Branch Code: 036009
Donations for other goods are also desperately needed, including the following:
– Non-perishable goods
– Toiletries
– Baby food
– Clothing for children and adults
– Building materials
For more information on how to help, you can contact the SA Red Cross Society in Wynberg (021 797 5360) or Living Hope Church on Kommetjie Main Road (021 784 2800). The selected Pick 'n Pay branches mentioned above will also have trollies set up for donated items.
Let's work together and help those who lost their homes, clothing and goods in these tragic township fires in Cape Town!