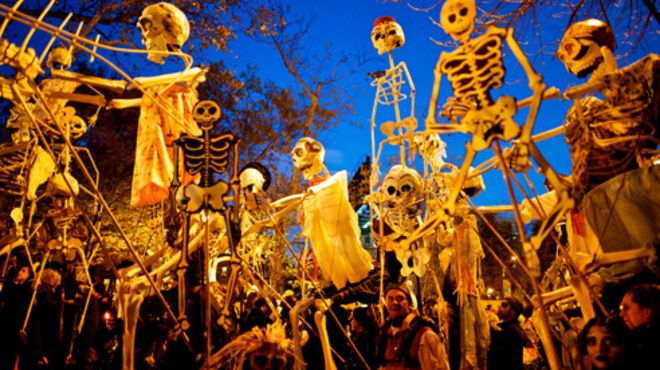 It is no secret that I am a huge sucker for the scary stuff, so it goes without saying that Halloween events in Cape Town may just count as my all-time most favourite types of events ever. What's not to love after all? You get to dress up in crazy costumes, pretend that you know the moves to the Thriller dance and if you're lucky, you can get everyone to watch the horror movies that you love so much.
There is a small chance I am basing this all on how I feel about the spooky season (ahem), but even if you are not mad about zombies, vamps and other such scariness, there is something about Halloween in Cape Town that is just plain spooktastic!
We may not go full throttle like our American friends, but when it comes down to it, we do at least know how to throw a good Halloween party.
Halloween Parties in Cape Town 2013
Here are some Halloween parties happening in Cape Town this year that you may want to check out…
Halloween Party @ Mavericks Revue Bar – 31 October
It just isn't Halloween in Cape Town without a little bit of sauciness… and at Mavericks, you will probably not find many angels! Highlights include a Halloween Fantasy Show at midnight along with plenty of other sizzling treats. Entry is R100p/p for men and R50p/p for ladies – guys in custume will get in at half-price before 22h00 though, and dressed-up ladies get in for free!  
Halloween Forest Night Run @ Muratie Wine Estate – 31 October
Things will be getting spooky in Stellenbosch, when fit types get to run in the dark, dark night through vineyards and other surrounds. Better hope nothing is chasing you! Click here for details or call +27 (0)21 884 4752.
5FM Zombie Apocalypse @ Tiger Tiger – 31 October
In Claremont, clubbers can party like it's Thriller time at the 5FM Zombie Bash of the year. Roger Goode and Rob Vember will be keeping the crowds going until the early hours. Bookings available at Computicket.
The Rocky Horror Show @ The Fugard – 31 October
Our favourite transgender maniacs are still wowing the audience, and what better time to get your dose of Time Walk than Halloween? We certainly don't know. Bookings available via Computicket.
South African Horror Film Festival @ The Labia – 30 October – 8 November
Horrors maketh the Halloween (I just made that up, but really, it's true!) – get your awesome horror movie fix sated with the one and only SA Horror Film Festival that will be running until early November. Shows are held at various times at the Labia on Orange in the City Bowl – click here for details.
Night of the Living Ales: Halloween Party @ Wembley Tap – 1 November
Grab a decent costume and a few friends, and enjoy some fine beer as you party City Centre style at Wembley Tap. The party starts nice and early at 17h00 and will go on until the late hours. Best of all? Entry is free! Wembley Tap is situated at Wembley Square in the City Centre.
The Tokoloshe Murders:  An African Halloween @ Moyo Kirstenbosch – 1 November
Murder mystery takes on a distinctly African flare at Moyo Restaurant in Kirstenbosch Botanical Gardens, Newlands. Bookings are essential – click here for details.
Halloween Dansville @ Hillcrest Quarry – 1 November
Get ready to party loud and hard enough to raise the undead in Durbanville, at Dansville – a local is lekker party that features a range of SA talent. Tickets are available at Quicket.co.za and range from R60p/p upwards.
As Halloween falls on a Thursday this year, there is no doubt that much 'Phuza' (that's pre-Friday fun for non-locals) will be going down. Then the fun continues into Friday night too, just in case you were not able to join in the night before.
Whatever you plan to do this Halloween in Cape Town, make sure that you stay safe, have fun and most importantly of all, take photos!