As far as 5-star hotels go, Romney Park All Suite Hotel & Spa is without a doubt a forerunner in its timeless take on elegance and style. This is the place where polished stone floors go hand in hand with elegant touches of black and white, and facilities are designed to be every bit as gracious at the well-appointed suites.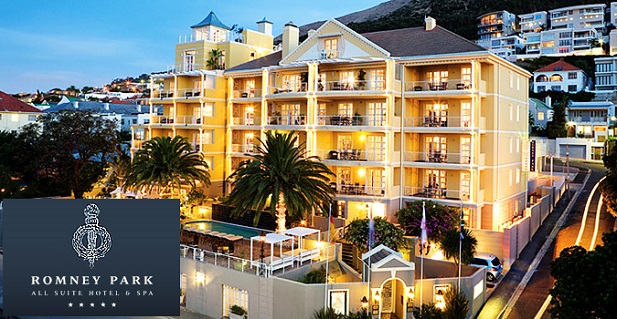 It's also a place that boasts an enviable location within the famous Atlantic Seaboard, overlooking the ocean, Green Point Stadium and views that span as far as Robben Island. Within easy reach of the Waterfront, City Centre, Camps Bay and many other Cape Town attractions, the hotel is ideal for both business and leisure travel. It's even great for an afternoon lunch or evening dinner, thanks to its excellent restaurant. And, as the name implies, it has a fabulous spa, too.
Why Stay at Romney Park All Suite Hotel and Spa?
What makes this hotel worth a visit, and why do we wax lyrical about its many fine characteristics? Here are some good reasons for starters…
* Luxurious accommodation. Forget about traditional hotel rooms – this hotel offers a selection of beautiful suites that offer one or two bedrooms, daily housekeeping, en-suite bathrooms, kitchens, living rooms and even terraces that have views over the ocean. Furnishing is every bit as classy as the rest of the hotel too, adding the final touch to an already alluring package.
* Wining and dining. Enjoy breakfast, lunch and dinner at the on-site restaurant, prepared by a very talented chef. Light meals are also offered at the lounge, as well as the bar and the pool terrace area. There is also a great wine list, and other beverage options to suit every mood and taste.
* Pampering spa treatments. Just when you thought it couldn't get better than that, the on-site hotel spa is sure to blow you even further away. Indulge yourself with soothing massage treatments, facials and many other pampering options that leave you feeling ready to head back into the world, and your stay is rounded off to perfection.
Visit www.RomneyPark.co.za to find out more about the infinitely stylish Romney Park All Suite Hotel & Spa.