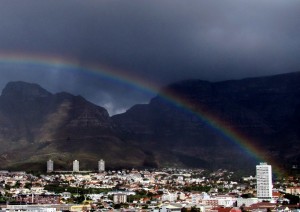 As you may have noticed, today is on the cold side as winter in Cape Town gets underway.
It's also the winter solstice here in the southern hemisphere – the longest night, and the shortest day. While that means that spring and summer are getting just a tad bit closer, it also means that we may be in for a somewhat chilly weekend.
So, what do local Capetonians do when it's chilly in the Mother City? Here are some ideas that will help warm you up.  
Best Winter Activities in Cape Town
Winters in Cape Town are actually quite unique, and compared to many other places, we have it easy. In fact, what most born and raised locals such as yours truly see as 'cold'; someone from the cooler northern hemisphere may even consider pleasant. Blessed with a climate that is seldom below 10 degrees Celsius even in the height of winter, we also get to enjoy loads of hot sunny days in between the cooler ones too.
When the weather is cool however, here are some of the things you can do…
~ Shark Cage Diving – no really, winter is the best time for diving of any sort – especially when it comes to sharks. Ideally, what you want is a cold, overcast day that is not too windy or too wet. Visibility on days like that is perfect, which means that you can get a good view of Great white sharks in the water below.
~ Indoor Markets – in the mood to get a taste of Cape Town's market culture but not keen to be outdoors? Try the V&A Blue Shed to browse a wide range of stalls (starting from the entrance near the Aquarium), or the Wharf Market to sample good food as well as other interesting things.
~ Two Oceans Aquarium – while you're at it, a visit to the aquarium is always worth the entrance price. Here you can see ragged tooth (aka sand tiger) sharks getting fed at about 3PM, see marine species from both the Indian and Atlantic Oceans, watch graceful rays, quirky turtles, giant spider crabs and loads of other fascinating creatures. You can find lots of Nemos too!
~ Mineral World Scratch Patch – there is one opposite the Aquarium in the Waterfront, and another one in Simons Town on the Main Road. Grab a bucket, pay a small fee and see how many semi-precious stones you can collect. If you want something fancier, there are also pretty gems to buy in the shop.
~ Simons Town Toy Museum – also in Simons Town is a very small, very beautiful museum that specialises in toys across the eras. A highlight for me was the train that runs right across the room, as well as the amazing dolls dating back hundreds of years. I have to admit that some were a bit spooky too, especially after all the horror movies I have seen in my life (luckily none moved or spoke on their own at least).
~ Navy Museum – if it's ships and boats that interest you, you may also want to check out the Navy Museum in Simons Town while you're there. This part of the city is home to the SA Navy, and the museum has plenty of memorabilia from the various naval phases. If you're lucky, you may get to see some navy solders doing their drills too!
~ Constantia Wine Route – only in town for a day days but still keen to do some wine tasting? Constantia is not as well-known a wine route as Stellenbosch et al, but it's very old and has a small yet excellent selection of estates. Look out for Uitsig at Groot Constantia, and have a lunch at La Colombe afterwards.
~ Newlands Rugby Stadium – winter in Cape Town also means rugby season, so if there are any games being played at home by the Stormers, Newlands Stadium is where they will play it. The stadium is rather open, and you may get rained on a bit, but it's totally worth it to have the chance to see some of the world's finest rugby stars doing their thing.
~ Baxter Theatre – not too far from the stadium in Rondebosch, the beloved Baxter Theatre is where you can catch shows, dance production, comedy festivals and plenty more besides. Computicket.com is the best place to get current schedules, and buy tickets online.
Then of course, there are all the cosy restaurants, vibey coffee shops, amazing art galleries, large shopping centres, trendy bars, traditional pubs and myriad other stops that are always good for a quick warm up too.
Hail or shine, wind or blue skies, Cape Town in winter offers plenty to see, and loads to do.
What is your favourite thing to do when the weather in Cape Town is chilly? Share your ideas – we'd love them hear 'em!