Easter weekend is a special time in South Africa – whether for religious reasons or simply as an annual long weekend breather, everyone will agree that they look forward to Easter. Many like to go away, while others try to avoid the busy roads, but if you will be in Cape Town on Easter weekend, watch this space for the next few weeks as we look at some of the great things you can do and places to visit to make 2011's Easter weekend something to remember!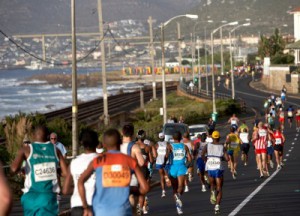 The past weekend saw thousands of cyclists put on their helmets for the Cape Argus Cycle Tour, and on Easter weekend, the city hosts yet another race famously known as the "most beautiful race". Another test of endurance, we are of course talking about the Old Mutual Two Oceans Marathon. The event first took place in 1970 and has developed into a grand tradition and a large festive event catering to competitive runners, spectator events and those just looking for fun. This event attracts local and international athletes and this year more than 11 000 entries are expected.  The race follows a more or less circular route starting in Newlands and finishing at the University of Cape Town's campus, with runners making their way around the city on a spectacularly scenic route through Muizenberg, Fish Hoek and over Chapman's Peak and Constantia Neck.
More than just a marathon, the Old Mutual Two Oceans Marathon now consists of a 56km Ultra Marathon, a 21km Half Marathon, Trail runs through the forests above UCT and Devil's Peak, various shorter "Fun Runs" for less adventurous or fit walkers and runners of all ages, the International Friendship Run – a leisurely 5km run specially for runners from foreign countries, an Expo at the Good Hope Centre and the Runner's Village for professional athletes. For more information, or to enter to take part in the race, visit: www.twooceansmarathon.org.za
If you are heading to Cape Town for this event or looking for a home away from home close to the action, contact us today on info@cometocapetown.com – Your trip to Cape Town starts here!