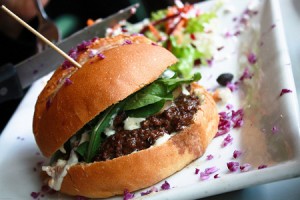 When it comes to enjoying a meal you can really sink your teeth into with gusto, there are a surprisingly growing number of options for savouring the best burgers in Cape Town. In fact, gourmet burgers have become such a big trend in the city that there is much debate over who really is the best. It is almost impossible to settle this debate; because in reality each of Cape Town's famous burger joints create their product to perfection.
So instead of arguing over the crispiest buns, most flavoursome beef or even the variety of burger combinations, we say try them all and enjoy the unique qualities that each of these burger experts bring to the table. We promise it will be worth your while, and your taste buds will thank you later.
The Juiciest, Yummiest, Tastiest Burgers to Try in Cape Town
Be prepared to become a burger connoisseur – a student in the mastery of really, really good burgers as you put Cape Town's finest burger joints to the test. The only skill you will need for this test is an appetite for good food. Ready to get started? Let the burger quest begin!
1.       Saint's Burger Joint – 84 Kloof Street, Gardens
Some say that there are virtually hundreds of possible burger combinations to try at Saint's, so many that the mind simply boggles. The menu is without a doubt one of the most extensive burger menus in the city, with everything from classic cheeseburgers to very fancy gourmet burgers loaded with unusual and delectable ingredients. The burger patties are real beef, farmed ethically and made from scratch. There are also regular specials, such as 'Two for One' burgers and Happy Hours. You will also find the city's trendy crowd here, with a great vibe weekdays and weekends.
2.       Royale Eatery – 273 Long Street, City Centre
Royale was one of Cape Town's very first gourmet burger restaurants, and today it remains one of the city's most treasured eateries. The quirky décor goes well with the retro style of these burgers, and just above you will find the infamous club and bar called The Waiting Room (perfect to work off your burgers on the dance floor). A good menu includes a number of burger options, with vegetarian burgers also offered. A speciality of Royale is their sweet potato fries, which are a delicious alternative to regular thick-cut fries. Try their milkshakes too to round off the retro gourmet experience.
3.       The Dog's Bollocks – Roodehek Street, Gardens
For a truly unusual dining experience, The Dog's Bollocks is a local secret that has yet to go mainstream. We can't give you the exact location, but if you are determined to find it, your effort will be worthwhile. Only 50 burgers are served each night, in the rather incongruous setting of a garage-turned-burger shop. A good selection of burgers ranging from Mexican chili to Prego is written up on a chalkboard, and cost about R50 each. Don't expect fast-food service here – all burgers are made by hand by Nigel, the owner, and can take a while. There are a few outdoor tables and chairs if you want to eat there. Just be sure to get there early – Nigel starts cooking at 17:00PM, from Monday to Saturday.
4.       Beefcakes – 40 Somerset Road, Green Point
If you like your burgers with plenty of sauciness on the side (and we aren't talking literally here), Beefcakes provides not only an excellent range of burgers, but also a hilariously camp entertainment line-up. Think Rocky Horror Show with a 50's charm. Bitchy Bingo nights, drag shows and tongue in cheek menus made this American style diner one of the most interesting eateries in the city. Choose from the wide selection of prime meat burgers, or build your own from a huge range of extra ingredients on offer.
5.       Café Caprice – 37 Victoria Road, Camps Bay
Along the Atlantic Seaboard, Caprice is where you will find beautiful people, beautiful views and even beautiful burgers. This trendy hotspot is a favourite with local and international visitors alike, and is positioned right opposite Camps Bay beach. The sheer size of their pure beef burgers at 250g makes them well worth trying, with a range of fillings to suit all palates. Caprice is running a 'Two for One' special on their burgers throughout winter, which gives you the perfect excuse to indulge your craving during the colder months. As an added bonus, you can enjoy good cocktails here too.
6.       Hudson's – 69 A Kloof Street, Gardens and Cnr Somerset Road & Upper Portswood, Green Point
For New York style burgers, good music and a bustling atmosphere, Hudson's is a firm favourite with many locals. Along with a range of pure beef burgers, there are also vegetarian burgers and various side items. You can also choose gluten-free rolls at a small extra charge. Expect plenty of old-school rock 'n roll, unique décor and a good crowd. Both branches are worth a visit, but be prepared to wait a bit for orders. It will be worth it once you get to finally sink your teeth into decent sized burger that is full of juicy goodness.
These are just some of our favourite places for burgers in Cape Town. There are still many others worth mentioning, but for now, these should keep your taste buds busy for a while. Keen to share your burger stories? Share your thoughts on the ComeToCapeTown Facebook page!