A 5-star hotel situated in the prime location of Camps Bay, The Bay Hotel is more than a destination – it is an experience. What exactly does the experience have to offer? For starters, a perfect blend of style and luxury, but that is just the beginning…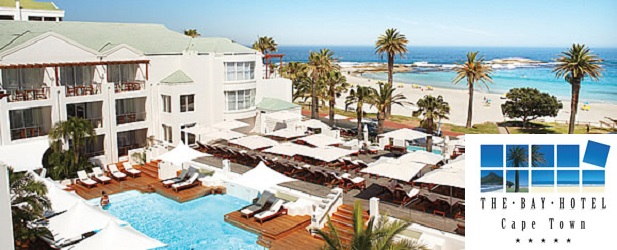 The hotel overlooks the beach, with views of the Atlantic Ocean to enjoy in one direction, and views of Signal Hill to enjoy in the other direction. Four pools, sun decks, a heavenly spa and plenty of other outstanding features have set this hotel aside from the rest, to ensure an ideal spot to enjoy leisurely summer days, glamorous evenings and unforgettable stays any time of year.
Romantic breaks, weddings, conferences, family holidays and many other exclusive offerings round up the experience, ensuring that each visit or stay is personalised to get the utmost enjoyment from your time at the hotel.
What We Love About The Bay Hotel
So just what is it about The Bay Hotel that will make you want to go back time and time again? Here are a few things that we can think of…
* Fun in the sun. But it's winter, I hear you saying. The sun is not shining. If you know Cape Town, you will know that we get more sun throughout the year than many other parts of the world – even in the middle of winter (or the tail end, as it were). When the sun is shining, make sure that you are at The Bay to take advantage of its stylish sundecks that give you the best views of the ocean. You will not regret it.
* Fabulous facilities. An excellent spa, wining and dining options, fully equipped gym, conference centre, wedding venue, hair salon, flower and gift shop, complimentary in-room WiFi (only for guests who stay overnight or for longer periods), wine sales, concierge and many other facilities and services make you feel right at home at the hotel, whatever your reason for visiting.
* Gorgeous accommodation. As for those who spend a night (or a week), luxury is to be expected from the moment you check in. There are 78 rooms in total, each one equipped with all the thoughtful extras you have come to expect from a hotel of this standard. Stylish furnishings and amazing views seal the deal, helping you wake with a smile for the duration of your stay.
To find out more about The Bay Hotel, visit them online www.thebayhotel.com and view rates, availability and full range of facilities on offer.