In major cities across the world, including Paris, Rome and Cape Town, aparthotels have become a popular choice for travellers. Combining the full service approach of hotels and the convenience of a lock up and go apartment, this concept is relatively new. For travellers seeking accommodation, the variety of options to be found can be overwhelming at times. In addition to deciding on which part of any given city to use as a base, you also have to decide what type of accommodation is best.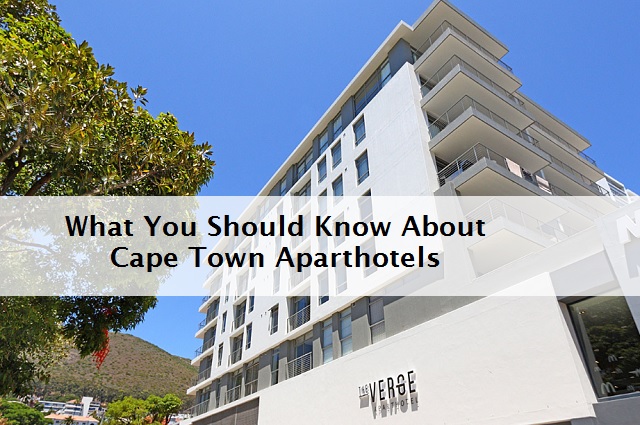 Some prefer the luxury of large, fully equipped villas, while others enjoy the fuss-free nature of apartments. There are those who veer towards hotels, those who long for a cosy cottage somewhere quiet and those who want to have their proverbial cake and eat it. For the latter type of traveller, the concept of aparthotels is perfect.
What Are Aparthotels, Anyway?
What is this concept all about, exactly, and why has it become such a big deal? As the name implies, this type of establishment is a combination of apartment and hotel. Some of the features that it typically offers guests could include:
* 24 hour concierge services
* Free WiFi
* Keycard access and other security features
* Hotel-grade suites and rooms that are serviced daily
* Self-catering facilities
* Hotel-style booking systems without the restrictions of a traditional hotel
How Do You Find a Good Aparthotel in Cape Town?
Choosing an aparthotel complex in Cape Town, or anywhere else, for that matter, comes down to just a little bit of planning. Just as you would take the time to carefully consider a hotel or guest house, doing your homework can save you plenty of heartache, hassle and stress. The number of complexes within this category are growing, but not all complexes are the same as far as quality goes. Before you make any bookings, consider these questions…
1. What sort of concierge or guest services are offered? You may think that you will only need guest services if you have special requirements, but having a 24 hour front desk that is approachable, friendly and accessible seven days a week will go a long way in ensuring that you have a pleasant stay. Whether you need to book a cab, find a restaurant nearby, get help with anything specific or simply know that there is someone there to greet you, a well-managed concierge makes all the difference.
2. How well are rooms/suites equipped? It's all very well to state that an establishment is self-catered, but if you are left only with a kettle and tiny bar fridge, you will likely end up having to dine out every day. Check beforehand to find out what amenities are offered in each room or suite. Does it have a kitchen? Will you actually be able to prepare food in it? Do bedrooms have storage? Are they separate or part of living area? Get a full list of room specifications so that you know exactly what to expect.
3. Is the complex safe? Having a fully manned front desk is a good start, but security goes far beyond that. Keycard access is one of the best options for security, while parking areas and communal areas should have additional measures such as cameras, guards and controlled access. This will allow you to sleep soundly without any worries.
4. How accessible is the complex in terms of location? You don't have to make your decision on location alone, but ideally, you want to be close enough to attractions, conference centres or other points of interest. If you're travelling on business, you want to be able to get into the Cape Town City Centre quickly and easily. If you're here on holiday, you want to be in close distance to beaches, museums and other landmarks. If you can catch a cab without paying too much or driving too far, you will have no trouble getting around.
5. How well will you be taken care of during your stay? This can be a bit tricky to determine if you're a first time visitor, but one way to find out is to look at reviews and guest testimonials. Services such as TripAdvisor are useful, but even an online search can reveal any potential concerns that have been expressed by guests. Don't let one review – or even a few – put you off however. Look at the majority of reviews and you will get a realistic idea of what it's like to stay there.
_____________________________________
Looking for a top quality Cape Town aparthotel that ticks all of these boxes? The Verge Aparthotel in Sea Point is central, fully managed, secure, welcoming, fully equipped and ideal for a wide range of travel needs. And, better still, until 31 September 2016 you can enjoy a great deal on your next stay with our Winter Weekend at The Verge special. Click here now for more info!