Easter in Cape Town 2017 is just around the corner. This year, we have decided to get a head-start on our planning so that we can relax and enjoy the wait. Taking place on Sunday 16 April 2017, Easter is celebrated in different ways across the city. Whether you're looking for things to do this year for the family, or you will be travelling to Cape Town and need some ideas on where to go, we have you covered.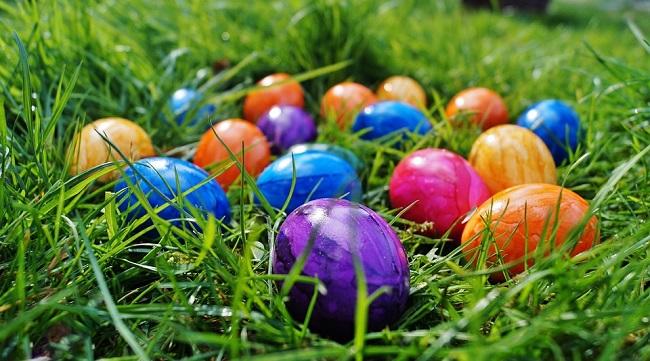 Wondering how to spend Easter in Cape Town this year? From Easter egg hunts to traditional lunch buffets, we have rounded up some of the best ways to celebrate Easter in the Mother City and surrounds. This guide was published on 18 March 2017 – stay tuned to view updates as we get closer to Easter!
Start Planning Your 2017 Easter in Cape Town
Some of the top events for 2017 Easter in Cape Town include the following…
Lindt Chocolate Studio Easter Line Up
31 March – 15 April 2017 / Various Outlets, Cape Town / www.lindt.com
Taking place from 31 March to 2 April 2017, the Lindt Gold Bunny Garden will be hosted at Canal Walk and Cavendish Square. This enchanted garden will be home to series of Easter hunts, where children will be able to fill their baskets with delicious Lindt treats. To participate, simply purchase a 100g Lindt milk chocolate gold bunny at aWoolworths store or a Lindt Gold Bunny Garden kiosk at either of the two venues. This activity is best suited for kids between the ages of 4 and 10. Then, between  6 and 15 April 2017, you can also enjoy a personalised gold bunny at selected Pick 'n Pay stores. Ally you need to do is purchase a 100g Lindt gold bunny from participating Pick n Pay stores and join the queue. Lindt Ribbon Makers will print a red ribbon with your loved one's name on it and tie it onto your gold bunny. For full details on the Lindt Easter specials, visit www.lindt.com.
Table Bay Easter Line Up
15 & 16 April 2017 / Table Bay Hotel, Breakwater Boulevard, V&A Waterfront / 27 (0)21 406 5000
On Saturday 15 and Sunday 16 April 2017, The Table Bay Hotel will be hosting an Easter High Tea at 14h30 in its lounge. The tea is available at R320 per person, with highlights that include cakes, desserts, savouries and Easter treats such as a chocolate fountain. There will also be an Easter lunch taking place on Easter Sunday from noon, at R450 per person. Menu highlights include biltong pate, Cape Malay pickled fish, hot cross buns and handmade vetkoek 'eggs', along with an abundance of sweet treats. Face painters, balloon sculptors and an egg hunt are also offered for kids. On 2 April 2017, there is also a special Easter Mini Chef event for kids between the ages of 5 and 12. It costs R325 per child, including treats and lunch. Kids will learn how to prepare an Easter themed dish, Pickled Fish and will be able to decorate Easter eggs.
The President Hotel Family Easter Lunch Buffet
16 April 2017 / The President Hotel, Alexander Road, Bantry Bay / +27 (0)21 434 8111
In Bantry Bay, you will be able to enjoy a delicious all you can eat Sunday buffet at The President Hotel. This buffet costs R240 per person (kids under 12 pay half price) and includes and Easter egg hunt and a huge variety of starters, mains and desserts. Look out for menu highlights such as salads, a roast carvery, yorkshire puddings, roast veggies, hot cross buns, carrot cake, malva pudding and plenty of other yummy offerings. The buffet will be taking place from 13h00 until 15h00 and bookings are essential.
[email protected] Easter Lunch Buffet & Egg Hunt
16 April 2017 / [email protected], Simonsvlei Winery, R101, Paarl / +27 (0)21 863 3845
Situated in the beautiful Cape Winelands town of Paarl, [email protected] offers the perfect setting for a lazy lunch buffet. There will also be a special Easter egg hunt for kids that takes place at noon (R55 per child). Lunch prices range from R185 for main course only to R215 for 2 courses and R235 for 3 courses. Highlights include a delicious hot cross bun bread and butter pudding for dessert along with a traditional pickled fish starter and a selection of mains.
Lanzerac Easter Lunch
16 April 2017 / Lanzerac Hotel & Spa, Lanzerac Road, Stellenbosch  / +27 (0)21 887 1132
Another lovely spot in the Cape Winelands is Stellenbosch, where you will find the world-class estate, Lanzerac. Here, you can enjoy a spectacular Easter lunch that costs R450 per person. The 3 course meal is truly delicious – look out for menu highlights such as pulled pork belly, marinated chicken terrine, pickled fish and some heaven-sent desserts, including carrot cupcakes, hot cross cinnabon with orange glazing, bunny macaroons and many other yummy treats. There will also be an Easter egg hunt for kids – contact [email protected] for full details.
______________________________________
We will do our best to update this guide with additional events as we get closer to Easter in Cape Town. If you're looking for additional guides to all things sweet, don't miss our guide to chocolate tasting in Cape Town! Looking for alternative ideas on how to spend Easter this year? Try our tips on Easter ideas that don't involve chocolate.