While visitors flock to the Mother City during the hot summer months between November and March, the best time for shark cage diving in Cape Town is actually in winter. The months from May to October offer the best time to go shark diving in Cape Town, as this is when water visibility is at its best and when sharks are more likely to be seen at hotspots such as Shark Alley in Gansbaai.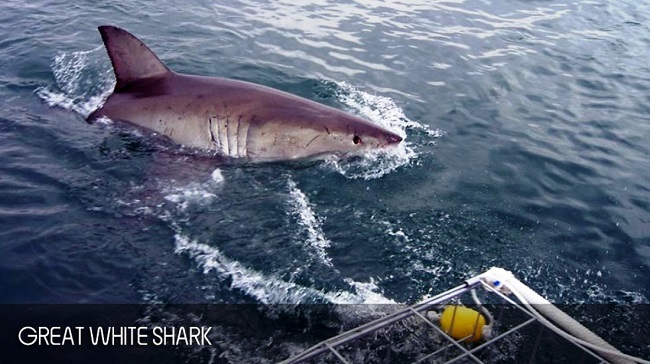 If you are looking for something truly unforgettable to do this winter, why not try a shark cage diving tour? You are sure to come away not only with fresh respect for these amazing creatures but also memories that will last you a lifetime. And speaking from personal experience, that is something I can absolutely guarantee!
Top Reasons to Try a Shark Cage Diving Tour in Cape Town This Winter
What can you expect to see and experience during a shark cage diving excursion in Cape Town? Why would you even consider getting into a tiny cage to venture underwater amidst massive Great white sharks? Here are some reasons that this sort of winter adventure is worth trying…
1. See sharks in their natural habitat. One of the things that I loved most about shark diving was having the chance to see sharks. Not just in an aquarium or from a boat, but really seeing them right there in the water. There is something breath-taking and deeply humbling about watching these creatures move in the water. Forget those scary looking postcards and Jaws clips with big teeth and ferocious fish. In reality, Great white sharks are more majestic than you might have thought.
2. Enjoy a thrilling boat ride on open waters. Another thing that I loved about this adventure was the boat ride out to Shark Alley. This spot lies a few kilometres off the Gansbaai shore, getting its name from its popularity among sharks. Nearby is the seal colony of Duiker Island, which is very likely what has made this a hotspot for sharks. If you get sea sick easily, you might want to take an anti-nausea pill, as the ride is not without its share of bumps. In winter, the waves are often choppy. But, if the thought of flying over the waves makes you happy, you are in for a real treat!
3. See sea birds and other marine species. Often, dolphins can be seen from the boat. Sea birds are also frequently spotted. Being out in the middle of the ocean is incredible, and this sort of tour is a fantastic way to take in the scenery. One thing about winter in the Cape is that the weather is never what you think it will be… very often, days are clear but cool, giving you the ideal conditions for a day out at sea. Be sure to bring your camera (and some extra batteries just in case!). A pair of binoculars is also a good idea!
4. Enjoy a drive along the Garden Route. On the way to Gansbaai, and the way back, you'll also be able to see the gorgeous Garden Route in all its glory. While this area is green most of the year around, in winter is it especially lush. The coastal roads take you through small sleepy towns, along winding roads that offer views of sea and mountain and fynbos. Our tour collects you from your hotel and drops you back again after the tour, so you get to relax and enjoy the drive.
5. Make new friends along the way. Yes, we know that you can make friends any time of year. But nonetheless, on any tour, you will be able to meet new people who are joining the adventure. Visitors from all over the world come to Cape Town in winter, summer, spring and autumn. This means that there are ALWAYS people to meet. Whether you are visiting from the US, UK, Germany, France, Italy, Australia, the Middle East or even locally from within South Africa, the trip is a fun way to make new friends.
___________________________________________
All in all, while it is possible to see sharks in summer, winter is without a doubt the best time to try this adventure. Chances of spotting sharks will be greatly increased during this time, making it an excellent choice for those wanting to discover the ocean in winter.
Keen to go shark cage diving in Cape Town? Click here for full information and bookings or call our Tours desk on 0213000777 for more info