If you are looking for something to do this weekend, be sure to check out Decorex Cape Town 2015, which starts this Friday. Held at the CTICC (Cape Town International Convention Centre) on Lower Long Street between Friday 24 April and Monday 27 April, this annual design convention brings together a world of talent, creativity, innovation and inspiration, all under one roof.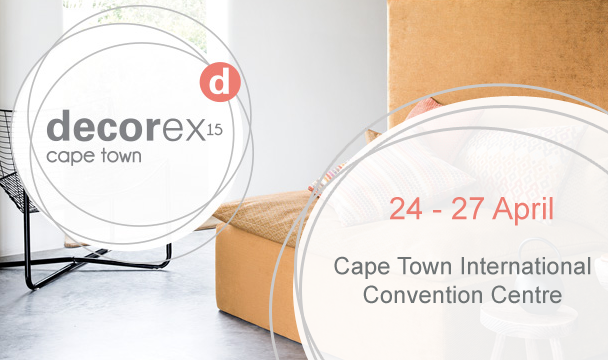 After hugely successful Decorex 2014 and Decorex 2013 shows, we are super excited to see what the 2015 show will bring. This year's theme is 'The Home of Great Ideas', which will provide visitors with a huge range of inspiring ideas for fabrics, furnishings, home decor, kitchen goodies, crafts and DIY tips, colour trends and a whole lot more. Whether you have a passion for interior design or you simply appreciate the beauty of design or the functionality of the latest appliances and home products on the market, this is sure to be a good show.
And better still, it's family friendly, too. In addition to a full schedule of decor and design showcasing, there will be food stalls, wine and refreshments and other entertainment to ensure that everyone enjoys themselves. Bring the family, grab a few friends or your significant other, and pop down to the CTICC this weekend to experience the marvelous Decorex 2015 event in Cape Town.
2015 Decorex Cape Town Event Details
Venue: CTICC, Lower Long Street, City Centre
Dates: 24 – 27 April 2015
Times: 10h00 – 19h00 (Friday to Sunday); 10h00 – 18h00 (Monday)
Tickets: Adults – R80;  Students, Pensioners, Trade & Exhibitors – R70; Kids under 12 – R15 (available  via Computicket website and outlets)
…
So, what can you expect from this year's Decorex show in Cape Town? To put it mildly, loads and loads! With a home-focused theme, it stands to reason that home decorating is going to be taking centre stage this year. Some of the features taking place at the show will include the following highlights:
Decorex Designer Spotlight – an annual feature that showcases the year's brightest design star, this year's designer is Sarah Ord. Based in Woodstock, Sarah will be using Home Fabrics wallpapers and textiles to create a remarkable installation. To give you a hint, she has dubbed the look of this installation 'tropical arbour', stating that it gives a 'sexy, lush and colourful nod to warmer climes".
Rising Designers –  partnering with Inscape Education Group, which is a creative school that has a variety of art and design disciplines, Decorex SA will be giving three of their top third-year students a platform to showcase their talents.
100% Black – with the rise of Scandinavian, minimalism and other decor trends featuring black as a focus colour, black is the new black this year. The team from 100% Design South Africa will be doing an installation of design items in this trendy colour, showing how the dark tones emphasise shape, structure and visual appeal.
Dream Home – Private Property will be putting together a house scape exhibit that is interactive and fascinating. Visitors will be able to walk through fully developed rooms, and also speak to consultants about finding a dream house for rent or purchase.
Plascon's 2015 Colour Trends – learn more about the year's top colours, and find out how to use these in interior and exterior walls. You will also get more info and inspiration on paint trends with this local paint expert.
Make it Wonderful Kitchen – sponsored by Franke, this design project features the latest trends in kitchen appliances, products and decor. Cape Town designers will be creating four different kitchens, where you will get the lowdown on everything related to modern kitchen design.
Beautiful Boudoirs – three of the city's leading female decorators will be showcasing their own takes on the bedroom, showing you some great trends, tips and inspiration for this intimate room.
Craft & Create – a must for all lovers of handmade products, this project will put locally made items in the spotlight. Browse and buy a range of interesting goodies, made by local Cape Town and South African artisans.
In addition to these design showcases, you will also be able to stop past the Consol Gourmet Food Market, Decorex Bistro and the Graham Beck Wine Bar to enjoy food, coffee, wine, snacks and baked goods.
Don't forget – Decorex Cape Town 2015 kicks off today – Friday 24 April – and runs all weekend as well as Monday for those who can't get there over the weekend.
Will we be seeing you at this year's Decorex South Africa show in Cape Town? Leave your thoughts below and tell us your thoughts if you get a chance to go!