Our 'lady on the scene' Dom caught up with all the amazing local trends recently showcased at Decorex Cape Town 2013 last month. Here's what she has to say about the event…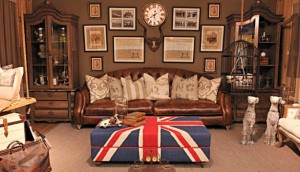 Started in 1994, Decorex is now a highly anticipated event in South Africa's interior design calendar. With two trade days and two days open to the public, this event is a must for businesses and DIY home decorators alike looking for inspired solutions and sophisticated design.
The Decorex brand prides itself on staying at the forefront of trend-driven industry, encouraging consumers to seek inspiration locally instead of reaching overseas.
The latest event took place in Cape Town this past weekend 25th to 28th April, and we were there to find out what all the fuss is about. Similar events happen in both Johannesburg and Durban throughout the year. Cape Town's event was held at the iconic CTICC on the Foreshore, which is a perfect venue for the vast array of stalls and stands on show at the expo.
From the moment we arrived at the venue, it was easy to spot the ticket sales and entrance, and we were met by a well organised crew of staff selling tickets, R70 per adult, and handing out bags of pamphlets and maps as we walked in.
The stands were organised in a grid-like layout, with short isles snaking through the warehouse-sized room and stands set up neatly on either side. We picked a side and started to make our way through the abundance of stalls on offer.
Immediately it was evident that there was an eco-friendly focus prevalent with many of the brands on show.  Efficiency in the use of non-renewable resources is the key to this trend and many brands were making use of this to attract customers to their stalls. It is encouraging to note that it is becoming fashionable to be kind to the environment, and therefore businesses, aware of this development, are giving consumers products that fulfill the same functions but are in line with the "green" trend.
The materials used in many products on show were the traditional steel, wood, glass and porcelain, however, new resources came to the fore here with bamboo products leading the innovation. 'Upcycling' is also a new and very popular design tactic, for example, old pallets were repurposed turning them into usable television cabinets and wine racks made from reclaimed and re-crafted wood oak lead the 'upcycling' trend in terms of style.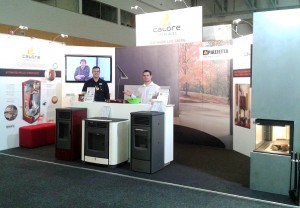 With winter on the way, Calore Fireplaces and Stoves did well to stay on trend with their eco-friendly heating solutions such as their pellet stove using only recycled wood chips as fuel.
Of course, blankets, fleece and down duvets were abound and, as always, discounted Persian carpets were a winner. Many stalls captured the attention of the consumers with handmade crafts and collections of art and décor.
Beautiful locally sourced materials and fabrics used to make tablecloths, placemats, napkins, and various other items were popular with the home decorators.
Many Pinterest ideas were brought to life, small plants in pots hanging on a piece of wood and Doodles Laser Cutting making laser-cut wooden quotes to stick on the walls in your kitchen or laundry.
On the technological side of things, the trends in automation and one-touch controls proved to be extremely popular, with many companies exhibiting systems to control your house with automated design and touchscreen control panels. Everything from televisions that appear out of a panel in roof at a touch of a button, to whole audio, video and lighting systems controlled via a touchscreen tablet. Even security systems linked to an online monitoring app so that you can log in from anywhere in the world and access live video feed of your home. You may think the idea is a bit "Big Brother," but if the salesmen are to be believed, it is the way of the future!
Overall the expo had an upmarket feel, and trends such as retro furniture reminiscent of the 60s, antique chests and trunks and textured fabric were unmistakable on the whole. Designers, staying true to vogue, showcased gorgeous larger-than-life couches as well as equally stylish small wooden chairs for those apartment dwellers for whom space is a luxury. Living up to the title of World Design Capital 2014, brands like Cape Town's Growing Stacks have found a way to grow a whole herb garden in a small space using innovative stackable pots.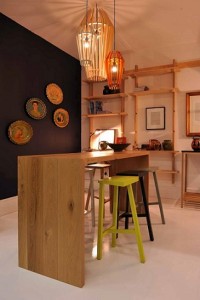 As a sponsor of the event, Plascon were innovative with their branding, noting the colour scheme of select stalls and indicating the Plascon paint pantone above the stalls, cleverly making the entire expo into a subtle marketing exercise for their brand.
At various points along the route to the opposite end of the expo, there were some beautifully designed areas to sit down, relax, take a breather or rest your feet.
The Graham Beck champagne bar, designed by Wetherlys, was a unique way of showcasing the upmarket furniture sold by the brand, while treating guests to champagne, sushi, or cheese and breads.
If cake is your thing, there was a place for you too – called The Tea Room – serving delectable desserts, tea, coffee and other hot drinks.
There was also a fresh-food market selling hot meals and plenty of hand-prepared cheese, nougat, fudge, tapenade and olives.
Naturally, a home expo has to have the telltale demonstration shows and Decorex did not disappoint. The line-up of presentations at the Samsung Inspire Theatre showcased everything from a how-to demonstration from Orphanage Cocktail Emporium to a cook-off by ex Masterchef contestant, Jade de Waal.
Whether you're a homemaker, an interior designer or just a DIY guy, there is something fit for everyone's tastes at Decorex – there is even a play area for the kids, sponsored by Mr Price Home. All in all, it is a great day out, for inspiration or just to see what is new and exciting on the market.
We are certainly looking forward to what next year's Decorex event has to offer. Will you be joining us?