Recently named one of the coolest neighbourhoods in the world by Forbes, this trendy seaside town is a beautiful neighbourhood that lives up to all the hype and praises it's getting. A real gem of the vibrant False Bay coastline, the ocean-front fishing village of Kalk Bay is jam-packed with tons of incredible hidden gems, secret spots and cool quirks you won't quite find anywhere else.
It's home to a variety of trendy street-lined shops, quaint cafes, stunning beachfront restaurants, unique coffee shops, arty craft shops and so much more. You can easily spend a full day exploring the streets of Kalk Bay and still not discover all the beauty, wonders, adventure, quirky character and hidden gems it has to offer. It's located just around the corner from Simonstown and Boulders Beach, home to Cape Town's beloved African Penguin colony, as well as a variety of spectacular caves and thrilling hiking trails. Kalk Bay truly is an ideal destination for outdoor exploring and adventuring and the perfect place to escape from the hustles and bustle of the city. Not to mention the fact that the cool, quirky and charismatic Kalk Bay has fast become a fan-favourite surfing hotspot among locals and international surfers alike.
Things to do in Kalk Bay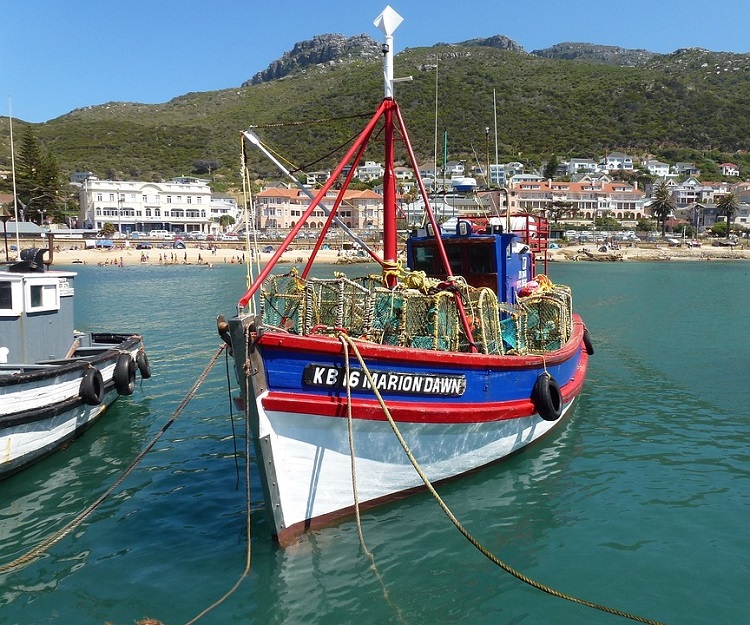 Let's take a look at the cool things to do in Kalk Bay that will fill your day as you explore one of the coolest neighbourhoods in the world with tons of fun, adventure, beauty, and memorable experiences.
1. Surf the cool Kalk Bay waves
View this post on Instagram
Kalk Bay is home to one of the best surfing beaches in the Mother City. The Kalk Bay reef is located along the vibrant False Bay coastline is in an exposed reef break. It has therefore fast become one of the most sought-after summer-time surfing spots, as well as one of the best winter surfing hotspots for local and global surfers alike. Lovingly referred to among locals as the one surf spot to have a real Mother City attitude. Kalk Bay's consistent, left-breaking waves, and the occasional savage barrel is everything avid surfers love and crave when it comes to surfing. Although this cool Cape Town surfing beach is certainly known as a world class reef break in the right conditions. Surfers are advised to be careful of the reefs and often unpredictable conditions and to take the necessary precautions when necessary.
Getting there is quite an exciting and thrilling journey! It requires a little bit of effort and navigation skills as you need cross-over the railway line, often requiring a bit of a hole in the fence manoeuvre, hopping onto a small sandy beach, making your way to the infamous Brass Bell restaurant, and then entering the water directly from the peak. But that's all part of the fun right?
However, one thing is for certain, it promises to be a Kalk Bay surfing adventure you won't soon forget. Plus, just like Muizenberg, the warmer Indian Ocean waters means you can spend a bit more time out there enjoying the waves, which is always a massive bonus for any and all die-hard and avid surfers.
2. Eat fish & chips at the famous Kalkys
View this post on Instagram
You absolutely cannot go to Kalk Bay and not go to the infamous Kalkys, there is just no way! In Cape Town there truly is nothing like enjoying a traditional fish and chips feast made the real local way. Kalkys is one of the best harbourfront fish and chips spots in the entire city, and it has become one of the most beloved local fish and chips eateries in the Mother City.
Kalkys truly is local Cape Town fish and chips at its very best. No fancy trimmings. No experimental and inventive flavour combinations. Just a laid back, back-to-basics eating area. Big display menu on the wall above the 'place your order here' sign. The traditional fish and chips are wrapped in a newspaper with a hefty dose of delicious salt and vinegar. That's the way we do it in Cape Town! Paired with a stunning harbourfront ocean view and a few Seagulls flying about, it's pure bliss.
3. Indulge in a delicious ice cream at the one & only Ice Café
View this post on Instagram
There truly is no better feeling than strolling the cool, quirky and charismatic streets of Kalk Bay with a down-right delicious, flavour-filled, knock-your-socks ice-cream from the beloved Kalk Bay ice-cream gem, the Ice Café! Located on Kalk Bay's main strip, the Ice Café is widely known to serve up some of the very best ice-cream in the entire city of Cape Town. Although that's a pretty bold statement to make, we're sticking with it 100%. Plus, the massive crowds of people that can always be found queuing up in front of this incredible Kalk Bay ice-cream spot just further proves its sought-after ice-cream status.
At the Ice Café they pride themselves on personally making all their own ice-cream from scratch, ensuring you get the very best in quality, flavour and taste. All their ice-cream flavours and selections are also entirely natural and are made with no eggs. Besides its top-notch quality, when it comes to choosing your ice-cream flavour, wow, you are in for quite a treat. At the Ice Café they have all the best flavours, ranging from chocolate, peanut butter, strawberry, ginger, apple, black cherry and brandy, cinnamon and so much more. Your ice-cream wish is their ice-cream demand. Thereby ensuring there is something for every ice cream lover to enjoy!
---
---
4. Go cave exploring
View this post on Instagram
Are you up for a bit of thrill and excitement? Then going cave exploring is definitely one the coolest things to do in Kalk Bay, especially if you consider yourself to be a bit of an adventurous soul at heart. There are several caves worth exploring in and around the mountains of Kalk Bay. However it's always a great idea to take someone along that knows the area well. Otherwise, it's extremely important to familiarise yourself with the environment beforehand in order to not get lost or wander too much off the beaten path.
One of the best Kalk Bay hiking journeys and cave exploring expeditions for novice hikers or first-time adventurers in this area is definitely the famous Boomslang Cave. The start of this Kalk Bay hiking and cave exploring adventure is at the Echo Valley sign on Boyes Drive. The hike to the final destination, the Boomslang Cave, is about 4 km long and will take around two hours. But don't worry, you will most definitely be well rewarded for your hard work and hiking efforts with some of the most spectacular views of the False Bay coastline you've ever seen. Be sure to keep your eyes open for some great sightings of a few members of the marine Big 5 while you're up there. Especially dolphins, whales, Cape Fur Seals and African Penguins.
In addition to magnificent views and marine life sightings, the Boomslang Cave is also perfect for a bit of cool cave exploring. The cave goes right through the mountain, so it really is an unforgettable and fun-filled experience to share with friends, family and other avid hikers and adventure seekers.
5. Explore the cool & quirky Kalk Bay streets & shop to your heart's desire
View this post on Instagram
Undoubtedly one of the best things to do in Kalk Bay, especially if you love a bit of shopping, discovering quirky stores and browsing about, is strolling the cool Kalk Bay streets and all of it's unique, captivating and quirky street-lined stores. It truly is everything you can imagine and so much more! Kalk Bay is widely known as the place to go when you're looking for something unique and one-of-a-kind. From stationary, jewellery, arts and crafts, clothing (new, second hand and cool thrift stores) and souvenir items to bags, décor items, paintings, sculptures, photographs, plants, books, antique stores and a variety of bric-a-brac shops. Kalk Bay truly has something for everyone! You can easily get lost exploring the vibrant and quirky streets of Kalk Bay for a whole day and still not experience and discover everything it has to offer.
6. Visit the Kalk Bay Harbour
View this post on Instagram
Besides being a bustling Kalk Bay landmark, the Kalk Bay Harbour forms an integral part of Kalk Bay's history. Its famous red and white striped lighthouse that sits at the end of the bustling and equally charismatic Hout Bay Harbour pier. Has not only established itself as a must-see attraction when visiting this cool Cape Town seaside town. But it has fast become a favourite spot for locals and travellers alike to capture that perfect sunrise or sunset snapshot. Or enjoy a lovely evening strolling around the harbour and the pier, all while admiring the stunning sea-side and vibrant False Bay coastline views around you.
The Kalk Bay Harbour is also known as the main hub where the cool and charismatic ocean locals, the Cape Fur Seals hang out. You can definitely expect to see some spectacular Cape Fur Seal sightings with these majestic beings draped over the pier wall. So, if you're looking to enjoy some amazing sighting of theses incredible and equally playfully Cape Fur Seals, you've definitely come to the right place. Just head on down to the harbour, sit back, relax an enjoy the show.
7. Take a dip in the Kalk Bay tidal pool
View this post on Instagram

There truly is nothing better than cooling off from the Cape Town summer heat than by enjoying a refreshing dip in one of the Mother City's top tidal pools. Nestled between St James and Kalk Bay, the Dalebrook Tidal pool has undoubtedly become a local fan-favourite for kids and adults alike. The fact that it seamlessly melts into the ocean, has without a doubt made the Dalebrook Tidal Pool one of the most beautiful tidal pools along the vibrant False Bay coast. Undoubtedly making a visit to this tidal pool hotspot one of the coolest things to do in Kalk Bay!
You can also find a few large boulders scattered around in the tidal pool, thereby inviting bathers to languish a little longer and catch some lovely Cape Town sunrays. The low wall between the Dalebrook tidal pool and the ocean also means that the water is kept clean with a constant flow of new, fresh water breaking over the wall's edge. To get to it, simply walk along the subway under the railway line. It is located just off Main Road in Dalebrook.
---
---
8. Visit the Kalk Bay Theatre
View this post on Instagram
Are you looking to add a bit of authentic art and culture to your Kalk Bay trip? Then a visit to the renowned Kalk Bay theatre is perfect for you. The Kalk Bay Theatre is a heritage-protected old Dutch Reformed Church on the Main Road of Kalk Bay. Although this hand-built Kalk Bay Theatre is one of several Cape Town dinner-and-theatre venues. The Kalk Bay Theatre without a doubt has a certain charm and charismatic appeal that makes it a step above the rest. It offers an authentic and enjoyable theatre experience unlike anything you've experienced before. The historic space accommodates up to 77 guests, who regularly flock here for the excellent theatre and comedy performances. In addition to an extraordinary theatre experience, the Kalk Bay Theatre also offers the option of a supper-club experience.
The Kalk Bay Theatre is open from Tuesdays – Saturdays, with dinner usually starting around 18:30 with the show proceeding at approximately 20:30.
9. Enjoy a sensational meal & a few drinks at the famous Brass Bell
View this post on Instagram
Situated right on the edge of the iconic tidal pools, with a breath-taking ocean view, this old seaside pub is somewhat of an institution in Kalk Bay. Its therefore no surprise that locals and tourists travel from far and wide to experience everything the Brass Bell has to offer first-hand. Enjoy a sensational meal, paired with a few drinks and an incredible view at this ocean-front gem. While the shore-hugging location is the real attraction of the sought-after Brass Bell. The food is pretty spectacular too! From seafood, pizzas, burgers and curries, there truly is something for everyone to enjoy.
While the Brass Bell Grill is the main restaurant area that seats approximately 60 people. That's not where the Brass Bell magic ends. They also boast an elevated Captains Deck that offers the same menu as the Grill, but with a magnificent bird's eye view of the ocean. The Brass Bell Bikini Deck is the perfect place to enjoy some amazing live music and performances, paired with spectacular cocktails, an incredible selection of drinks and a truly exceptional ocean view. What more could you ask for? Be sure to keep your eyes on the ocean waters for some sensational whale, dolphin, Cape Fur Seal or African Penguin sightings to top it all off.
10. Embark on the ultimate hiking adventure to the Amphitheatre Hike
View this post on Instagram
If you're looking to experience an unforgettable adventure-filled hiking experience on your visit to Kalk Bay, the thrilling hike from Kalk Bay to the Amphitheatre is right up your alley. Starting off on Boyes Drive just above St James, the trail covers approximately six kilometres and includes sections of yellowwood, Cape beech and assegai tree forests. The Amazon Forest, also known as Kroon se Bos, is located in the Echo Valley. This gives hikers the opportunity to immerse themselves in all the natural beauty this scenic and adventure-filled hiking trail has to offer.
Although the hiking trail from Kalk Bay to the Amphitheatre requires a bit of hard work and hiking graft with a moderate level of fitness needed to complete the hike. The rewards waiting for you at the end destination is certainly well worth it! As you're confronted with spectacular views of the beautiful Kalk Bay in all its glory. As well as the splendours of Seal Island, False Bay and the Hottentots Holland Mountain Range in the distance. Take a picnic along and enjoy the rewards of conquering your Kalk Bay hiking adventure as you sit, back, relax and admire all the beauty before you.
With so many cool things to do in Kalk Bay, your trip to this cool, quirky and charismatic seaside town on the beautiful False Bay coastline promises to be one you won't soon forget. Filled with beauty, fun, history, delicious treats, magnificent marine life sightings, stunning views, incredible culinary experiences, thrilling adventures and so much more. It's no surprise that a visit to the vibrant coastal town of Kalk Bay has become one of top and most sought-after things to do for locals and travellers alike.
---
Wondering where to stay when visiting Kalk Bay in Western Cape? You can find the very best Kalk Bay villas, apartments, self-catering holiday rentals and other first-rate accommodation for your holiday. Browse our selection of accommodation by area and tours if you are looking for things to do in Kalk Bay, or get in touch today for help with finding the perfect places to stay in Cape Town.