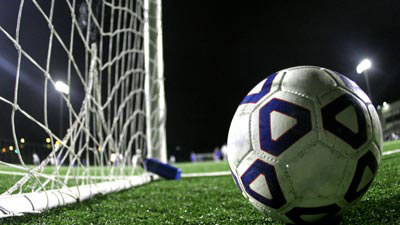 Soccer in Cape Town is not just a game – it is a way of life. While the same applies for the rest of South Africa, and in fact many other places all over the world too, and while the Mother City goes mad for many other sports too, the love of soccer is often installed from birth for many fans.
Not too long ago, Cape Town was lucky enough to play host city during the 2010 FIFA Soccer World Cup that was held in South Africa. Part of the build-up for this epic event was the creation (or rather, the revamping) of Green Point Stadium, which was where the games were held in the city. The Fan Walk was also developed, offering a fun, safe way for fans to get to the stadium via the City Centre or Waterfront.
Soccer Stadiums in Cape Town
Today, soccer games along with many other sporting events are held at Green Point Stadium, with our two local teams taking on the rest of the country in PSL (Premier League) battles. These two teams are Ajax and Santos. The city has given rise to many well-known stars between these teams, not least including Benni McCarthy, Quinton Fortune, Albert Johannensen and David Julius.
As the name suggests, Green Point Stadium (also known as Cape Town Stadium) is situated in the heart of Green Point, which is near the Waterfront area (off Somerset Road). Parking is almost never possible, which is why the Fan Walk is so useful. Best plan is to leave early so that you have plenty of time to get there, stop past a local bar or two, and take a meander to the stadium when game time approaches.
There are also other smaller stadiums too – Athlone Stadium and Philippi Stadium are both favourites for local games and PSL games.
One thing to note about the way that South Africans approach soccer is knowing that it's go big or go home… be prepared to don your colours, get a little bit outrageous and go far beyond face paint if you want to get into the vibe. Oh and now is a good time to brush up on your vuvuzela skills too.
Upcoming Soccer Fixtures in Cape Town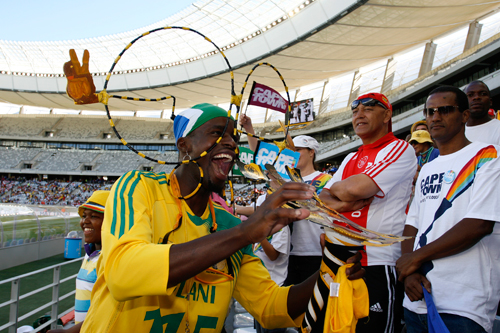 Wondering who is playing who, where and when? Here are some upcoming Cape Town PSL fixtures that you may want to note for the upcoming months ahead…
20 April – 20:15 PM – Ajax vs Bidvest Wits – Athlone Stadium
27 April – 20:15 PM – Ajax vs Chippa United – Philippi Stadium
1 May – 17:00 PM – Ajax vs Kaizer Chiefs – Cape Town Stadium
11 May – 15:00PM – Chippa United vs University of Pretoria – Philippi Stadium
18 May – 15:00 PM – Ajax vs Golden Arrows – Athlone Stadium
Check out more info on PSL fixtures across the rest of SA over here.
Where Can You Play Soccer in Cape Town?
Not enough just to watch soccer? You can also play the game too! Aside from our two PSL teams, we also have some smaller clubs in Cape Town as well, including Hellenic Club and African Brothers football academy. You can join in on the action with a team of friends or even co-workers to play a 5 side game… at a price of course.
Some of the places you can try include the following:
–          Fives Futbol – Mouille Point, Sunningdale and the Waterfront – midweek corporate league, weekend league, ladies league, schools' league, showbol league and senior league.
–          African Brothers Football Academy – Breda Street, Gardens – social games, league soccer, corporate events and soccer parties.
So there you have it – at least a good chunk of everything you wanted to know about football in Cape Town. It's also a good time to give a bit of a confession here… I am really, really terrible at playing soccer, but I can't resist trying because I secretely believe that one day I will be able to shout LADUUUMAAA after an epic goal. And of course, I love the game.
And isn't that what the spirit of Cape Town soccer is all about really?
Got any cool soccer stories? We want to know! Share your thoughts below, and let us know if you can bend it like Beckham (or at least make some noise with a vuvu).