Situated near to the Athlone School for the Blind in Bellville, a Cape Town park is currently being upgraded, making it South Africa's first blind friendly park. The park upgrades are expected to be completed by June 2016, and include a wide range of features for the visually impaired. Its proximity to the School for the Blind will make the updated park a huge asset to sight challenged students and their teachers, with special additions that also include tactile paving along the roads leading from the school to the park.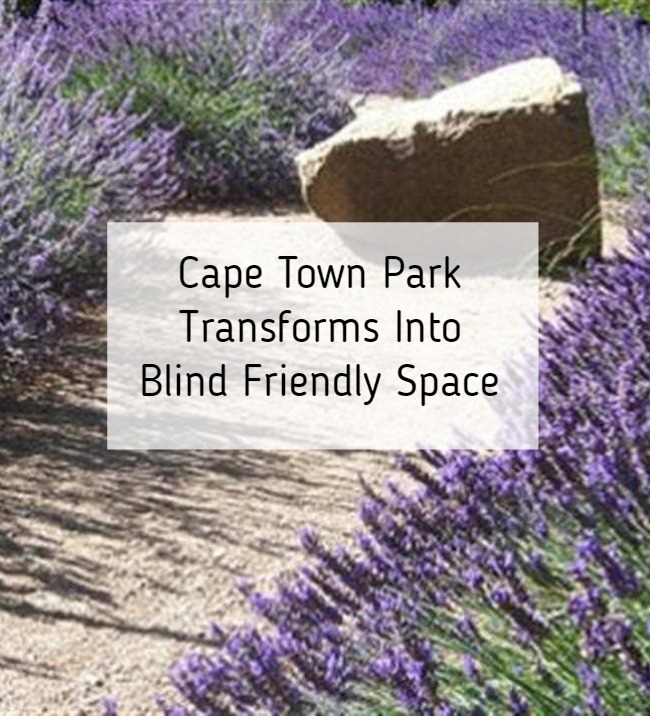 What will the new park have to offer, and why are parks such as these so important in our communities? Let's take a look…
Blind Friendly Park in Cape Town
The park lies close to the Athlone School for the Blind in Beroma. Started many decades years ago in 1927, this school offers a safe, nurturing environment for vision impaired students, from pre-school all the way through to grade 12. It provides both education and residential care for sight challenged children from disadvantaged communities, acting as a day school and boarding school.
Some of the upgrades that this Cape Town community park will receive include the following:
– Fragrant plants such as lavender' wild garlic and rosemary that help guide visitors by scent;
– A court for the specially designed blind sport of Goal ball, which can also be used by the community for other activities;
– Rubber mats on the playground to ensure optimal safety while children are at play;
– A mosaic mural that uses art and stories in a tactile way.
Brett Herron, mayoral committee member for transport, says of the park, "The design team engaged with the [school] regarding the children's needs and habits. We studied their playgrounds and learnt from their specialist teachers who train the children in mobility."
Currently in South Africa, there are no parks designed for sight impaired visitors. For children who lack the use of an essential sense, such as sight, a lack of safe places to explore outside of the school area can make it harder to find ways to stimulate and learn. The rise of healing gardens and adapted parks that cater to the diverse needs of communities means that slowly but surely, the need for such places is being recognised by city planners.
"The children have very limited opportunities to explore outside the school precinct due to lack of mobility access' however now they can explore the whole neighbourhood'" says Brendon Johnson' project manager for non-motorised transport in the city.
Tamzen Titus' mother to a partially sighted five year old' is looking forward to the newly upgraded park, saying "Using social spaces such as parks is a great way to integrate our kids into society. We often hear of parents that hide their disabled kids as they don't want them to be ridiculed' but I feel so strongly that by taking our child to the park or on the train is educational for them and to those around them."
To learn more about the incredible work that is done by the Athlone School for the Blind, you can visit them online at www.athloneschoolfortheblind.org.za or contact the school on +27 (0)21 951 2239. They offer a number of ways to get involved, too – from sponsoring a child to once-off donations. The newly upgraded park for the blind is expected to open in June. It is located near Athlone Street in South Bellville, in Cape Town.
…
We are excited to see what the new blind friendly park in Cape Town will look like on its completion. If you have any thoughts you'd like to add, share them below in the comments.