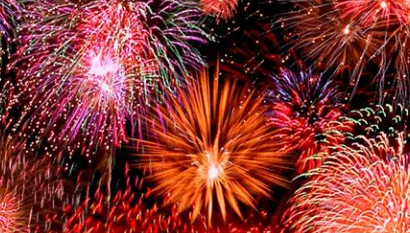 I don't know about you, but I tend to be rather laid-back when it comes to New Year's Eve in Cape Town. By that, I mean that it is rare for me to plan too far in advance. Perhaps it is something to do with my belief that something better, more entertaining and more awesome might just come along just before NYE gets underway. 
Don't be like me darlings… instead, do the sensible thing and start thinking about how you want to bring in the new year right now with these epic events…
New Year's Eve in Cape Town 2013
Wondering how and where to see in a brand new year? Here are some ideas for New Year's Eve in Cape Town 2013:
Official Cape Town New Year's Eve of Design @ Grand Parade, City Centre. Free entry, line-up features Toya DeLazy, as well as DJs Ready D and 5fm's DJ Fresh. Starts 18h00. 
NYE @ V&A Waterfront, Atlantic Seaboard. Free entry, line-up includes Freshlyground plus comedians Martin Evans and Rob van Vuuren. Firework display also scheduled for 21h00.
Kirstenbosch Gardens New Year's Concert, Newlands. R290 per person, line-up includes Goldfish, Yaov and Tailor. Tickets available online or from the Kirstenbosch guest centre. (click here to book tickets)
NYE Ball with Carl Cox @ CTICC, City Centre. Tickets start at R470, and are available via Computicket.com. 
Rezonance 2013 @ Contermanskloof Farm, Durbanville. Tickets start at R470, and can be purchased via Computicket. Over four stages of electro and trance. 
Surf's Up – The Ultimate Beach Party @ The Barnyard, Durbanville. R350 per person. Music by  The Beach Boys, Katy Perry, Beyoncé, with a fun beach theme. 
Ibiza Calling NYE Party @ The Bungalow, Clifton. Ticket prices range from R450 to R800. Line-up includes Space Ibiza resident DJ Danny Marquez plus 5FM jocks DJ Fresh, Rob Vember and Stephanie B. 
Nu World Eve @ Founders Garden, City Centre. R250 for pre-sold tickets purchased via supported retail outlets; R260 via Webtickets and R300 at the gate. Highlights includes pirate theme, fresh artisan food, stalls, entertainment acts and more. 
New Year's Eve Dinner & Dance @ Richard's Supper Stage, Sea Point. R1100 per person (includes four-course dinner and entertainment). Highlights include Kaapse Stories from the Mother City special edition, Larry Soffer and live jazz plus a midnight Cape carnival procession. Bookings are essential – contact +27 (0)76 144 4809. 
NYE @ HQ Restaurant, City Bowl. R500 per person (includes canapés, glass of bubbly, NY cocktail plus meal of sirloin, salad and dessert). Bar-only package also available at R350 per person (includes everything up to meal). Bookings: +27 (0)21 424 6373.
NYE Pacha Ibiza Party @ Grand Café & Beach, Granger Bay. R750 per person standard entry; R2000 per person dinner and party package entry. Bookings essential – contact beach@grandafrica.com. 
See – I told you these were pretty epic. So epic that I will be forced to forgo my 'winging it' tradition for a change – don't want to miss out on all this fun, after all! Now all I need to do is choose just one event… hmm. 
How do you plan to spend New Year's Eve 2013 in Cape Town? Share your thoughts and ideas below and let us know!