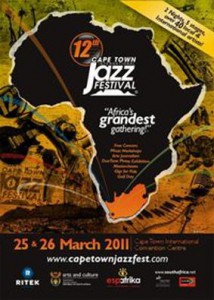 The Cape Town Jazz Festival has become an internationally acclaimed event, attracting a star-studded lineup of international Jazz artists and thousands of visitors this year. The event, held at the Cape Town International Convention Centre (CTICC) the past weekend, first saw the light in 2000 and has since grown in scope and size and the talent it attracts!
—
This year's lineup included Earth, Wind & Fire, Dave Koz, Gang of Instrumentals, Dave Ledbetter and The Clearing, Hubert Laws, Simphiwe Dana, the Wayne Shorter Quartet and Youssou N'Dour, as well as Christian Scott, Esperanza Spalding, Gazelle, Hanjin, Ivan Mazuze, Lisa Bauer, Monique Bingham, Patricia Barber, Sandra Cordeiro and the Flames. These artists lit up the Festival's five stages with their great variety of styles and high-profile names, displaying their talent, technical proficiency and world-class jazz improvisation to delight and enthrall their audiences.
—
The Festival is more than just a series of performances though. It's impressive lineup was accompanied by a series of workshops which took place over an eight-day period, the Duotone Gallery's photographic exhibition (documenting the global emergence and growth of jazz), various arts and crafts stalls and a free community concert at Greenmarket Square.
—
The Cape Town Jazz Festival has been a spectacular event every year and promises to be so again next year. Celebrating the colourful history of this musical tradition and style and delighting in the vitality and spontaneity of its artists and the music itself, the Cape Town Jazz Festival is a not-to-be-missed event for any Jazz-lover or those looking for exposure and an education in the style from the world's top artists.
—
Don't miss the Cape Town Jazz Festival next year and prepare to be captivated by the city and people that hosts this unforgettable event! For flights, car rentals, Cape Town accommodation and world-class service, we invite you to be our guest. CometoCapeTown.com – your trip to Cape Town starts here.