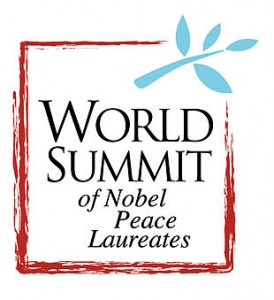 While it's no secret that South Africa's Mother City is constantly growing its global reputation, the news that Cape Town will be hosting the 14th World Summit of Nobel Peace Laureates is nonetheless something to be very proud of indeed.
This prestigious event offers Nobel Prize winners the chance to get together and discuss topical issues that affect the world. In addition to laureates, others on the guest list include major influencers within cultural, political, social and scientific communities.
This year's event took place in Warsaw, Poland, and was attended by a number of people including the Dalai Lama, Sharon Stone and City of Cape Town Mayoral Committee Member for Tourism, Events and Marketing, Councillor Grant Pascoe.
Says Pascoe of next year's event, "It was in Cape Town, on the steps of the iconic City Hall, that President Mandela delivered his first speech after his release from prison on 11 February 1990. As the City of Cape Town, we are ready for the exciting challenge that awaits us and have already started the preparations. The City of Cape Town wishes to convey our sincere thanks to the Permanent Secretariat of the World Summit and to the Nobel Peace Laureates for deciding to bring the 14th World Summit to Cape Town."
Nobel Laureate Summit in Cape Town
Playing host to the Nobel Laureate Summit is a major scoop not just for Cape Town, but for the country as a whole. Next year marks the 20th anniversary of democracy in South Africa, and the country is also home to a number of Nobel Peace Prize laureates. These include Desmond Tutu, FW de Klerk and Nelson Mandela.
The focus topic for this year's event was a call to rid the world of nuclear weapons, and for peaceful conflict resolutions for war-torn countries such as Syria. It is not certain yet what focus the Nobel Laureate Summit in Cape Town will be just yet, but we're sure more details will come to light once planning gets underway.
For those who plan to attend the conference, remember that planning ahead is essential for accommodation and other travel aspects. Once final dates are set, bookings can be made and conference delegates can begin the build-up to the very first Nobel Laureate Conference in Cape Town!