UPDATE 12/03/2017: Due to strong winds and the recent fires in Hout Bay,the Cape Town Cycle Tour 2017 has been cancelled. From the organiser's statement: "Based on consultation with all the emergency services, the Joint Operations Centre of the Cape Town Cycle Tour 2017 regrets to announce that they have had to take the unprecedented step of cancelling this year's 40th Cycle Tour. This is due to winds in excess of 100km/hour on parts of the route, and the need to urgently clear the roads for emergency vehicles to attend to fires. All riders who have started on the route will be stopped at the end of the M3. They will be contained there and traffic authorities will escort them back on the M3."
—
Taking place on Sunday 12 March 2017, the Cape Town Cycle Tour 2017 celebrates its 40th anniversary this year. For the last four decades, this event has held the honour of being the largest individually-timed cycle race in the world. With a 109km route that travels across some of Cape Town's most spectacular regions, this is also one of the most scenic races on the planet. Cyclists from all over the world will be coming to the Mother City to compete against the best of the best, in a race that is without a doubt one of South Africa's premier sporting highlights.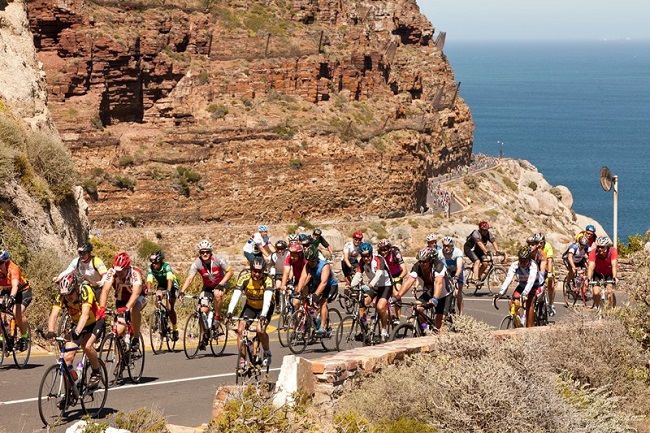 What can race-goers and spectators expect from this year's Cape Town Cycle Tour? Join us on the blog today as we share some must-know details such as road closures, registration dates and times, viewing points and everything else you need to know about this renowned cycling race.
Cape Town Cycle Tour 2017 – Road Closures, Event Details & Other Info
Entries for the event closed in August 2016. All cyclists who entered will need to register. Goodie bags will also be presented. Registration will be held over three days, from Thursday 9 March to Saturday 11 March 2017. On Thursday, registration will be open from 09h30 until 19h00; on Friday registration will run from 09h00 until 19h00 and on Saturday it will run from 09h00 until 16h00. Registration takes place at the Cape Town Cycle Tour Expo at the Cape Town Stadium in Green Point. It's important to note that anyone not participating in the event will be charged R50 to attend the Expo. Cape Town Cycle Tour participants must bring their RaceTec/Winning Time chips to gain once-off free entry.
Some quick details to note about this year's Cycle Tour:
Date: Sunday 12 March 2017
Times: 06h00 – 17h30
Starting Point: Hertzog Boulevard, City Centre
Contact: +27 (0)87 820 7223 / www.capetowncycletour.com
The full route spans over a hundred kilometres, across the City Centre, southern suburbs and False Bay coastline. Key destinations covered along the route include the City Centre, Newlands, Wynberg, Muizenberg, Kalk Bay, Fish Hoek, Simon's Town, Scarborough, Noordhoek, Hout Bay, Camps Bay and Sea Point. To view a full map of Cape Town Cycle Tour 2017 road closures, click here.
If you are supporting friends or family, or you simply want to watch the cyclists on their grueling route, there are a number of viewing points along the way, including the following:
* Hertzog Boulevard (Start)
This is a great place to watch the action unfold. Be warned however – with road closures and traffic, getting into the CBD will be a bit of a challenge if you are coming by car. It is easier to make use of MyCiTi bus or go in by bike or foot if you are in the general area. This will require an early start (the race begins at around 06h00).
* Newlands, Claremont & Wynberg
You can watch from the east side of the M3 near Newlands Forest, at the subway near the Parks and Forest area or on Paradise Road (near Paradise Motors) in Claremont. Moving closer to Wynberg, you can head to Edinburgh Drive at the top of Wynberg Hill to watch the cyclists as they come to the first big climb.
* Muizenberg, Kalk Bay & St James
On Main Road/Steenberg Road in Muizenberg, you will be able to spot the cyclists as they enter the False Bay area. You can also stop for breakfast in Kalk Bay or St James on the Main Road and watch the cyclists as they come past. Parking will be available on Boyes Drive.
* Fish Hoek & Glencairn Beach
The traffic circle on Main Road Fish Hoek is a good viewing point, while a bit further along in Glencairn Beach, you can head to the grassy area opposite the beach near Glen Ridge or to Glencairn Hotel, Southern Right or Dixies restaurant. This area is only accessible by foot however.
* Simon's Town, Scarborough & Noordhoek
Main Road is the best bet for locals and visitors who will be near Simon's Town. Jubilee Square always has a festive atmosphere. You could also take a train to Simon's Town to watch the fun unfold. In Scarborough, you can head to the Main Road by foot or pick a local pub or restaurant to watch the cyclists ride past. Noordhoek Farm Village on the Main Road is a good spot as well.
* Hout Bay & Suikerbossie
Head on down to the corner of Main Road (M65) or Chapman's Peak Drive in Hout Bay to watch the cyclists before they hit Suikerbossie. You could also head to Suikerbossie by foot to watch this part of the journey before it reaches Llandudno and the Atlantic Seaboard.
* Camps Bay, Sea Point & Promenade (Finish)
Head to the Camps Bay beachfront to relax on the beach and watch the Cape Town Cycle Tour 2017 ride past. You can also head to Sea Point – there is a pedestrian bridge that allows you to cross the road to watch the turn from Victoria Road onto Queens Road. From here, the race continues to the Sea Point Promenade, where it completes at the finish line. This spot always has plenty of emotion, energy and spirits!
__________________________________________
Where will YOU be watching the Cape Town Cycle Tour 2017? Let us know in the comments below!
Image: CapeTownCycleTour.com