Taking place a bit earlier than usual, the Cape Town Cycle Tour 2016 will be taking to the streets on Sunday 6 March 2016. This event is the world's largest timed race, and one of the most exciting cycling events on the sporting calendar. With an intense 109km route that spans across some of the most beautiful scenery ever, this race draws thousands of cyclist to the Mother City each year (and an equally high number of spectators, too!).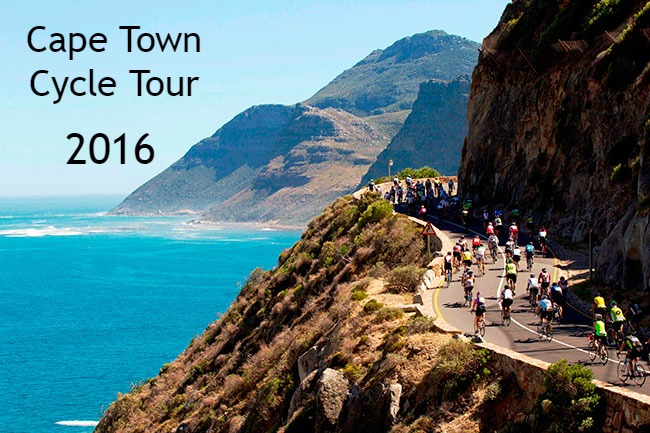 What can race fans expect on Sunday, and what else should you know about the Cape Cycle Tour? Let's take a look…
Cape Argus Cycle Tour 2016 – Routes, Times & Other Info
On Sunday, the Mother City's streets will be transformed into a cycling track like no other. Known for its epic route that is full of hills, mountain passes and coastal roads, the hot March weather further adds to the challenge. Many cyclists are experienced riders who have completed many events. There are also many who are doing the Argus for the first time.
Much as Europe has its Tour de France, we have our beloved Cape Argus Cycle Tour. While it is traditionally held close to Easter, this year's event is a bit earlier. If you're looking for something free to do this weekend, keep reading to see what you can expect from this internationally renowned cycle event.
2016 Argus Route
The route begins on Hospital Bend, running through the southern suburbs, into Constantia, then along the False Bay coastline, around Chapman's Peak, into Hout Bay, along the Atlantic Seaboard coastline and eventually finishing in Camps Bay. There are refreshment and medical stations along the route to ensure that cyclists stay hydrated and safe. Spectators can also come along and watch the action at various points along the way, or come and celebrate at the finish line where plenty of entertainment will be on offer.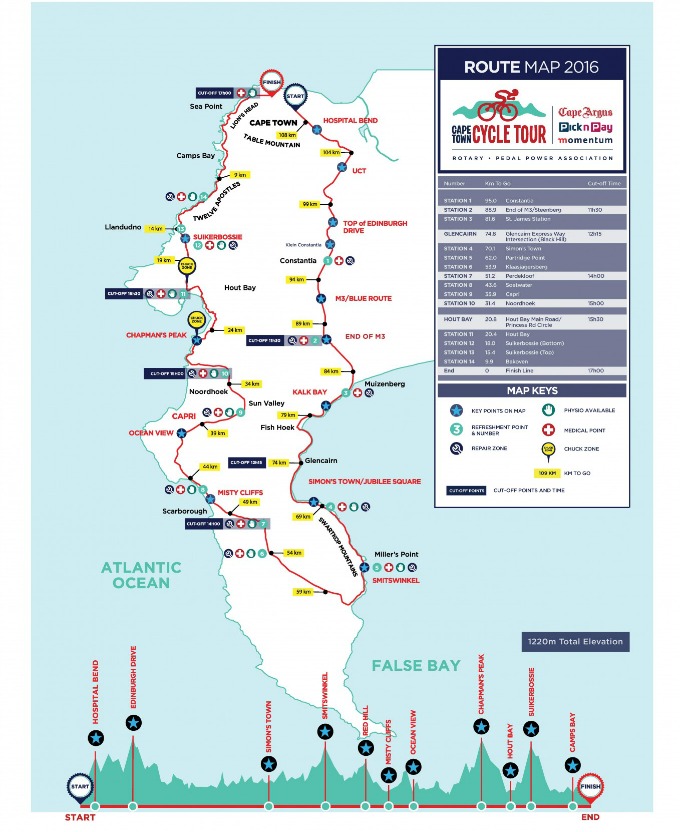 Download a full size map over here. 
Cape Cycle Tour Expo 2016
From 3 – 5 March 2016, the Cape Cycle Tour Expo 2016 will be taking place at Cape Town Stadium. This is a fantastic 'pre race' event, with a cycle parking area, lots of cycling products and all sorts of other lifestyle and sporting goodies. Details for this event are as follows:
Dates: 3 – 5 March 2016
Times: Thursday 3 March: 09h30-19h00; Friday 4 March: 09h00-19h00; Saturday 5 March: 09h00-16h00
Venue: Cape Town Stadium, Green Point
Costs: Cycle Tour participants with RaceTec chip get in for free, non-riders pay R40 and kids under 12 also get in free
Road Closures
Certain roads will be closing as cyclists make their way along the route. It is a good idea to download a full road closure map here so that you know exactly what roads will be affected. Major roads that will likely have some closure over the course of the day include De Waal Drive, Ou Kaapse Weg, some parts of Main Road, Chapman's Peak Drive, Victoria Road and others.
It's also good to remember that this a much-anticipated sporting event that is only held once a year. Some inconveniences may be experienced by road closures, fans, noise and other race day festivities. Generally, the mood is always fun and rewarding, and the event organisers work very hard to ensure that local residents and tourists are not disrupted too much. Heading to a viewing station and watching the cyclists whizz by is a great way to get into the spirit of the event – support from fans can make all the difference on this gruelling journey!
…
In town for the race, and looking for somewhere to stay? Accommodation gets booked up very quickly over race weekend, but we are always here to help you find somewhere that is close to all the action. Contact us today with your requirements, and we will do our best to assist!
Will we be seeing you at this year's Cape Cycle Tour? We hope that you'll join us in supporting this year's cyclists on their epic journey!