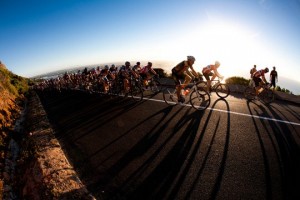 With the Cape Argus Cycle Tour 2013 now just over a week away, one thing is for sure – cyclists all over the world are bracing themselves for the biggest cycling event on the continent!
Now in its 36th year, this world famous sporting event began in the late 1970s, to raise awareness for the lack of bicycle tracks within Cape Town. Today of course, a lot has changed. There may be more dedicated cycling tracks in the city, but the time-honoured Argus tradition remains.
This year will see none other than Sir Richard Branson among the list of participants in the Argus – word has it that he is a bit out of practice, but as a seasoned thrill-seeker, we are sure he will take to those fearsome passes with ease!
New Year, New Race… Argus 2013 is Almost Here
Starting in the City Centre, and continuing onwards passed Newlands, Wynberg, Constantia and False Bay, in recent years the route has passed along the scenic but extremely daunting Boyes Drive that leads up to Simons Town.
This year however, the race returns once again to the flatter (but still challenging) 109km route via Muizenberg Main Road. From Simons Town, the route continues past Millers Point, Kommetjie, Noordhoek, Chapmans Peak, Hout Bay, Camps Bay and to the finish line at Green Point Stadium.
This event is not only about those who compete though. For families, friends and spectators, it is a chance to see history in the making, as cyclists are supported along their journey. It is also a chance for entrants to support non-profits such as Pedal Power and the Rotary Club of Claremont – both of which do amazing things within the Cape's communities.
So what else can cyclists and spectators expect from this year's Pick 'n Pay Cape Argus Cycle Tour?
Argus Cycle Tour Race Info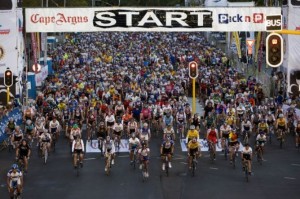 Date: 10 March 2013
Time: 06h00 – 14h00
Venue: Various roads across Cape Town
Routes:  See 2013 Argus Route Map
Facilities: Refreshment stations & medical points
Traffic Info: See 2013 Argus Road Closures
Follow: www.cycletour.co.za | @CycleTourTrust
Cycle Tour Spectator Events
Getting up early to watch the Argus contestants take off from the start line is something that many locals look forward to (assuming they haven't been out the night before of course). The event is broadcast on SABC and other sporting channels too, but there are few things more exciting than seeing the action unfold right in front of you.
There are however a few tips to keep in mind if you are cheering on cyclists. It is fine to pass water or even cool them down with some gentle splashes as they pass.
But be respectful, and take care not to distract or disrupt riders. That means no touching as they surge by, and definitely no throwing of watermelons or water bottles!
Otherwise, take a look at the Cape Argus route map and choose your spot to cheer.
From the CBD all the way to False Bay, there are plenty of options across the peninsula. Grab a picnic basket, a pair of binoculars and a camera, and enjoy a fun day out. There will also be a carnival at Green Point Stadium after the race ends – well worth checking out to enjoy an awesome vibe.
Looking for Cape Cycle Tour Accommodation?
If you are partaking or watching the tour from elsewhere in South Africa or somewhere abroad, you may be wondering where to stay for the duration of the event weekend. The good news is that you will find a host of options to suit just about every taste and budget – hotels, apartments, villas, guest houses, holiday homes and more.
Check out our current accommodation in the Cape Peninsula to find out where to stay, from the City Centre to False Bay.
Who will you be rooting for this year – Sir Richard, a buddy or your own team that's competing? Let us know below in the comments!