Winter holidays are almost upon us, and many are starting to make plans for a memorable getaway. Whether you are daydreaming about a weekend away or even planning a long-distance vacation, we have a few reasons why choosing a villa in the sought-after area of Camps Bay is sure to be just the ticket for the cooler time of year…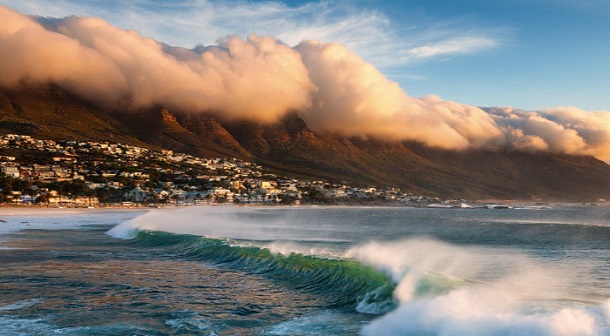 Why Stay at a Villa in Camps Bay This Winter?
Planning a winter holiday in Cape Town? Here are just five good reasons to consider booking a stylish, cosy villa in Camps Bay for your holiday.
1. Mildest winters this side of the hemisphere.
With almost as many sunny days as cold days throughout the season, winter in the Cape is quite unlike anything you may experience anywhere else. Lovely hot days are followed by clear, cold days, which flow into rainy days and even stormy days, with anything from hail, wind and gentle breezes in between. This means that there are always a few beach days to enjoy even in the middle of the coldest month. Take advantage of the varied Cape Town weather with sumptuous fireplace dinners at your villa when it's cold and sundowners by the pool when it's warmer.
2. Loads of winter activities, right on your doorstep.
As Camps Bay lies within easy reach to many top attractions such as Table Mountain, the V&A Waterfront, the trendy City Bowl and the historic City Centre, you can enjoy plenty of things to see and do during the winter season. Savour fine food and wines at the many great restaurants and bars in the area, try a day tour of the Cape Winelands, look out for festivals, activities and regular markets and enjoy the fresh air and beautiful scenery offered during this time of year.
3. Affordable rates and annual winter restaurant specials.
Winter in Cape Town falls within the low season for travel, which means that you can take advantage of reduced rates in everything from air fare to accommodation rates. Better still, the city's restaurants participate in the annual tradition of winter restaurant specials – a collaborative initiative that offers fantastic deals on meals and drinks throughout the winter months. Stay tuned to the CometoCapeTown.com blog for the 2014 winter specials!
4. Best views for the first whale sightings of the year. 
From the balcony or deck of your villa that overlooks the Atlantic Ocean, you may even get the chance to spot the first whales that appear in the bay towards August and onwards. Southern right whales migrate to the southern waters of the peninsula to calve and breed, and can often be seen frolicking in the waves as whale season gets underway. You could even try a whale viewing tour to see these amazing creatures up close and personal – an experience that you will never forget!
5. Indulge your senses in pure luxury and comfort.
Holidays are meant for relaxing, and in the case of winter holidays, you can enjoy plenty of luxurious relaxation after booking into your Camps Bay villa. The majority of villas in our portfolio are designed to provide all the pampering that you could ever want, with a host of features that enhance your stay. Advanced sound and entertainment systems, snug lounges with fireplaces and satellite television, spacious bedrooms with en-suite tubs and even added services such as butlers, drivers and personal chefs are sure-fire ways to treat yourself to a holiday well worth treasuring.
***
Dreaming of a winter holiday in Camps Bay? View our current accommodation listings in this popular area to find your dream villa, and start planning your own winter escape! Click here to view all apartments, holiday houses and villas in Camps Bay.