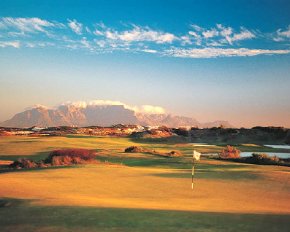 If you are starting to think about travel ideas for the year ahead, golf holidays in Cape Town are a fantastic way to combine excellent golf, amazing scenery, plenty of sun and loads of relaxing fun. The Mother City loves its golf, boasting a diversity of courses that cater to everyone, from beginners to more experienced golfers.
In this part of the world, you have the chance to take your pick from many different settings. Try a course in the famous Cape Winelands, with wine tasting and good food to be enjoyed after playing a few holes. You could also play near the beach in Melkbosstrand, with fresh sea breezes and iconic views of Table Mountain in the distance.
Then there are the old, classic courses in the suburbs, and even a trendy course right near the popular V&A Waterfront.
Great Cape Town Golf Courses
While you will find golf courses in almost every part of Cape Town, we have chosen a few of the most scenic options that are well-equipped, ideally situated and great to get started. Here are some of our suggestions:
The River Club – Liesbeek Parkway, Observatory (+27 21 448 6117)
This sports club is home to the Southern African Golf Institute. Facilities include undercover bays, grass hitting bays, putting greens, chipping areas, bunker practice facilities, a mashie course that offers nine par 3 holes plus restaurant and bar.
Atlantic Beach Golf Course – 1 Fairview Drive, Melkbosstrand (+27 21 553 2223)
Set against a backdrop of the ocean, this course is ideal for some relaxing time on the greens. Facilities include pro shop, golf academy, leisure complex with swimming pool and bar as well as a good restaurant.
Metropolitan Golf Course – Sonnenberg Road, Mouille Point (+27 21 430 6011)
This course is situated near to the V&A Waterfront, boasting views of Signal Hill and Table Mountain. Facilities include a variety of greens and tees, a clubhouse, bar and golf clubs for hire.
Steenberg Golf Club – Spaanshemat River Road, Constantia (+27 21 715 0227)
This 18 hole course is somewhat private, being available to those staying within the Steenberg Estate. Facilities include four different levels, five tees, driving range, chipping area with sand traps and a large putting green.
De Zalze Golf Course – Die Boord, Stellenbosch (+27 21 880-7300)
Set on a beautiful estate in the Cape Winelands, this course has 18 holes and spectacular views. Facilities include a ProShop, water features, a river and varying pars to suit all golfing levels.
More Ideas for Golf Holidays in the Cape
Travelling with a significant other who is not quite as keen for a day on the greens? Golf holidays can be customised to suit everyone with a bit of planning. In addition to golfing, many other leisure activities can be enjoyed, from spa treatments to shopping, beaches and even safaris. The Winelands area alone offers a huge range of courses, which means that you can put your new 7-iron to use, while the rest of your group explores nearby vineyards and indulges in some wine tasting.
What this means is that you can plan a rewarding travel experience that caters to everyone in your group, without missing out on your much-needed time on the course.
Have you played golf in Cape Town recently? Share your experience below and let us know which courses you enjoyed the most!