Crowned one of the most beautiful cities in the world, Cape Town is home to a variety of iconic landmarks and tourist attractions.
While each of these renowned sites undoubtedly deserve a prime spot on each traveller's bucket-list, exploring the Mother City's best kept secrets and lesser-known attractions is one of the greatest adventures of them all.
In addition, exploring and experiencing Cape Town's best local spots and things to do is also a great way to experience Cape Town without the large crowds and long queues.
Experience Cape Town: Under-the-Radar Things to Do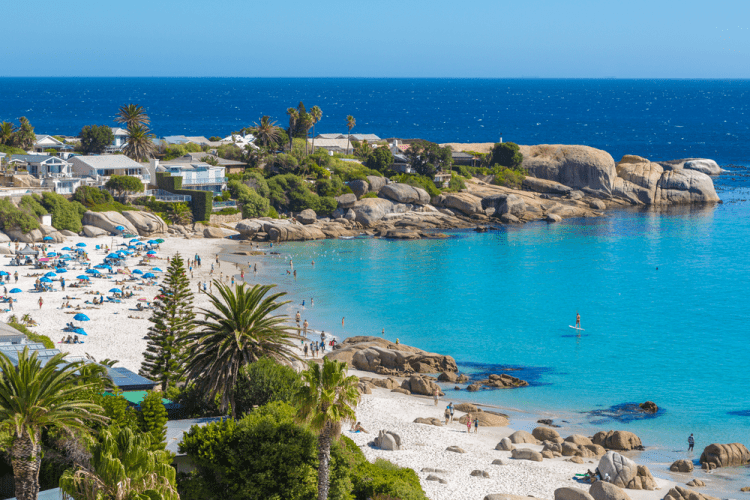 Let's take a look at some under-the-radar things to do in Cape Town that will undoubtedly add a whole lot of fun, beauty and excitement to your trip.
1) Take an afternoon drive along Atlantic Ocean Drive
View this post on Instagram
Cape Town is home to some of the most beautiful coastal drives in the world including the scenic stretch from Cape Point to Kommetjie. Boasting an untamed natural beauty and hidden gems like Scarborough and Misty Cliffs along the way, taking an afternoon drive along this magnificent route is undoubtedly one of the under-the-radar things to do in Cape Town. If you're looking to enjoy an extra special treat, the Atlantic Ocean Drive is absolutely spectacular at sunset!
2) Take a trip to Cape Town's West Coast
View this post on Instagram
Spending a day exploring the Cape's west coast is an adventure you should experience who you visit Cape Town. Boasting a variety of gorgeous seaside towns and spectacular beaches showcasing white sand and clear turquoise water, the Cape's west coast is a picturesque coastal escape unlike any other. It's also home to some of the best and most authentic local seafood spots in Cape Town. Bloubergstrand, Yzerfontein, Langebaan, Paternoster, Jocobsbaai and Saldanha Bay are just some of the west coast beach towns you should pay a visit on your trip.
3) Enjoy a refreshing dip in the Crystal Pools
View this post on Instagram
Just an hour outside of the city you will find the Steenbras Nature Reserve, a perfect escape from the hustle and bustle. This glorious natural Cape Town gem is every bit as beautiful as it is exciting, and while it might take some extra effort (and maybe a bit of sweat and hard work too) to reap the reward, the endpoint is well worth it.
The beautiful Crystal Pool Hiking Trail boasts an abundance of indigenous fynbos, lush surroundings and incredible views. The first pool is about 45 minutes from the start of the trail where you can also enjoy a lovely picnic and a shaded escape to catch your breath. But if you have a bit more energy left in your 'tank' we suggest you continue your journey to the second pool. You will be well rewarded for your efforts with some incredible swimming, kloofing opportunities and a waterfall.
4) Watch a film at the Labia Theatre
View this post on Instagram
The Labia Theatre is one of the last independent movie theatres in South Africa. Showcasing daily screenings of art-house films as well as regular film festivals, the Labia has something for everyone to enjoy. In addition to being one of the most authentic spots to watch a film in Cape Town, visitors to the Labia can enjoy a variety of fan-favourite film snacks like popcorn as well as a drink from the bar. This adds some extra charm to this unique Cape Town film experience!
5) Enjoy a beach day at one of Cape Town's secret spots
View this post on Instagram
While renowned Cape Town beach favourites like Clifton and Camps bay are certainly worth all the praise they're getting, the Mother City has a variety of less crowded beaches that are every bit as spectacular as their counterparts. Enjoying a day of sand, sun and beach fun on one of Cape Town's lesser known beaches certainly deserve a top spot on everyone's bucket-list. Bakoven's Beta Beach, Water's Edge, Kleinbaai and Noordhoek are just some of the city's under-the-radar beach gems.
6) Enjoy a local South African beer at the Fireman's Arms
View this post on Instagram
The Fireman's Arms is one of city's oldest pubs that still occupies the same site it did when it first opened for business in 1864. Despite its age, Fireman's Arms has stood the test of time, retaining its original ambience and lively local spirit. The pub has earned its title as one of the best ways to experience Cape Town like a true local. Visitors can expect to enjoy a range of hot pub fare and a variety of beers on tap, each paired with a lekker local Cape Town vibe.
7) Fish & Chips at Kalky's
View this post on Instagram
Enjoying an authentic fish and chips meal at Kalky's in Kalk Bay may be one of the most under-the-radar things to do in Cape Town, but it's definitely one of the most delicious. While Cape Town has no shortage of incredible fish and chips spots, Kalky's has a special place in every local's heart. It offers an old-school fish & chip experience where visitors can choose to enjoy their meal inside or outside on the harbour pier.
Boasting freshly caught seafood from the owner's boat, the unique blackboard menu brims with authentic fish and chips, deep fried calamari, snoek, crayfish and prawns options. You can expect generous portions that can be enjoyed with an easy drinking house wine or beer. With each delicious meal paired with an authentic local vibe, captivating harbourfront view and some incredible Cape Fur Seal sightings, there is nothing quite like it.
8) Watch the sunset over Table Mountain from Bloubergstrand
View this post on Instagram
While every sunset brings with it a beautiful scene to be admired, the Table Mountain view from the beloved Bloubergstrand truly is unparalleled. Watching the sunset over one of the most magnificent 7 Wonders of Nature from one of the best sunset spots in Cape Town is therefore a bucket-list worthy experience in every way. Did you know that the view of Table Mountain from Bloubergstrand is considered one of the most photographed by keen photographers from around the world? Further proving why it should be at the very top of your Cape Town sunset bucket-list.
9) Visit the Eastern Food Bazaar
View this post on Instagram
As soon as you step foot inside the aromatic arcade between Longmarket Street and Darling Street it will feel like you've been instantly transported to a whole new world entirely. This lively and authentic value for money restaurant and take away outlet has therefore become a real local favourite. It's diverse and unique multinational dining experience makes it distinctly Capetonian and a real pleasure to experience first-hand. Whether you're looking to go for lunch or late afternoon dinner, you can expect to enjoy anything from India to Turkey and downtown Chinatown in one sitting.
10) Go kayaking with the African Penguins
View this post on Instagram
Kayaking with the charismatic and cool African Penguins is by far one of the most under-the-radar things to do in Cape Town, but one of the most thrilling and unique. Besides the fact that you get to see these beautiful ocean beings in their natural habitat, kayaking alongside them in one of the most beautiful settings is a bucket-list worthy experience in every way. These cool Cape Town ocean locals are also known for their playful nature and can come right up to your kayak at times. In addition to these tuxedo cuties, keep your eyes open for dolphins, Southern Right Whales and Cape Fur Seal sightings too.
11) Enjoy dinner & drinks at the Alexander Bar
View this post on Instagram
The Alexander Bar, Café, and Theatre is a cosy and nostalgic, yet sophisticated establishment on Strand Street in Cape Town's City Centre. It's also one of Cape Town's most unique live music venues. If vintage décor, intimate live performances, single malts, martinis and fine wine is your vibe, this captivating Cape Town live music venue is just your style. The fact that the Alexander Bar boasts a fully equipped theatre upstairs means guests are in for an incredible time. Showcasing a range of intimate live performances ranging from live music, comedy, drama, readings and more, there truly is something for everyone to enjoy.
12) Go Zipsliding in Ceres
View this post on Instagram
This under-the-radar Cape Town experience is one for all the thrill seekers and adventure loving souls. The zipslides in Ceres is by no means the highest in the Country, but it certainly is some of the steepest. This therefore makes for an ultra-fast ziplining adventure over the rocky Ceres Mountain slopes. But besides an adrenaline enthused adventure, Ceres offers visitors some of the most magnificent scenic views and mountainous landscapes. Zipsliding in Ceres is an absolute must for anyone visiting Cape Town!
13) Learn to SUP
View this post on Instagram

Going stand-up paddle boarding is by far one of the coolest Cape Town ocean adventures that can be enjoyed by anyone looking to experience something a little more fun and adventurous. Besides the fact that you get to glide across the ocean waters on a paddle board, you get to admire the Mother City's stunning scenery and incredible landmarks from one of the best vantage points too. Not to mention the incredible marine life sightings you can expect to enjoy while ticking a truly thrilling experience off your bucket-list.
14) Visit the Blue Rock Resort & quarry in Somerset West
View this post on Instagram
Known as one of the most beautiful & unique wonders of the Western Cape, Blue Rock guarantees fun for the whole family. Here you can expect cable water skiing, knee-boarding, wakeboarding, paintball, zip-line, Badi Beach, diving, playgrounds and so much more. Blue Rock is also one of the few recreational places in South Africa with naturally clear and clean water. The resort is a real Western Cape gem and you'll definitely have fun exploring it!
15) Sandboarding at the Atlantis Dunes or Betty's Bay
View this post on Instagram
Besides surfing and SUPing, going sandboarding in Cape Town is another one of Cape Town's most exciting and under-the-radar things to do. It is the perfect adventure experience for anyone looking to do something a little more exhilarating and adrenalin-inducing. The Western Cape boasts 2 popular Sandboarding sites, one on the West Coast and the other on the East. They are both equally exhilarating. Experienced Sandboarding instructors will teach you all the tips and tricks you need to know. You'll be cruising down those sand dunes in no time at all.
By enjoying any of these 15 under-the-radar things to do in Cape Town you get to experience the Mother City in the most authentic and exciting way. And not to mention the fact that there is something for every member of the family or friend group to enjoy.
---
Planning to visit Cape Town anytime soon? Learn more about the Mother City, how to get around, things to do in Cape Town in 2019, and more from our blog. We can help you find the perfect place to stay. Get in touch if you'd like help finding accommodation or Cape Town tours to indulge in when you are around.