There is nothing quite like sharing a delicious meal with family in one of the most beautiful cities in the world. However, finding the perfect family restaurant can be hard, especially if you've got a bunch of little ones to look after and keep entertained.
Luckily the Mother City caters to foodies of all ages. Offering a range of incredible kid-friendly and family restaurants in Cape Town to choose from, each boasting a jam-packed menu, laid-back and welcoming vibe and child-friendly atmosphere.
Family Restaurants in Cape Town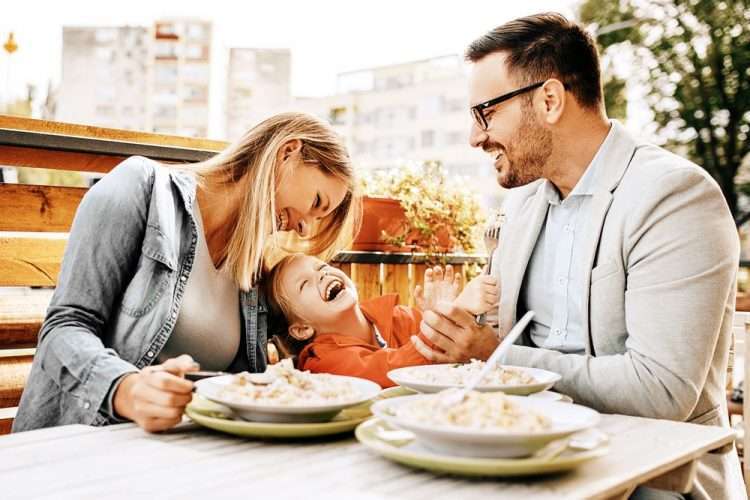 Here are some of the best family friendly restaurants in Cape Town that will make your family breakfast, lunch or dinner extra special.
1.Dunes, Hout Bay
View this post on Instagram
The beloved Dunes in Hout Bay has become a fan favourite family restaurant in Cape Town among locals and travellers alike. Situated right on the beach, the restaurant offers an enjoyable sandy play area for the kiddies with a wooden jungle gym and fishing boat to live out all their fisherman dreams. In addition to a fun play area for the little ones, parents can keep a watchful eye from the terrace while enjoying a stunning view at the same time. The kiddie's menu is also jam-packed with delicious options ranging from pasta, meat, seafood and burgers, thereby ensuring that no one goes hungry.
2.Café Roux, Noordhoek Farm Village
View this post on Instagram
Situated in the beautiful Noordhoek Farm Village, Café Roux is another top family restaurant in Cape Town. Boasting a warm and welcoming vibe with a family friendly atmosphere resonating right throughout the farm village, it's the perfect place to enjoy a delicious meal and fun family day out in Cape Town, especially with summer just around the corner. Its walled off play area provides a fun space for the little ones to stay entertained while parents enjoy an alfresco breakfast or lunch while keeping a watchful eye. It also offers guests a menu filled with wholesome options ranging from vegan to deliciously meaty.
3.The Werf, Boschendal Wine Estate
View this post on Instagram
While a beautiful wine estate might not be the first place that comes to mind when looking for the perfect family restaurant in Cape Town, The Werf at Boschendal is incredibly kid-friendly and promises an enjoyable time for all. This innovative country-style restaurant not only boasts a spectacular Cape Winelands location, but tons of family-friendly things for the kiddies too. From a lovely play area situated inside the main area to a wonderful organic garden, complete with a graded water feature and a pig's pen across the way, this is one Cape Town family restaurant that will undoubtedly put a smile on everyone's faces. The restaurant also offers a range of incredible menu options available for both the little ones and adults to choose from.
4.Deer Park Café, Vredehoek
View this post on Instagram
This incredible family restaurant in Cape Town borders on an enclosed public park with swings, jungle gyms and a lovely grassy area for the kids to play and enjoy a fun day out. Thereby making Deer Park Café in Vredehoek another top choice to enjoy a memorable family-friendly meal out in Cape Town. In addition to its warm and welcoming family-friendly atmosphere and play area, Deer Park Café also offers a range of delicious kid-friendly food choices. The fact that it's located in one of the most beautiful settings with Table Mountain forming a perfect backdrop, means its every bit as enjoyable for adults and parents as it is for the kids.
5.The Company's Garden Restaurant, City Bowl
View this post on Instagram
Situated right in the heart of the Mother City, the Company Gardens is not only known as one of Cape Town's most beloved attractions, but a great destination for a fun family day out, even on weekends. The Company Garden restaurant not only offers guests an idyllic setting and great lunch time atmosphere but tons of fun activities for the kiddies to enjoy. From a play area with hanging baskets to beautiful large lawns where kids can feed the birds and squirrels, it truly is any kid's dream come true.
---
---
6.Café Paradiso, City Bowl
View this post on Instagram
Child-friendly and everyone-is-welcome is what this family restaurant in Cape Town is all about. This is because Café Paradiso is open to everyone to join in on the fun, even your fur babies! From exciting kid's activities like baking their own muffins and cookies to attentive service and wholesome menu options, this Cape Town family restaurant has everything you need for an enjoyable meal.
7.Stables at Vergelegen Bistro Restaurant
View this post on Instagram
Situated on the world-renowned Vergelegen Estate, this wonderfully relaxed and stylish restaurant is surprisingly child friendly. In addition to its magical gardens, picturesque location and magnificent views of the Hottentots Holland mountains, it offers an all-round pleasurable outing for parents and children. Boasting a charming outdoor play area, complete with swings, a slide and a water feature, as well as a carved-wood car and animals, it offers the perfect kiddie's escape. It's also home to fairtytale-esque forests and gardens that has become a real fan favourite amongst the young and young at heart. The relaxed, bistro-style Stables also offers a varied menu with contemporary dishes in a warm, family-friendly atmosphere.
8.Eden on the Bay, Big Bay
View this post on Instagram
Eden on the Bay Mall situated in the beloved beachy destination of Big Bay is home to a variety of incredible family-friendly restaurants. In addition to its child-friendly restaurant selection, Eden on the Bay is situated right on the beachfront and offers guests one of the most magnificent views of the iconic Table Mountain. Kids can enjoy a sheltered jungle gym and a grassed play area, along with a large lawn area perfect for playing and fun family picnics. They also often host fun events specially for the kiddies!
---
---
9.Leopard's Leap Family Vineyards
View this post on Instagram

Another top family restaurant in Cape Town is undoubtedly Leopard's Leap Family Vineyards. It's beautiful gardens and relaxed, airy interiors makes this inviting family-oriented destination a wonderful day out for everyone. In addition to its laid-back child-friendly vibe, welcoming atmosphere and beautiful views, Leopard's Leap offers delicious buffet-style eating with a variety of delicious kiddies and adult options. But above all, it's the outside area that really makes this dining spot a top family restaurant in Cape Town and a dreamy destination for young families. The wide-open lawns, water features and two jungle gyms (in view of the restaurant seating) means the little ones can play, while you enjoy your meal.
10.Blue Water Café at Imhoff Farm, Kommetjie
View this post on Instagram
Imhoff farm is by far one of the most family-friendly restaurants and destinations in Cape Town. It offers tons of fun to be had by both the kiddies and adults! Adults and parents can visit the art galleries, shops and restaurants, while the kids can visit the Higgledy Piggeldy petting zoo and the snake park or ride a camel. There are also horse-cart rides, horse rides on the beach, face painting and paintball. Thereby making for the perfect fun-filled family day out for the whole family. This popular family restaurant in Cape Town also boasts an enclosed play area and outdoor gym, sweeping views of the valley and a jam-packed menu filled with delicious choices.
11.Bon Amis, Bloemendal Wine Estate, Durbanville
View this post on Instagram
Described as one of the most toddler-friendly winelands destinations in Cape Town, Bon Amis situated at the beautiful Bloemendal Wine Estate in Durbanville is a top choice for a family day out. The kids' menu offers treats like pancakes, corn dogs, and delicious shakes, and the large play area will keep the kiddies happy for hours on end. While the kids enjoy the fun outdoor play area and large lush lawns, you can enjoy an indulgent meal and exceptional glass of Bloemendal wine to go along with it.
---
---
12.PRIMI, Cape Town
View this post on Instagram
Another fan-favourite family restaurant in Cape Town is the beloved chain restaurant PRIMI. They are so dedicated to their everyone-is-welcoming family friendly atmosphere that they even have a section just for kids, called PRIMI PODS, with childminders, pizza and biscuit-making activities, along with various play structures. They are also very aware of the importance of nutrition, with all kiddies' meals incorporating at least two of the major food groups and many of the items on the menu are grilled or baked, rather than fried. This means that parents can rest assured that kids are getting a good meal while have a great time.
13.Ons Huisie, Klein Baai. Bloubergstrand
View this post on Instagram

Ons Huisie is undoubtedly one of Blouberg's most beloved local beachfront spots. Situated right on the charismatic Klein Baai beach, Ons Huisie welcomes everyone with open arms, a warm laid-back vibe and relaxed atmosphere that encourages you to sit back, relax and recharge. In addition to a delicious menu boasting a variety of kid-friendly options, delicious seafood meals, home-baked breads and indulgent classic west coast favourites, it has a great play area for the kids too. Plus, the fact that the enclosed beachfront is just a few metres away means parents can keep an eye on the little ones as they play in the sand, while having an enjoyable time themselves.
14. Rhebokskloof Estate, Paarl
View this post on Instagram
Not only does its picturesque Paarl location and sensational views keep people coming back for more, the food is great, the service is friendly and attentive, the atmosphere is warm and welcoming and there's loads to keep the kids entertained in a picturesque setting. It therefore offers a very child-friendly environment, with trampolines, jumping castles, jungle gym, bikes, toys and free pony rides over weekends. If that doesn't have the kids jumping up and down with joy, we're not sure what will. The best is, it's all within sight of the seating area.
---
---
15.Die Damhuis Restaurant, Melkbosstrand
View this post on Instagram

Situated along the Cape West Coast in the beautiful Melkbosstrand, this beachy spot has views for days and a tasty menu to match, which includes a well-rounded offering of menu choices. And the kids are definitely spoiled for choice, offering anything from hotdogs, fish fingers or ribs, which means absolutely no one will go hungry at this beloved family restaurant in Cape Town. The outdoor play area has a lighthouse-styled jungle gym, a massive sand pit and loads of space in which to run around. And the fact that it's located right next to the beautiful Melkbosstrand beachfront means you can enjoy a fun-filled family beach adventure afterwards.
A visit to any of these top family restaurants in Cape Town will make your day out exploring the Mother City that much more enjoyable. Not only do they ensure every member of the family has something delicious to eat with their jam-packed menus, but their laid-back family-friendly atmosphere and range of kid's playgrounds and activities ensures there's tons of fun to be had by all.
---
Looking for more help finding family restaurants in Cape Town? Get in touch with us today!
Check out our destination guides to find out more about popular areas to stay in the Mother City. You can also contact us if you would like to learn more about accommodation on offer in the city. We will help you plan your stay, booking the world-class restaurants in Cape Town along with tour activities, car hire and everything else you could ever need.
We'd also love to hear from you – tell us your best family restaurants in Cape Town? Share your tips and ideas below and let us know!