Apart from being blessed with natural beauty and breathtaking landscapes, South Africa's Mother City is a great place to go out and have some fun. Whether you are in the mood to see a comedy show, listen to live music, or attend a wine tasting, the options for having a good time in the Mother City are endless. Without further ado, here is a list of the best events in Cape Town this August.
1 Sunday Brunch at Cape Grace (Every Sunday)
Looking for a new brunch hotspot the city? Located at the V&A Waterfront, the Cape Grace Hotel has a brand new brunch offering at their fabulous Signal Restaurant. Whether you wish to try freshly shucked oysters, salmon, fruit platters, or enjoy mouthwatering eggs benedict, flapjacks, or local cheeses, there are plenty of excellent food options to choose from. Besides delicious food, Cape Grace offers over 100 of local wines, artisan cocktails, and beers.
Venue: W Quay Rd, V & A Waterfront, Cape Town, 8002, South Africa
2 Loukmaan Adams Live Performance (August 8)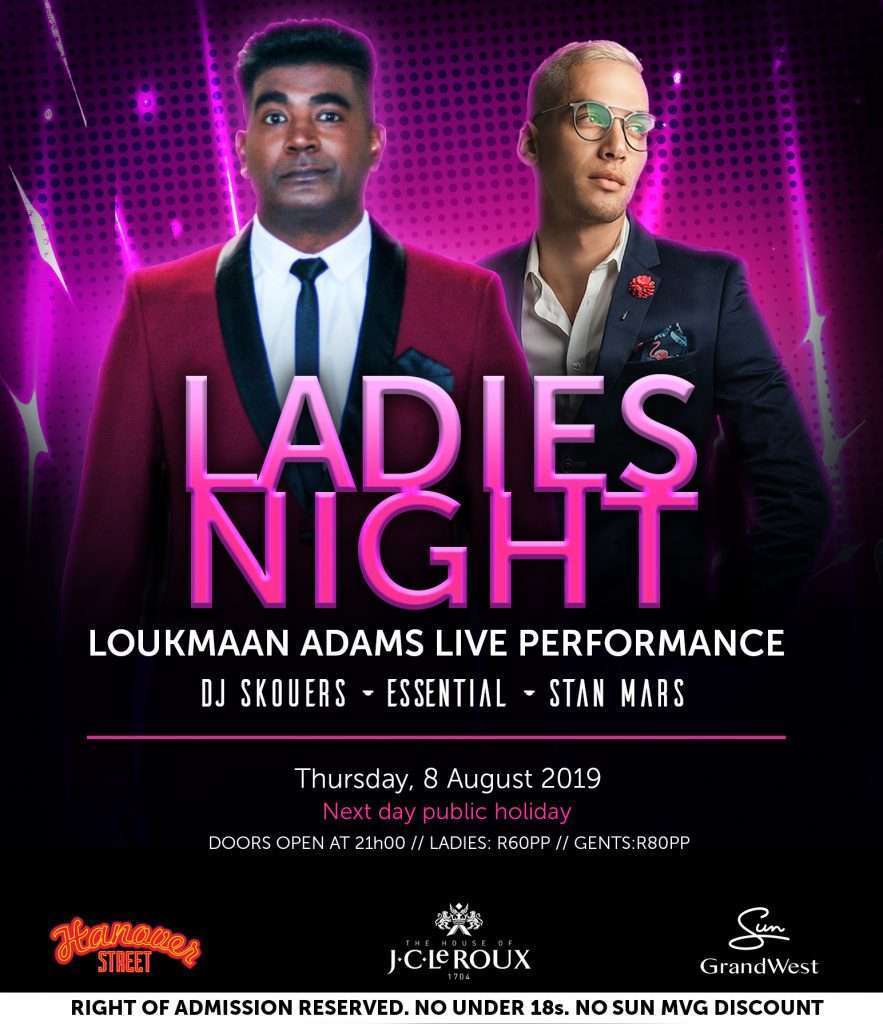 One of the hottest nightspots in South Africa's Mother City, GrandWest Casino on Hanover Street is hosting a ladies night event with the Loukmaan Adams Live Performance on the 8th of August. Since the next day is a public holiday, you don't have to worry about staying late. The tickets for the event cost R60 for ladies and R80 for gents.
Venue: GrandWest Casino, 1 Vanguard Drive, Cape Town.
3 Bay Harbour Market's KWV Classic Collection Sound Stage (August)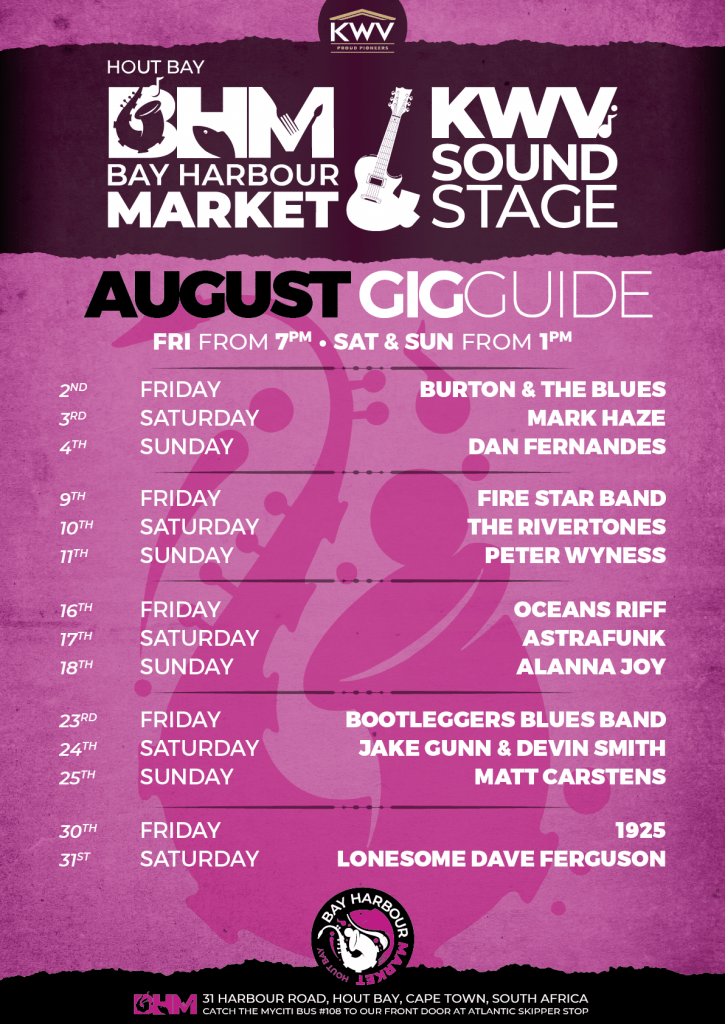 A visit to the Bay Harbour Market in Hout Bay is one of the best ways to spend the weekend. Open every Friday and Saturday, this fabulous market offers everything from an excellent food selection to live music performances at Bay Harbour Market's KWV Classic Collection Sound Stage. Check out the list of live acts for August below.
Friday, August 2, 2019 Burton & The Blues
Saturday, August 3, 2019 Mark Haze
Sunday, August 4, 2019 Dan Fernandes
Friday, August 9, 2019 Fire Star Band
Saturday, August 10, 2019 The Rivertones
Sunday, August 11, 2019 Peter Wyness
Friday, August 16, 2019 Oceans Riff
Saturday, August 17, 2019 Astrafunk
Sunday, August 18, 2019 Alanna Joy
Friday, August 23, 2019 Bootleggers Blues Band
Saturday, August 24, 2019 Jake Gunn & Devin Smith
Sunday, August 25, 2019 Matt Carstens
Friday, August 30, 2019 1925
Saturday, August 31, 2019 Lonesome Dave Ferguson
Venue: 31 Harbour Rd, Hout Bay, Cape Town, 7872, South Africa
4 Hout Bay Manor's Comedy Night (August 6)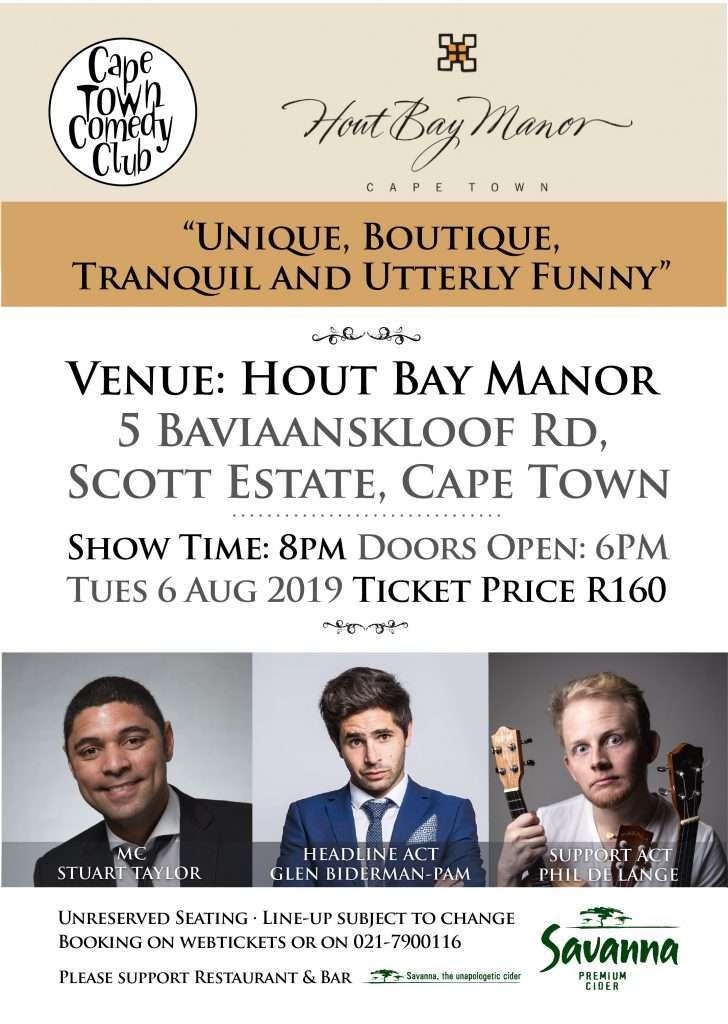 Sponsored by Savanna Premium Cider, Hout Bay Manor together with Cape Town Comedy Club is hosting their 2nd comedy night on Tuesday 6 August 2019. The line-up (subject to change) includes names like Stuart Taylor (MC), Glen Biderman-Pam (Headline Act), and Phil de Lange (Support Act). Apart from a night filled with laughter, visitors can order drinks from the on-site bar and try delicious food for which Hout Bay Manor is well-known for. Tickets for the event will set you back R160 and include a complimentary drink.
Venue: 5 Baviaanskloof Rd, Scott Estate, Cape Town, 7806, South
5 Naked Grouse Presents #NakedInvasion (August 8)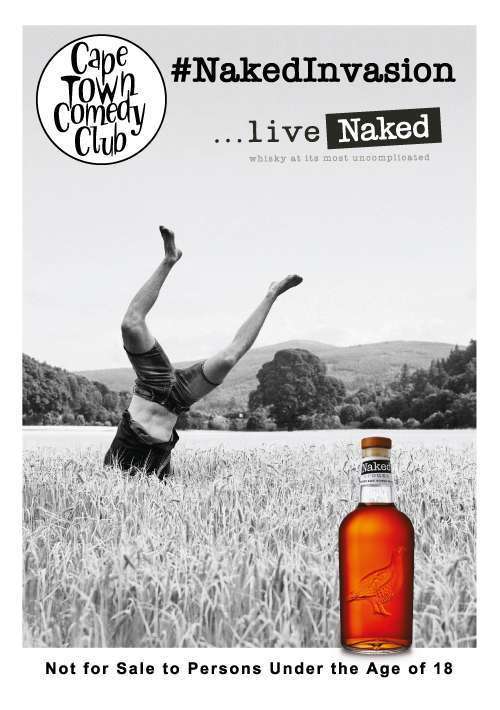 Naked Grouse and Cape Town Comedy Club are happy to announce their brand new partnership with the magnificent #NakedInvasion monthly Thursday events. The line-up usually consists of 4 comedians (subject to change) and the tickets for the event cost R95 per person. The tickets include the signature Naked Grouse cocktail "The Naked Sour" upon arrival. The host at their event on 8th of August is Rob van Vuuren, while Alfred Adriaan and Jax Justice are there to entertain the crowds.
Venue: 6 Dock Road, The Pumphouse, V&A Waterfront
6 Pop Up Extravaganza at the Alphen Boutique (August 2-3)
There are many amazing events in Cape Town this August and the Pop Up Extravaganza at the Alphen Boutique is one of them. This exclusive designer market features more than 60 vendors at The Alphen Boutique Hotel selling everything from clothing, handbags, and handbags to cosmetics and skincare. Make sure to arrive early, as the first 1,000 guests will receive a complimentary cocktail and goodie bag. The entrance to the event is free of charge.
Venue: Alphen Boutique Hotel, Alphen Dr, Alphen
7 The Chocolate Festival in Stellenbosch (August 31- September 1)
If you have a sweet tooth, a visit to the Chocolate Festival in Stellenbosch is a must. This fabulous 2-day festival offers a wide array of tasty chocolates, as well as plenty of artisan gems. Expect to find donuts, ice-cream, oodles of chocolate, marshmallows, and much more. Non-chocolate offerings will also be available including cheeses, pizzas, and burgers. If you are planning to visit with the little ones, you can look forward to children's entertainment which includes face painting and a movie lounge. The tickets for the event range from R50 to R180.
Venue: The Woodmill, Vredenburg Rd, Devonvallei, Stellenbosch
8 Paarl Jam Festival (August 2-3)
The annual Paarl Jam Festival attracts thousands of guests who come from all over the region to enjoy a sporting weekend with outdoor music performances, tasty food, and cold beers on tap. The line-up of main acts includes performers such as Night Sky Zombies, Noblemen, BRYNN, The Kiffness, Prime Circle, Francois van Coke and Springbok Nude Girls. Ticket options range from single-day admission and weekend tickets to VIP passes and family-friendly options. Keep in mind that this is a cashless event and attends who wish to buy food and drinks need to get a festival credit card.
Venue: Paarl River Bank, Cnr Market St & Berg River Boulevard
9 Elgin Winter Wine Tasting Fair (August 9)
Hosted by Elgin Grabouw Tourism, Elgin Winter Wine Tasting Fair is one of the most anticipated wine events in the Cape Town area this August. Visitors will have a chance to chat with local winemakers and try some of the best wines from the region. The event is a part of the Elgin Winter Festival and allows guests to discover the beauty of the Elgin Valley.
Venue: Elgin Railway Market, Oak Avenue, Elgin Village, Elgin
10 Sleeping Beauty by Cape Town City Ballet (August 17-31)
If you cultural events in Cape Town this weekend, head out to the Artscape Theatre Centre to attend the Sleeping Beauty presented by the Cape Town City Ballet which is a part of the Cape Town City Ballet's Autumn/Winter season. The production is performed to the music of Tchaikovsky and features performances by Precious Adams of the English National Ballet and Andile Ndlovu of Washington Ballet.
Venue: Artscape Theatre Centre, D.F. Malan St, Foreshore, Cape Town
11 Christmas in July at Company's Garden (August 23 – September 1)
Christmas in July at Company's Garden is definitely one of the best events in Cape Town this August. Imagine walking through a 400m-long trail which is lit up with thousands of sparkling lights and admiring a wide range of Christmas statues and artificial snowflakes. This is how a visit to the Company's Garden feels like winter. For a lasting memory, feel free to visit the instant photo booth. The entrance to the gardens will set you back between R45 and R80 per person.
Venue: The Company's Garden, 15 Queen Victoria St, Cape Town
12 Soulful Superstar at Grand Arena (August 24)
The former lead singer of the popular Stylists is performing together with the dynamic duo Peaches & Herb this August at Cape Town's Grand Arena. Harold Eban Brown is one of the youngest classic soul recording artists with over ten hits including songs like "Break up to Make up" and You are everything", while Peaches & Herb are an American vocalist duo who have made nearly sixty records since forming back in 1966. The tickets for this superb concert range from R250 to R400 per person.
Venue: Grand Arena, Grand West Casino and Entertainment World
13 Cape Town Homemakers Expo 2019 (August 29 – September 1)
Cape Town Homemakers Expo is celebrating its 24th birthday this August at the Cape Town International Convention Centre. This year's theme is Raw Comfort and features some of the latest designs in home and décor. Some of the highlights of the show include Interior Spaces, d'Vine Life, Truly Artisan, Outside, The Home | Tuis Theatre, the Concrete Workshop, the AV Emporium, and The Kitchen. Whether you wish to check out furniture and fabrics or you are more interested in leather goods and handcrafted ceramics, Cape Town Homemakers Expo has it all. Tickets for the show cost R90 per person.
Venue: Cape Town International Convention Centre
14 Ruby Vine Travel and Tours: Wine, Women & Fun (August 10)
There is no better way to celebrate women's month than with Ruby Vine Travel and Tours who are organizing a day-trip to the Benguela Cove Lagoon Wine Estate. Enjoy a day of relaxation and fun together with your friends and have a memorable experience. The tour includes transportation to and back from the Benguela Cove Lagoon Wine Estate, lunch, and a choice between cake at tea at the excellent Moody Lagoon Restaurant or wine tasting. Admission to the event will set you back R595 per person.
Venue: Gathering Point: Colosseum Luxury Hotel, Century City, Cape Town
15 Artichoke Festival in Paarl (August 25)
An Italian couple Attilio and Michela, are hosting the annual Artichoke Festival in Paarl this August. Italian chefs are in charge of preparing delicious foods, while visitors will have an opportunity to taste Vermentino which is actually made on the Ayama Silent Farm. Besides food and drink, the festival features many activities such as painting exhibits, hiking, and a live music performance by an Italian band. There will also be a market where visitors can purchase cheese, wine, salamis, and craft beers. Tickets cost R350 per person and include a full four-course lunch and a sweet treat.
Venue: Ayamateca, Paardeberg Road, Paarl
---
Looking for more things to do in Cape Town in August? You can check out a range of tours packages you can enjoy. Be sure to follow us on Facebook or check out our blog, which has a huge range of ideas on what to see and do, where to stay and how to put every moment of your weekend to good use. If you're planning a longer stay, be sure to get in touch. We will help you find the perfect place to stay in Cape Town this month or any other month you plan to visit.