Cape Town has fast become a popular and widely celebrated wedding destination, not only in South Africa, but the world. With striking views, stunning landscapes, sunshine, and a certain magical splendour it certainly is no surprise that the Mother City is making some major waves in the wedding industry for all the right reasons. This is your special day, why not celebrate it with a touch of Cape Town spice, dash of Mother City magic & glorious dose of South African flare? If we haven't convinced you already, here are 10 reasons to have your wedding in Cape Town and everything you'll miss out on if you don't:
Your Wedding in Cape Town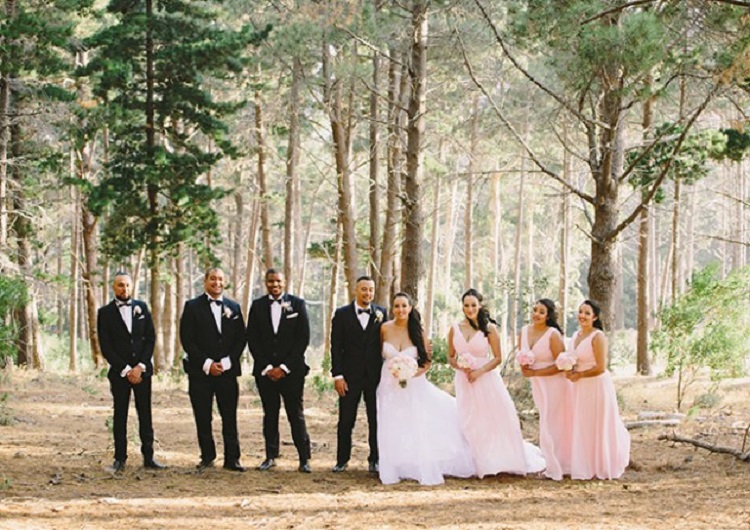 1. You get to pick your backdrop – and what a GLORIOUS selection you have to choose from!
View this post on Instagram
Whether you prefer to say your vows among the vineyards, share your first newly-wed kiss with a touch of beach side bliss, or dance the night away tucked between the mountain ranges and hill tops, it promises to be a truly special occasion. The Mother City certainly has no shortage of magnificent wedding destinations to choose from, each adding their own special touch to an already special day. It doesn't matter which Cape Town backdrop you choose, whether it's a white sandy beach, majestic wine estate, mountain top, or field filled with wildflowers, saying your 'I do's' in one of the most beautiful cities in the world promises to be everything you've always dreamt of and more.
2. World-class wedding industry right at your finger tips
View this post on Instagram
The Cape Town wedding industry is thriving, thrilling and certainly making all sorts of waves in the global wedding trade. Cape Town boasts a variety of world-class wedding service providers all ready to make your wedding day dreams come true. From top tier wedding planners, world-renowned photographers and leading culinary masterminds to musicians, artists and magnificent designers, the Mother City has everything your wedding needs and your heart desires. This combined with that extra touch of authentic Cape Town spice, makes for a day you'll be sure to remember!
3. The photos will be absolutely incredible – Because diamonds & photos are forever!
View this post on Instagram
It doesn't matter what anyone says, the photos do matter, right ladies? Who needs adjustable lighting & multiple lenses when you have that celebrated Cape Town sunshine, beautiful backdrop and touch of Mother City magic in your midst? First look, family portraits, vow exchanges and newly-wed confetti celebration shots will never look quite as good as they will when in Cape Town. They say photography is the beauty of life captured in a series of moments, and sharing these moments with the people you love in the ever charming Cape Town will be ones you cherish for many years to come.
4. You can combine your wedding and honeymoon in the same beautiful destination
View this post on Instagram
Cape Town is not only one of the most beautiful cities in the world, but the ultimate destination for travellers, holiday makers, adventure seekers and those looking to break away. This is greatly owed to its spectacular variety of destinations on offer. From beach side bungalows, high-rise city centre apartments, and mountain range getaways to wine valley villas, countryside gems and authentic road-trip stops, the Mother City has a little bit of EVERYTHIG! Making Cape Town the perfect destination for a beautiful wedding AND memorable honeymoon, all minus the wasted travel time in between. Who wants to waste time getting somewhere when you can enjoy time actually being there? Just another one of the many reasons the Mother City should be your top wedding destination pick!
---
---
5. A wedding in the celebrated Cape Town sun!
View this post on Instagram
Cape Town has approximately 2980 hours of sunshine per year, how glorious is that? And there's nothing quite like some Cape Town sunshine on your wedding day to add just an extra touch of sparkle. This also means that a magical Mother City summer sunset wedding is every bit as realistic as it is spectacular. With the sun setting as late as 20:00 in the summer months, you'll be able to dance the night away (and a good portion of the day too)and celebrate your special day exactly the way it's meant to, under the glorious Cape Town sun & magical Mother City moonlight!
6. Take a pre, post or mid-wedding snapshot with an iconic world-renowned landmark
View this post on Instagram
Every year thousands of people travel to the beautiful Mother City to catch a glimpse of one of her glorious landmarks and iconic tourist attractions. Table Mountain, Robben Island, the 12 Apostles, Kirstenbosch Gardens and Chapman's Peak are merely a few of these celebrated sights. And now you can include them in your wedding photos too, how cool is that? Whether you're looking to take some epic pre-wedding anticipation or post-nuptial celebration shots, or maybe even a mid-wedding sneak-away selfie, a world-renowned Cape Town landmark in the background is sure to add that extra special touch!
7. Cape Town is the 'ultimate destination wedding' motherlode
View this post on Instagram
A destination wedding means beauty, adventure and endless discovery, but it also means you have guests flying in from all corners of the globe to share in your special day. This can often be stressful and overwhelming, especially when making sure everyone has somewhere to stay. BUT, not in Cape Town! Cape Town does destination weddings like nowhere else in the world! The Mother City is the ultimate accommodation mecca, from charming bed-and-breakfast spots to 5-star lodges and beach side villas, there is no shortage of places to stay, your guests might even be tempted to try a few.
8. Food, entertainment & an electric vibe – check, check, CHECK!
View this post on Instagram
No need to worry, Cape Town has taken care of everything on your list! The Mother City is entertainment galore! From world-class musicians to talented street-side buskers and authentically African musical groups, there is something for every musical preference. Your wedding is guaranteed to get people dancing well into the morning hours, a true celebration of Cape Town standards. Now on to the food, oh glorious Cape Town food – YUM! Ask any guest what they remember most about someone else's wedding and chances are they'll mention the food. From internationally acclaimed top-tier restaurants to bold gastronami delicacies and authentic local cuisine, Cape Town isn't known as the culinary hub of Africa for nothing. The food will have people ranting and raving about your wedding in all the best ways for decades to come.
---
---
9. Pre wedding adrenalin rush or post 'I do' chill – coming right up!
View this post on Instagram
In the mood for a wedding adventure of a lifetime? Your wish is our Cape Town command! In Cape Town you have the opportunity to turn your wedding into the ultimate adventure trip or relaxing beach-front breakaway. Who ever said your wedding should just be one day? Why not more? And why not fill it with as many memorable, once-in-a-lifetime experiences and bucket list activities as you can? Cape Town is jam-packed with an endless amount of adrenalin-inducing, thrill seeking and soul soothing experiences waiting to be experienced by you. From Table Mountain sky-diving and Signal Hill paragliding to shark-cage diving, surfing, or adventure sand-boarding – take your pick! And whether you prefer to do it before, after or during the big day, the Mother City is only too happy to share in this experience with you!
10. You can't beat the Mother City magic, and we dare any other wedding destination to even try!
It's a feeling so untouchable, unexplainable and magical, that few have tried to quantify it, but all who have felt it just can't get enough. It's this vibrant energy, palpable vibe and electric atmosphere that embodies the heart and soul of Cape Town. Whether it's the people, places, sites or scenery, or the perfect combination of everything, the Mother City is, and will always be, a loved and celebrated destination for any special occasion.
A Cape Town wedding truly is something special! Besides all of the obvious beauty and endless selections of spectacular destinations and service providers, it promises to be filled with tons of love, laughter and lasting memories. The Mother City is the queen of destination weddings, there's no denying her power, and she promises to make it stress-free and filled with nothing but happiness and sensational scenery. Are you ready for some Cape Town wedding bliss?
---
Many of our villas offer an excellent choice for a small, intimate, private wedding in Cape Town. We also offer a vast choice of romantic accommodation for your honeymoon, along with Guest Concierge, local tours and plenty more besides. Get in touch today to find out more about hiring a villa for your wedding in Cape Town.