With scary media reports coming from various parts of West Africa as well as the United States and other places, it is no surprise that many travellers are concerned about ebola in South Africa. To help put your mind at rest, the first thing that you need to know is that there has been no recorded case of the current ebola outbreak in South Africa. The next thing you need to know is that geographically, despite being on the same continent, South Africa is much further away from West Africa than Spain, London, Paris and even Brazil.
Why are visitors worried about the ebola outbreak in Africa, and how does this concern affect travel to Cape Town and other places within Southern Africa?
What You Should Know About Ebola in Africa
Many visitors assume that Africa is a country. While it's true that there are no oceans dividing each country within the continent, much like Europe, Asia and the United States, Africa is comprised of many different countries, cities, towns and areas. It is divided into four major quadrants – North, South, East and West. The massive size of the continent (it is larger than the US, Japan, China, India and Europe combined) means that countries in one quadrant are often situated vast distances from countries in another quadrant. Check out the handy infographic created by Africa Geographic to see the distance between South Africa and West Africa: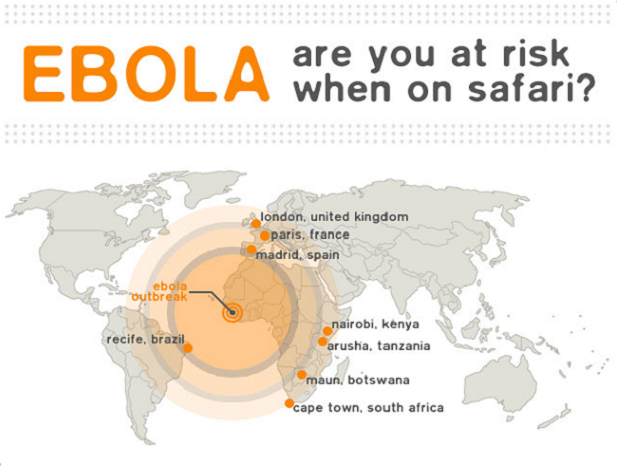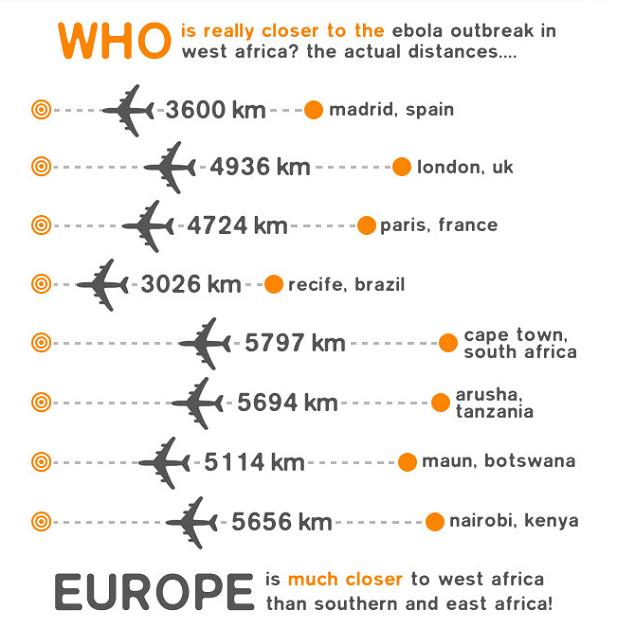 Here are some other important things that will help you determine whether or not there is any reason for concern about ebola when travelling to some of the top destinations in Africa:
* Southern Africa is where South Africa (and it's Mother City, Cape Town) is found along with Zambia, Zimbabwe and Botswana, with Namibia positioned on the south west side.
* East Africa is where many of the world's top wildlife destinations are found, including Tanzania, Kenya, Uganda and Mozambique.
* West Africa is where the current outbreak of ebola began. Countries here are considered high risk, and include Guinea, Liberia and Sierra Leone, with a few, controlled cases being reported in Nigeria and Senegal.
* All of these countries (and almost every other country across Africa and the rest of the world) have put serious control measures into place in order to stabilise, monitor and control the spread of the disease.
*  Rigid air controls, reduced flights to outbreak areas and other measures have also made it far more difficult for those travelling from affected areas to enter non-affected areas, which further minimises the risk.
* Travel requirements across Africa are stringent – vaccinations, careful screening and other checks at border points are par for the course, and have been even before the start of the ebola outbreak.
As you can see, there is no reason for concern when planning a safari, holiday, conference or other travel to Southern or East Africa. There are a number of useful resources that can further put your mind at ease, such as International SOS, who have a daily update on recorded cases across the world.
It is natural for panic to set in when viruses such as this begin to spread, and the frightening images of the disease add to that panic. In reality however, in addition to the disease not being transmitted through air (unlike flu, for example), and with the ongoing efforts from major healthcare organisations around the world, governments in all affected countries and numerous other officials, the actual risks for those visiting non-affected areas are extremely minimal.
Before you give in to the global hysteria and cancel that much-awaited trip to Cape Town, take a moment to consider the information we have shared. With so much to offer, South Africa's Mother City is not only ebola and malaria free, it is also a place that is consistently voted the world's favourite travel destination.
We hope that this information puts your mind at rest, and we look forward to helping you plan your next holiday in Cape Town!