So, so much more than just a good cup of coffee, Truth Coffee is in a league all of its own. This outstanding coffee cult is situated in the city of Cape Town, in an industrial venue that H.G Wells would have approved. One of the (many) stars of this venue is the Collosus – a coffee churner-outer that is right out of the steampunk classics and into the modern era. Oh, and it makes damn good coffee (that goes without saying).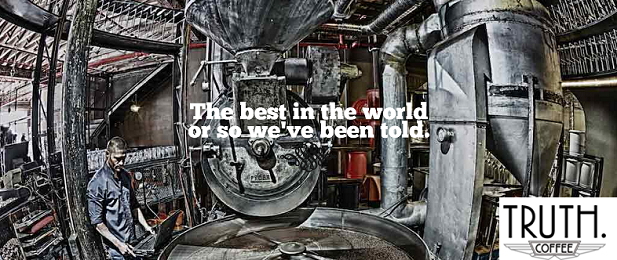 What has helped make Truth spawn an entire tribe of devotees, and besides their fantastic venue, what else do we love about this one-of-a-kind coffee roasting destination?
Why We Love Truth Coffee
Started by David Donde, and backed by a strong team of coffee fanatics, the principles behind Truth Coffee are simple and yet surprisingly unheard of in today's often busy and bottom-line facing world. What Cape Town (and the rest of the country) needed was coffee that was so good, it needed no frills, no marketing hoops and no fuss.
A small yet perfect selection of world-class blends such as Origin and their own house blend (try the Vengeance Blend or the Resurrection Espresso), as well as pods, filters and a few other tools that allow you to get the most from your coffee machine back home ensures that the focus remains pure.
In addition to their product line that is stocked online, at their main venue and at selected restaurants and coffee shops, Truth also has its own coffee shop where you can enjoy really great coffee in an atmosphere that is as situated in the bustling City Bowl.
Barista training is also offered for restaurants and coffee shops that aspire to build up a reputation and cult-like following as Truth has done. After all, to become the best, you need to learn from the best.
Don't take our word for it though. Head on over to Truth Coffee at 36 Buitenkant Street in Gardens, or visit www.TruthCoffee.com to see more reasons to become a devotee.