In a city as beautiful and vibrant as Cape Town, it certainly isn't hard to believe that its luxury hotel scene is not only vast and varied, but simply unparalleled. Not to mention the Mother City has something for every type of traveller.
Among the favourites are 5-star luxury hotels and lavish boutique hotels that offer a personal touch of comfort and opulence.
Here are the top 5 luxury hotels in Cape Town, perfect for anyone planning a trip to this wonderful and exciting city.
1. The Silo Hotel
Best City Hotel In Africa 2020 | Travel & Leisure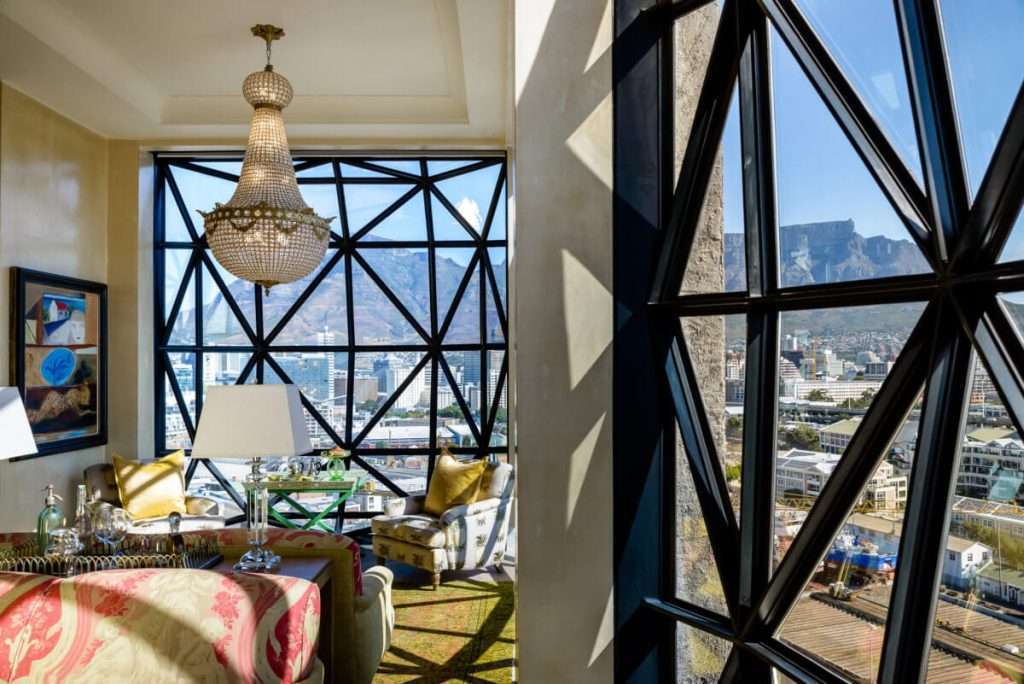 Towering above the V&A Waterfront, the renowned Silo Hotel has been declared the 'Best City Hotel in Africa' in 2020 as well as one of the top luxury hotels in Cape Town for tourists and travellers from around the world.
A tribute to timeless glamour and contemporary luxury right in the heart of the city, the globally acclaimed Silo Hotel is the ultimate celebration of art, architecture, style, and design. Occupying six floors above the iconic Zeitz MOCAA Museum of Contemporary Art Africa, which houses Africa's largest collection of contemporary African art, the magnificent display of architecture and design has been built in the grain elevator portion of the historic grain silo complex – Undoubtedly making The Silo Hotel in a league of its own.
The Silo Hotel boasts 28 rooms (which fall into 6 room categories based on the room size and the view), as well as a breathtaking one-bedroom penthouse. Each room has been uniquely and meticulously designed and lavishly decorated and decked out with striking, vivid, and eclectic pieces to contrast the modern, industrial architecture of the building – Creating the perfect combination of everything.
The opulence of this one-of-a-kind luxury Cape Town hotel definitely doesn't end there! Featuring a private balcony, ideal for admiring the sensational view of the tall-standing Table Mountain, vast Atlantic, working Waterfront harbour, and beyond, chic interiors, state-of-the-art amenities, remarkable works of art by leading African artists, and so much more, The Silo Hotel is a true Cape Town marvel.
Guests at The Silo Hotel can look forward to relaxing at the Silo Spa, enjoying a cup of afternoon tea in true style, celebrating with a glass of champagne, classic cocktail, or crisp glass of wine at The iconic Willaston Bar, enjoying a refreshing swim or dip in the rooftop pool (reserved for hotel guests only), paired with a drink at the legendary Silo Rooftop Bar, dining at The famous Granary Café (one of the top restaurants in Cape Town) – That's merely scratching the surface of what this breathtaking luxury hotel in Cape Town has to offer.
**Bonus: One huge bonus for guests staying at The Silo Boutique Hotel is that The Silo Hotel's Art Concierge offers wonderful, tailored art tours which gives guests the opportunity to learn everything there is to learn about the extraordinary African art scene as they visit the Zeitz MOCAA below. This alone has made The Silo Hotel one of the most sought-after hotels in Cape Town among art lovers from all walks of life.
With so much to do, see, explore, and experience, there is something for everyone to enjoy at The Silo Hotel.
Location: The Silo | Silo Square, off S Arm Road, V&A Waterfront, Cape Town
2. Ellerman House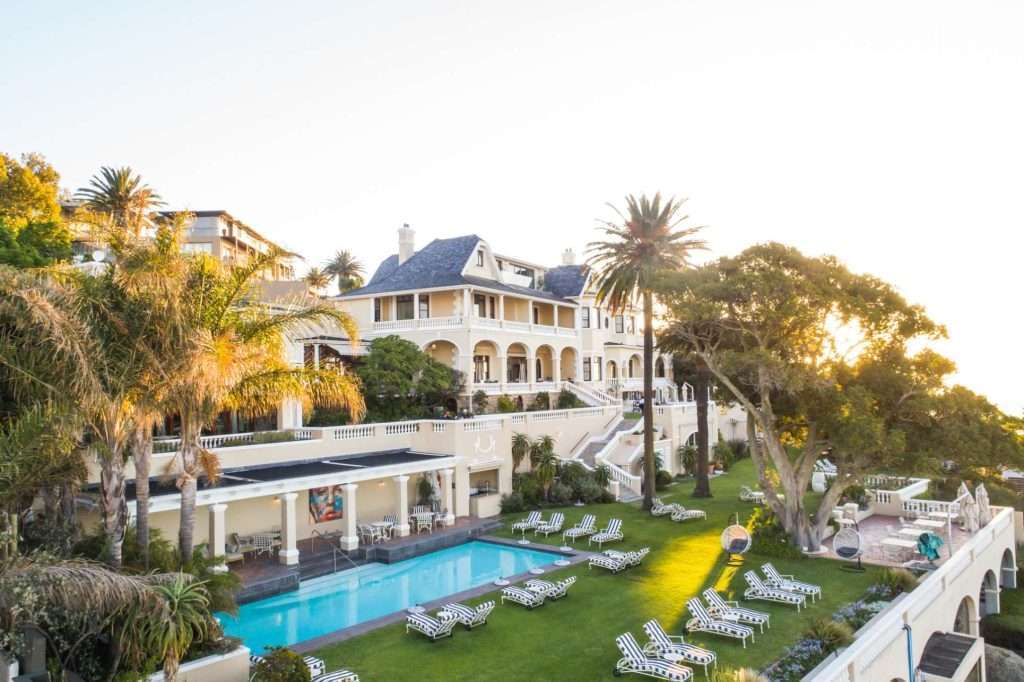 A picturesque ocean escape in the heart of the Mother City, Ellerman House is the epitome of world-class luxury, exclusivity, and opulence. Located in the beautiful Bantry Bay, this exquisite, luxury hotel in Cape Town is not only deemed one of the top luxury hotels in the Western Cape, but the world.
Its unmatched beauty and world-class status are only elevated by its unparalleled view of the Atlantic Ocean and rocky Cape coastline against the dramatic backdrop of Lion's Head, its exquisite design, lavish interiors, bespoke experiences, extensive in-house South African art collection, exceptional cuisine, immaculate wine collection (housed in a one-of-a-kind 7500-bottle wine gallery), and lush gardens – Showcasing the very best of South Africa and what it has to offer.
This Relais & Châteaux historic Cape Edwardian-style mansion features a Main House with 13 individually decorated rooms and suites, accompanied by two stunning and chic, free-standing Villas.
The Ellerman House Main House is known for its pristine old-world elegance. This is in stark contrast to the sleek, contemporary architecture which defines Ellerman House's exclusive-use villas. Boasting private infinity pools, spacious entertainment areas, and sweeping Atlantic Ocean views, Villa One and Villa Two add a glamorous edge to this luxury hotel's classic style and refined ambience.
Ellerman House strives and prides itself on offering a world-class guest experience that remains authentically South African.
Location: Ellerman House | 180 Kloof Road, Bantry Bay, Cape Town
3. Tintswalo Atlantic
Cape Town's luxury hotel hidden gem!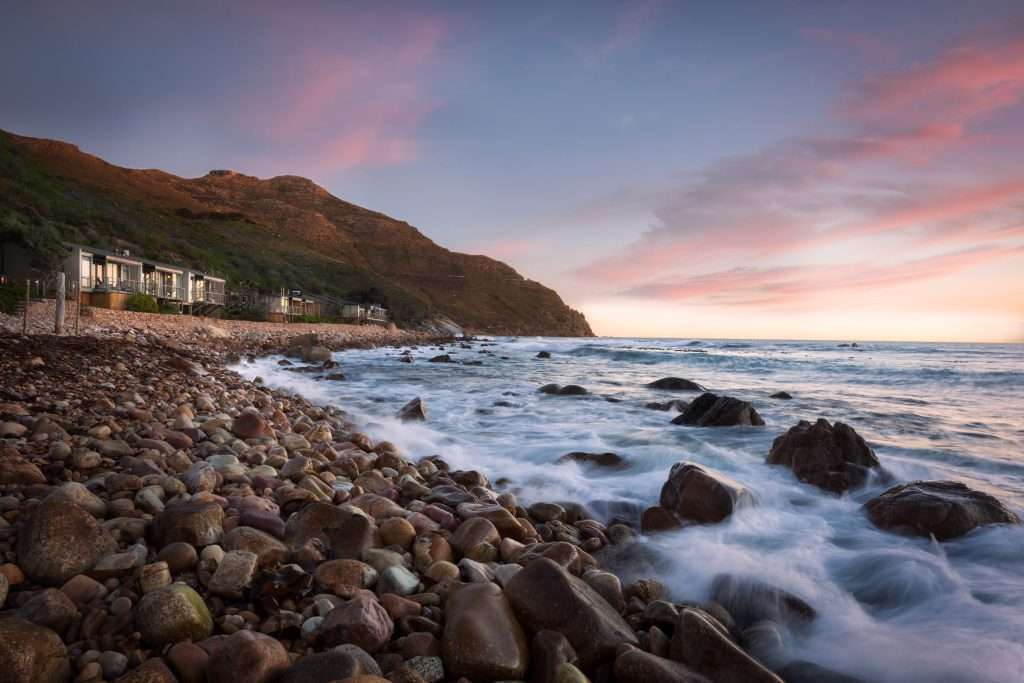 Perfectly perched on a pebbled beach at the foot of the magnificent Chapman's Peak, right at the base of the ocean-facing Table Mountain National Park, Tintswalo Atlantic is one of the most spectacular luxury hotels in Cape Town as well as somewhat of a hidden gem.
Boasting beautiful panoramic views of the picturesque Hout Bay harbour, the dramatic Sentinel mountain peak, glorious Atlantic Ocean and beyond, Tintswalo Atlantic's secluded location on the water's edge offers guests true away-from-it-all indulgence and tranquillity near Cape Town's vibrant inner city. Offering guests the very best of both worlds!
As the prestigious 5-star Tintswalo Atlantic is the only hotel in Cape Town permitted to operate within the boundaries of the renowned UNESCO World Heritage Site that is the Table Mountain National Park, it provides guests with exclusive access to the natural beauty found along the mountainside's walking and hiking trails. Undoubtedly making it a step above the rest!
With ten beautifully appointed suites and one regal Presidential Suite, each showcasing sensational panoramic views, Tintswalo Atlantic offers all the lavish luxuries of a world-class hotel, paired with warm South African hospitality, personalized service, and the utmost attention to detail.
Tintswalo Atlantic invites you to enjoy sundowners on the deck, lounge by the pool, venture out to the charming fishing village of Hout Bay, take a drive to the Cape Winelands for an unforgettable wine-tasting experience, and explore the beautiful and vibrant city of Cape Town and all it has to offer – The possibilities are truly endless!
Having been described as the most spectacular, luxurious, and romantic destination in Southern Africa, Tintswalo Atlantic is the perfect ocean front escape for anyone travelling to Cape Town.
Location: Tintswalo Atlantic | Chapmans Peak Drive, Hout Bay, Cape Town
4. Cape Grace
"You have to stay here at least once in your lifetime" – Cape Grace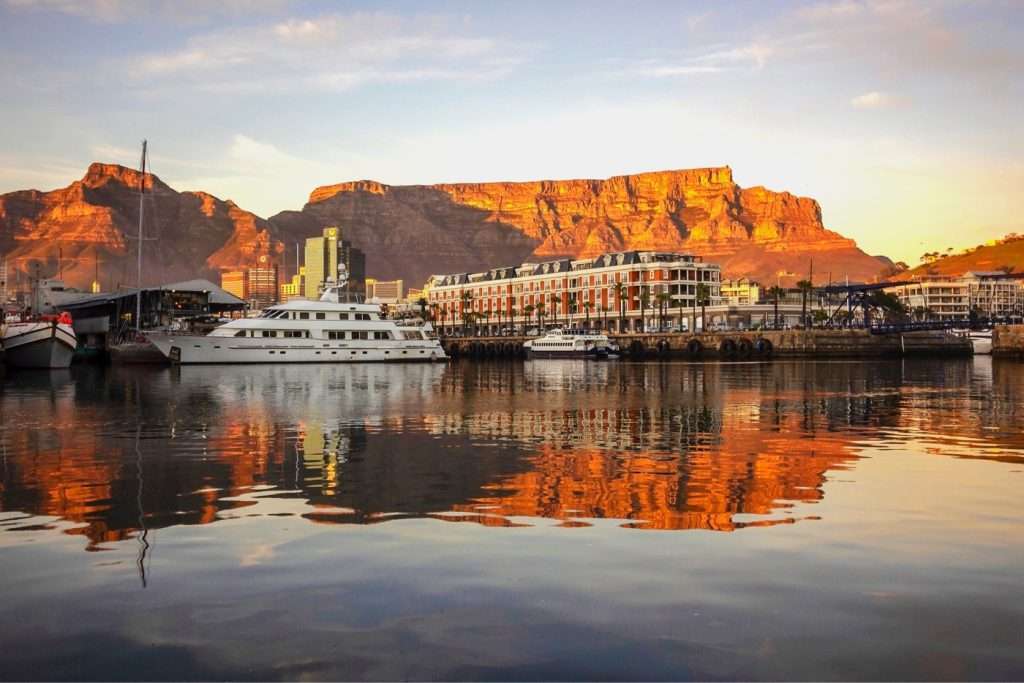 Located on its own private quay, poised between Cape Town's vibrant V&A Waterfront and the yacht marina, Cape Grace is the ideal location from where to soak in the natural splendor of the Mother City and enjoy the very essence of Cape Town living. Its unrivalled location not only gives Cape Grace the edge on other luxury hotels in Cape Town, but offers guests the very best of both worlds.
With water on three sides, you could just as well be stepping aboard a cruise ship when you enter the lobby. In fact, once you step foot inside the beautiful Cape Grace, it will feel like you've been transported to a whole new world entirely. Paired with spectacular sweep-you-off-your-feet views of the glorious Table Mountain, the yacht marina, a working harbor, the V&A Waterfront and beyond, it comes as absolutely no surprise that the renowned Cape Grace is one of the top luxury hotels in Cape Town.
Elegance and warmth are two hallmarks of Cape Grace. This is made evident in every fine detail, from their welcoming reception to their array of luxurious harbor and mountain-facing rooms.
Boasting 120 rooms, including 2 luxury penthouse suites, every detail has been meticulously crafted and purposefully selected to express Cape Grace's rich legacy. Each one of its uniquely designed rooms and suites have been inspired by the charm and wonder of our South African and Cape heritage, inviting guests to discover and connect with the history and culture of our fascinating region.
Individually decorated, each room reflects its sense of place with richly detailed interiors characterized by hand-painted fabrics, original ship manifests, authentic shipwreck salvaged goods, original Cape Dutch antiques, handcrafted chandeliers, intriguing artefacts, sculptures, local paintings, and artwork renditions of our botanical kingdom sourced piece by piece to create a tapestry of depth, texture, and contemporary style.
**Interesting fact: Design company African Sketchbook commissioned artists from the city's townships to paint fabrics for curtains and bedspreads with bespoke designs depicting Cape flora, local landscapes, and nautical scenes. The yellowwood and stinkwood antiques form one of the most comprehensive public antique furniture collections owned by a hotel in South Africa.
A great deal of effort has gone into infusing the hotel with fynbos botanicals – so much so that the hotel has developed its very own scent – as bright bouquets of Proteas, that hint at the wonder of the Cape's rarest natural botanical kingdom, enrich the hotel along with each generously sized room with its color, texture, and scent.
Beyond its unmatched beauty and charm, the Cape Grace luxury hotel offers guests an array of exciting and incredible experiences, activities, facilities, and adventures to enjoy.
From restorative spa treatments, including a water-wise sauna, stunning lounge areas (thoughtfully created to help you unwind and relax), a beautiful pool perfect for refreshing dips, pool-side lounging, and soaking up the glorious Mother City sunshine, and the exceptional Signal Restaurant, known for its indulgent food pairings and flavour combinations, paired with the Cape's very best wines. That's not all! A selection of rare whiskies awaits enthusiasts in the iconic world-class Cape Grace Bascule Bar. With so much to offer, what more could you possibly ask for?
If that's not enough, the Cape Grace luxury hotel is known for its impeccable, welcoming, and personalised service. From the get-go, staff greet you by name, remember which wines you enjoy, where you prefer to sit for breakfast, and how you take your coffee.
Its these seemingly small, yet hugely impactful things, along with everything else the magnificent Cape Grace has to offer that makes it one of the most sought-after and luxurious hotels in Cape Town.
Location: Cape Grace | 1 West Quay Road, Victoria & Alfred Waterfront, Cape Town
5. One&Only Cape Town
The One&Only's prime location in the V&A Waterfront offers the best of both worlds when it comes to balancing convenience with exclusivity.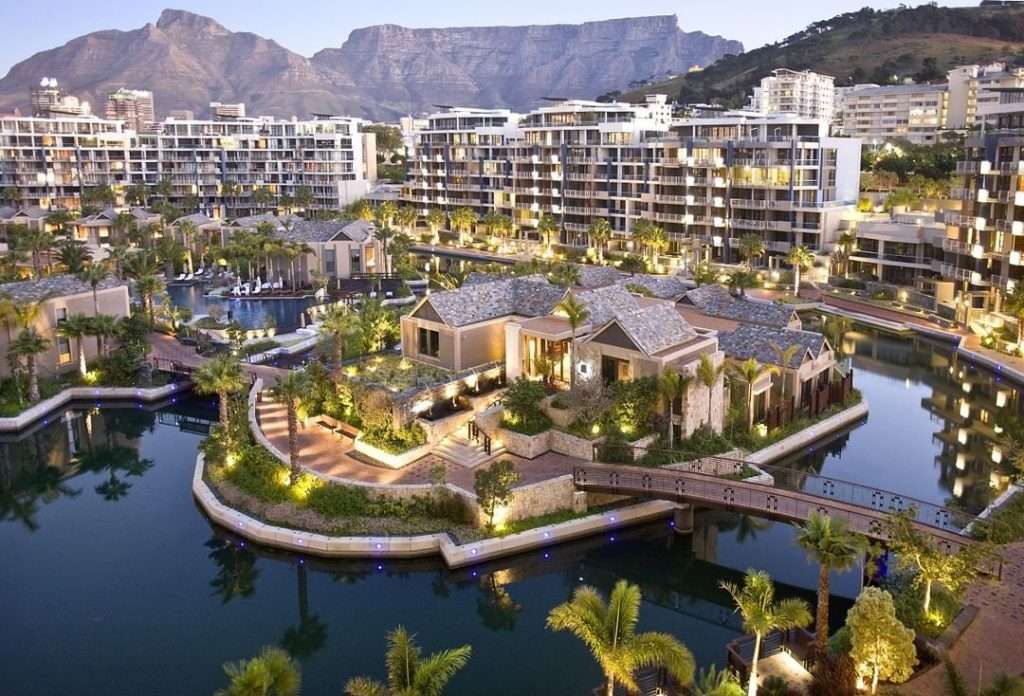 Providing a unique blend of location and luxury, One&Only Cape Town is an urban chic resort in the heart of Cape Town's inner-city. Set within the vibrant Victoria & Alfred waterfront, this globally-acclaimed luxury hotel in Cape Town is framed by the towering natural wonder of Table Mountain, mesmerizing waterways, and the traditional harbour.
One&Only Cape Town has not only set the standard for luxury Cape Town hotels, but continues to elevate it, raising the bar year after year with its ultra-luxurious accommodation, world-class facilities, top-tier dining and culinary experiences, and so much more. It truly is the epitome of lavish luxury, exclusivity, serenity, and elegance. Which is why it's unsurprisingly a bucket-list must-do for so many discerning travellers (and celebrities, too).
There are two sections in the hotel, one being the Spa Island (built on a man-made island and centered around a lagoon-shaped pool) with 40 suites and the other the Marina Rise with 91 rooms. The vast selection of chic, spacious, and lavish rooms and suites offer the choice of waking up on an inner-city island sanctuary, or aloft the superb seven-storey 'Marina Rise', gazing upon a 'Wonder of the World', Table Mountain.
All of One&Only's rooms and suites feature private balconies, floor-to-ceiling windows, sensational views, state-of-the-art amenities, lavish interiors, and stunning bathrooms with intricately carved African wood screens, egg-shaped bathtubs, and rain showers – And that's merely scratching the surface of what this highly sought-after luxury hotel has to offer.
Another luxurious feather in its cap is its iconic Island Spa. Surrounded by palm-treed gardens and waterways, it creates the impression of being far removed from the hustle and bustle of the city, all while being right in the heart of it all. Let's not forget One&Only's incredible pool! Spend the day lounging by Cape Town's largest infinity pool as you soak up the Mother City sunshine with a refreshing cocktail in hand,
One&Only Cape Town is widely renowned for its exceptional world-class cuisine and culinary experiences (among countless other things) which spans fine dining from Michelin-starred Nobu to the local flavors and heritage enjoyed at Ochre Restaurant. While Isola provides an al fresco Mediterranean-inspired restaurant by the pool, nestled in the heart of the resort's own private island.
While staying at the resort, guest hosts ensure travelers become the ultimate curators of discovery, through an array of exclusive and tailored experiences from active adventures to mindful moments.
Location: One&Only Cape Town | Dock Road, Victoria & Alfred Waterfront, Cape Town
For more hotels & accommodation options, drop us a line and let us help you find the best deal!