Cape Town is home to some of the most magnificent natural wonders and landmarks in the world. The city also boasts some of the most beautiful streets in South Africa. From the modern charm of the Victoria & Alfred Waterfront to the historical Bo-Kaap, the Mother City is beautiful and dynamic.
If you're planning to visit and explore the Mother City, you will find a selection of the most beautiful streets with iconic houses and architecture. Let's take a look at the most beautiful streets in Cape Town that are definitely worth a visit on your next trip to Cape Town.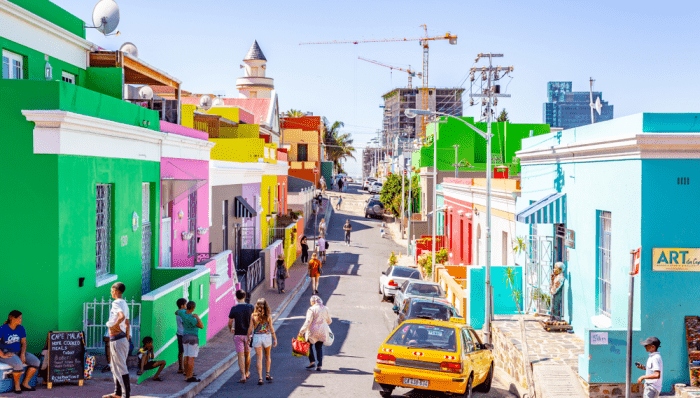 1. Wale Street, Bo-Kaap
View this post on Instagram
Bo-Kaap is not only known as one of Cape Town's most colourful, vibrant and culturally diverse neighbourhoods, but one of its most Instagram-worthy spots too. Wale Street is one of the most beautiful streets in Cape Town, and definitely one of the most popular too. With its brightly coloured houses, unique cobble stoned streets and vibrant energy, Bo-Kaap's history has played a vital role in shaping this beloved Cape Town neighbourhood into what it is today.
The street will forever be celebrated as the historical centre of Cape Malay culture in Cape Town. Exploring the steeply cobble-stoned streets of Wale Street and admiring the glorious celebration of colour and mix of Cape Dutch and Georgian architecture is a bucket-list worthy experience in every way.
2. Kloof Street, City Bowl
View this post on Instagram
The iconic Kloof Street is known as one of the coolest and most beautiful streets in Cape Town. It boasts a cool infectious vibe as well as a hustle and bustle energy to match. Picking up where Longstreet drops off, Kloof Street is situated right in the heart of the vibrant city bowl of Cape Town. Its cool surroundings and hip vibe is known to attract foodies, forward-thinkers, trend-setters, artistic enthusiasts and lovers of all things cool and captivating.
One of the best things about this trendy Cape Town street is that it truly has it all. From cool cafes, trendy hangout spots, stunning coffee shops and artisan hotspots and eateries to iconic award-winning restaurants, leading art galleries, fashion boutiques and interior design shops, Kloof Street is absolutely worth a visit.
3. Church Street, Tulbagh
View this post on Instagram
Tulbagh is known as one of the Western Cape's most charming towns, and this stunning Church Street is located right at the heart of it. Home to the largest concentration of National Monuments in the country, Tulbagh's Church Street has fast become one of Cape Town's most beautiful and beloved streets. The picturesque Church Street boasts 32 historical buildings, many of which have been restored in an extensive restoration project.
The whole of the restored street has thus been declared a national monument. With its deeply rooted historical significance, the charming old Church Street and the captivating town of Tulbagh is around 300 years old. Walking through this quaint streets is one of our favourite things to do in Cape Town.
4. Victoria Road
View this post on Instagram
Hugging the back of Table Mountain, Victoria Road has established itself as one of the most beautiful streets and scenic routes in Cape Town. Stretching all the way from Sea Point to the Hout Bay Harbour, taking a drive along Victoria road is not only one spectacular scenic sight, but an adventure too.
Take a scenic drive along this iconic Cape Town route at sunset to experience its charm. Passing quiet stretches of coast as well as stunning cosmopolitan beaches like Camps Bay, Clifton Beach and Llandudno, it's an absolute must-do for anyone travelling to Cape Town. Stopping at some of the Mother City's most beautiful beaches, enjoying a beach-front sunset cocktail and admiring all the stunning scenic views is just some of what Victoria Road has in store for you.
5. Adderley Street
View this post on Instagram
The iconic Adderley Street runs parallel to St George's Mall and starts at the Foreshore and ends in Government Avenue, an oak-tree lined street, running along the boundary of the Company Gardens.With a variety of scenic sights and renowned landmarks, it's a street that you can walk slowly through and discover beauty at every corner.
In addition, you can also find the Good Hope Centre that is positioned on the corner of Strand and Adderley street. This is the site where underground buildings and building canals were discovered when excavating the site for the large glass office block. But by far one of Adderley Streets most renowned attractions is its Christmas light show that takes place every year and has become one of the most celebrated Cape Town traditions.
Exploring these most beautiful streets in Cape Town will provide you with tons of scenic sights, a rich cultural diversity and an incredible day out in the Mother City. Not to mention the variety of beautiful beaches, trendy hangouts, iconic landmarks and bucket-list worthy sights you'll encounter along the way.
---
Learn more about the Mother City, how to get around, things to do in Cape Town, and more from our blog. We can help you find the perfect place to stay. Get in touch if you'd like help finding accommodation or Cape Town tours to indulge in when you are around.