Today's post is a special guest post by Tristan Sandwith, who shares some inspiration on cycling in Cape Town…
Cape Town is best known for its mountain, its gorgeous beaches, the sunshine and its laid back attitude. Little did you know then that there is something boiling under the surface that gets people excited, and ties the city ties to some of the trendiest and most forward thinking urban places the world over…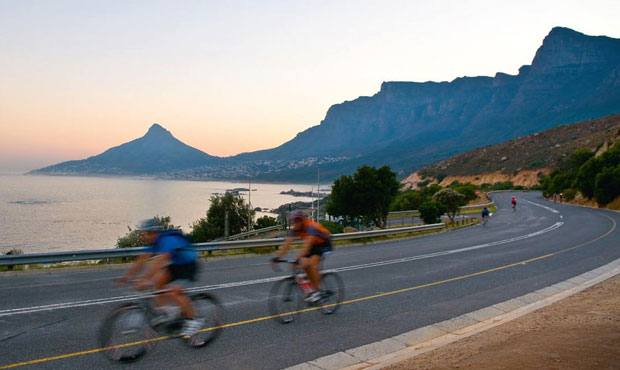 The buzzword is "BICYCLE"!
From Paris to Tokyo to New York City the bike is taking over. It's healthy, it's (relatively) safe and it's environmentally friendly. That, along with the rising cost of running a motorcar is making the beautiful machine the mobility choice of more and more Capetonians.
The scenic drives and location of the Cape Peninsula has for many years been the favourite stomping ground for the road cyclist, often one will see scores of riders heading up Chapman's Peak Drive or down to Simon's Town for their morning exercise. Come March, the City erupts as up to 36000 cyclists take part in the Annual Pick 'n Pay Cape Argus Cycle Tour, the largest individually timed cycle event in the world.
A compact city and, along it's major transport routes, relatively flat, Cape Town bicycle commuting has come a long way from the odd guy training by riding into work everyday. We now see a whole new culture evolving with city dwellers riding folding bikes around town, new bicycle lanes being introduced and leisure seekers hiring bicycles for a ride along the promenade. Find out more about Cape Town's commuter culture, events and news on BicycleCapeTown.org.
For those who prefer the gravel, much is happening in this neck of the woods too.
Trails on Table Mountain are, with increased use, becoming more secure. Furthermore, the team at Table Mountain bikers along with the help and support of SAN Parks is fantastically maintaining the trails on our beloved mountain. In the spirit of using this newfound playground, iRideAfrica, a local bicycle tour operator has created a new ten-day single-track tour that incorporates all of the major cycling locations in the Western Cape.
Along with a rise in bicycle users and a growing cycling subculture, we have witnessed an influx of bike related business to town. Shops that do bikes, custom bikes, beautiful bikes, bikes and bags, coffee and bikes, they're popping up all over the place. Have a look below for some great contacts and details of the trendiest new shops open in and around town.
Bike Hire:  UpCycles – 074 100 9161 / 076 135 2223
Outreach:  Bicycling Empowerment Network – (021) 788 4174
Events:  Pedal Power Association – (021) 689 8420
Social:   The Handle Bar – (021) 433 2111
About our Guest Author:
Tristan is a cyclist, mountain-biker and lover of all things two-wheeled. He runs Southern Fixies, a small business creating one-off bicycles. He also manages the Brooks England Agency in South Africa and is an Urban Planner when he's not out riding.