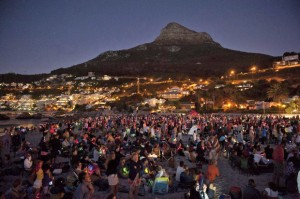 Beat the post-Valentine's blues this weekend with Moonstruck 2013 at Clifton Fourth – an evening of music, entertainment and dancing. While Cape Town's beaches are amazing during the heat of the long, hot summer days, they are even more mesmerising in the light of a full moon. This Saturday, locals and visitors alike can party the night away at one of the city's most treasured beach hotspots.
This popular outdoor music event has been running for a number of years, drawing a diverse crowd ranging from families to couples, friends, singles, young, old and every culture. Sponsored by 567 CapeTalk in partnership with Discovery, partygoers can enjoy a laid-back picnic on the beach or even a bit of dancing with retro classics by the Solid Gold Session Band.
To make the evening even more special, proceeds from all water bottles and glowsticks sold at the event will be donated to the National Sea Rescue Institute (NSRI).
Moonstruck 2013 Event Information
> Venue: Clifton Fourth Beach, Victoria Road, Clifton
> Date: Saturday, 16 February 2013
> Time: 18h00 – 00h00
> Cost: Free (donations to the NSRI are much appreciated however)
> Parking: There will be some parking along Victoria Road; however big crowds and heavy traffic should be expected so be prepared to walk if you need to park further away from the beach entrance.
> What to Bring: Picnics, blankets, camera, refreshments, cushions and a warm jacket in case the weather cools later in the evening.
> Event Details: www.capetalk.co.za or @CapeTalk567
About the National Sea Rescue Institute (NSRI)
If you're wondering about why you should support this worthy cause at Moonstruck 2013 this weekend, here is a bit of information about the NSRI and the work that they do…
The NSRI conducts a huge volume of rescues every year, helping to keep boaters, swimmers, divers and everyone else who enjoys the ocean safe.
The organisation is run entirely by volunteers, who work unpaid on standby day and night.
Running costs that easily reach R250 million each year are covered purely by donations and sponsorships.
This includes the running and maintenance of 32 coastal rescue bases, 3 inland bases, 92 rescue crafts, 27 rescue vehicles and even access to a range of helicopters.
So while you're getting ready to do your own version of Gangnam Style dance moves, get a water bottle for R10 and do your bit for the hard-working NSRI. Or, get into the spirit of the event with a funky glowstick too!
What Else Should You Know About Moonstruck 2013?
Having attended one of the early Moonstruck events not too long ago, I can tell you first-hand how much fun it was to dance barefoot in the sand. Even if you're not really the dancing type, the combination of full moon, a lively crowd and the always awesome Solid Gold Band make for a memorable night indeed.
The official statement from event partner Discovery says it best: "What better way to unwind, than to listen to great music in a picturesque setting, connect with nature and watch the full moon, while at the same time supporting a good fundraising cause."
Put that date in your BlackBerry, remind Siri on your iPhone or jot it down in your diary. Saturday 16 February at 18h00 is when Cape Town goes Moonstruck at Clifton!
Have you been to the Moonstruck event before, and if not, will you be there this Saturday? Tell us more in the comments below!