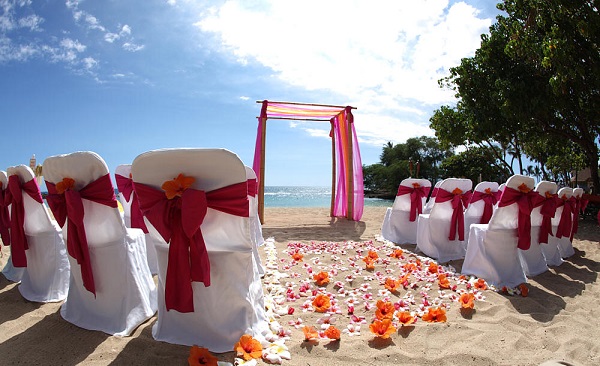 With months of glorious sunshine, clear skies and warm breezes ahead, it is no wonder that summer weddings in Cape Town have become so sought-after. The summer season is after all a time for celebrations, togetherness and memory-making. 
For brides who are planning their big day during the summer months in the Mother City, there is an abundance of options on offer in the way of themes, colours, venues and decor. Some may wish to go for a classic beach wedding, while others might be dreaming of a beautifully bright, bold garden wedding. 
To help provide a bit of inspiration, we have compiled some ideas for brides considering a Cape Town summer wedding. Whether you are a local or even a visitor planning a destination wedding this side of the world, you are sure to find some tips to get you started. 
Great Ideas for Cape Summer Weddings 
Whatever your tastes, budget and requirements, you can plan the perfect summer wedding with just a bit of creativity plus a dash of out of the box thinking. Here are some ideas that we adore for summery weddings…
* The New Beach Wedding. Goodbye traditional white schemes, hello bright schemes. The new take on beach weddings is one that works well here in Cape Town, especially with so many world-class beaches on offer. Think bright shades of pink, orange, yellow and purple, accented with white to add more impact. Picnic baskets make an affordable alternative to a traditional sit down reception – choose seasonal flowers meanwhile to jazz up simply styled chairs, dresses and alters. 
* Chic Garden Weddings. Lovely in spring too, garden weddings are even better in summer as there is less chance of those pesky spring showers. There are many venues to choose from for this theme too – Kirstenbosch Botanical Gardens, Klein Zalze estate in the Winelands, Simondium Guesthouse in Franschhoek and Sacred Mountain Lodge in Noordhoek are just some examples. You can opt for a classic theme, letting the garden backdrop provide full emphasis. Alternatively, you can try something fun – sunflowers are a hot new trend, while cool greens and whites are a fresh take on traditional white weddings.
* Mid-Summer Nights' Dream. While you don't have to go full blown Shakespeare to enjoy this theme, there is definitely something magical about evening weddings in the heart of summer. January to April is usually the best time for this sort of wedding, as the nights are more likely to be warmer then. Think trailing ivy and roses, vintage style decor, sparkling fairy lights and fragrant table centrepieces for the more traditional route. For a modern take, you could even go for a glamorous theme – black, white, gold and silver all work well for evening weddings, while jewel colours are also suitable for after dark. Venues for this option are very diverse – take your pick from indoor options or outdoor options. Suikerbossie on the False Bay coast, Mount Nelson Hotel in Gardens and Lagoon Beach Hotel in Milnerton are all worth considering. 
Wedding Accommodation in Cape Town
Another thing to keep in  mind if you are planning a Cape Town summer wedding is where you and your guests will be staying. Summer is a busy time of year for tourism in the city, which means that hotels, guest houses, villas and other accommodation venues are in high demand. Planning ahead is therefore essential, to ensure that you are able to find the perfect place to stay for your wedding. 
Finding an 'all in one' type of venue is often the simplest solution – especially for those planning destination weddings. That way, your guests won't have to worry about driving back after the reception (especially if alcohol has been served), and everyone can relax and party the night away knowing that their room is within close distance. 
To find out more about finding wedding accommodation in Cape Town, give us a shout and we will help you and your wedding party find just the right place.